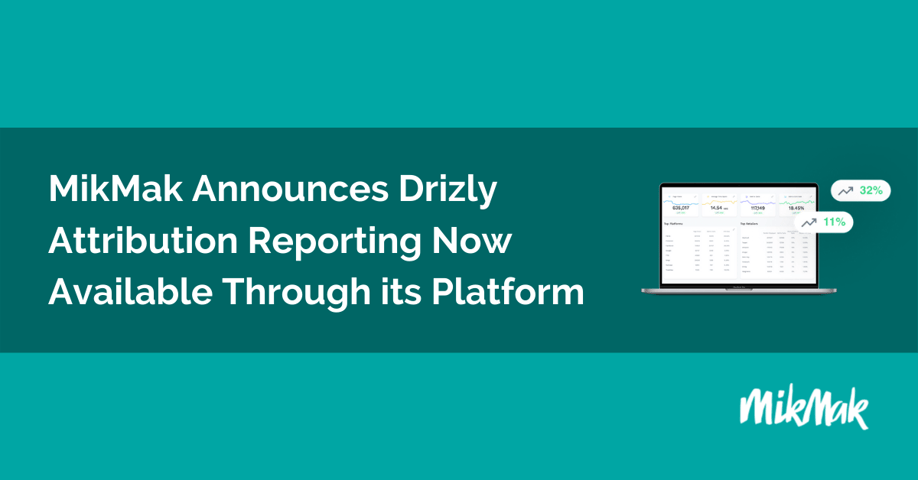 New MikMak Insights integration gives brands visibility into how their marketing campaigns across search, video, influencers, and more directly impact sales on Drizly
Early in 2020, when eCommerce for alcoholic beverages was starting to take off, there was little to no consumer preference for retailers when it came to buying online. (It's true! We conducted a test to confirm it.) Since then, Drizly has seen 250% growth in its share of add-to-carts, ranking fourth for the most popular checkout option through MikMak experiences across all retailers and industries.
In other words, America is drinking, and when they buy online, consumers tend to check out on Drizly.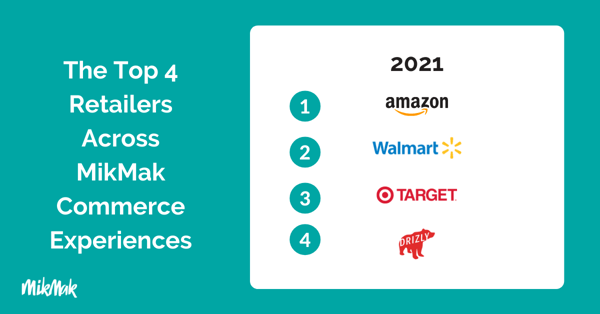 MikMak is happy to share that Drizly Attribution Reporting is now available through the MikMak Platform to give brands direct insight into consumer preferences and shopping trends, from engagement all the way through to the final sale. With this integration, brands now have visibility into how marketing channels across search, video, influencers, and more directly impact sales on Drizly.
So if you are an alcohol brand selling online, how should you be designing your strategies to drive sales at retailers such as Drizly?
Flexibility Means Knowing When to Offer Consumer Options
Recently we discussed the value of convenience and frictionless commerce experiences in growing sales for your brand. Today you can purchase your favorite beer by checking out online for it to be delivered to your home. Want it within an hour? Want it refrigerated and ready to drink? You got it! These options to buy how you want, hard to find only a year ago, are now commonplace. When consumers shop, they aren't just buying your product, they're also buying the shopping and fulfillment process. That's why it's important to offer flexibility.
However, the way to do so isn't by inundating them with a choose your own adventure, but by identifying when they want to exercise choice during their shopping journey, and making it available to them at these points. It's a combination of shopper preference and conversion data that helps brands maximize sales at retailers like Drizly. These insights tell brands when consumers want the flexibility to choose.
---
---
Understanding How Marketing Strategies Impact Sales
In designing your marketing campaigns, you may be testing out purchase consideration factors such as price, rewards (loyalty programs), timing, convenience, and fulfillment options. You may also be looking at performance and forecasting demand across platform, channel, region, and category.
These are all key metrics to consider when mapping out the entire consumer journey, and understanding when and where your consumers are engaging. Tying all of this marketing data through to the retailer cart, and finally to the sales that result from them, gives brands a holistic picture of what is actually driving consumer engagement and your revenue. That way, you can see what trends and shopper preferences are actually driving sales, and maximize the effectiveness of your targeted campaigns.
Build a Shopping Experience for Your Consumers
So what are some examples of preference and conversion data that you should be gathering, and how should you be leveraging them? MikMak's Shopping Index has identified some emerging trends amongst alcohol shoppers. Here's how to make them work for you:
Purchase intent peaks within the two week period prior to an event or holiday.
During these two week, consumers are ready to buy. Shorten the path-to-purchase and display when they can have product in hand. If this is a social drinking event, consumers tend to

purchase different types of alcohol

to account for party preferences. Give your shoppers the flexibility to choose between timing and price.
Consumers care more about omnichannel fulfillment close to the event date.
In the days leading up to an event, omnichannel fulfillment options through retailers should be made available to increase day-of purchases. Make sure you can deliver through retailers like Drizly and provide the option to Buy Online Pick Up In Stores (BOPIS) for last minute and just-in-time needs.
Geography matters when it comes to alcohol.
Online alcohol sales are particularly popular in the South, and also in cities like Chicago and Houston. Make sure regional customizations for messaging, flavors, and even local stores are available to

cater to consumers with regional loyalties

.
These are only some examples of how you can be designing the shopping experience for your consumers to maximize sales. To learn more about how to gain visibility into the success of your marketing campaigns, all the way through to purchases made through Drizly, schedule a demo with MikMak today.