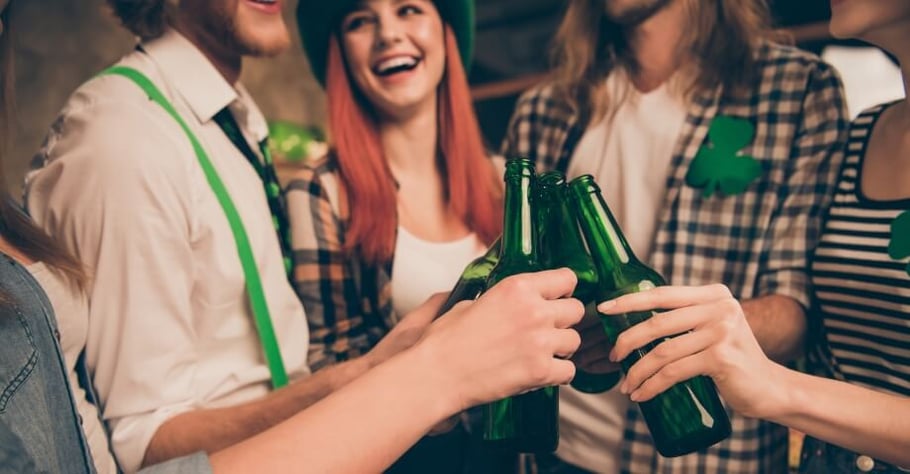 St. Patrick's Day is approaching fast, with nearly half of U.S. consumers planning to celebrate the holiday, and 92 percent of people expected to make holiday related purchases. As we saw on Valentine's Day, 55 percent of adults will continue to avoid social events, and 32 percent will spend March 17 at home.
Whether consumers are venturing out or staying in, St. Patrick's Day 2021 is a key eCommerce opportunity for alcohol brands. From Guinness to Bailey's to Jameson, categories like beer, liqueur, and whiskey are top of mind for the third of U.S. households that will be shopping for food and alcoholic beverages online.
With that in mind, let's delve into three ways alcohol brands should be utilizing their eCommerce data to make the most of this occasion.
The right time to run campaigns is now
If you plan to run a St. Patrick's day campaign, your brand should be running it now. With sales of alcoholic beverages like beer anticipated to climb 174 percent on March 17, now is the perfect time for brands to increase visibility and harness purchase intent in the weeks leading up to the holiday weekend.
We saw during the Super Bowl that as households planned their weekend gatherings, they began stocking up on drinks a week before, with one final surge the day of as last minute purchases are made. At that time, purchase intent reached a peak of 24 percent before returning to 17 percent on game day.
Fast forward to today, two weeks before, the purchase intent for alcohol brands is at 20 percent, nearly 2x higher than the average. On an industry level, the alcohol buying momentum that began accruing for Super Bowl IV never ceased.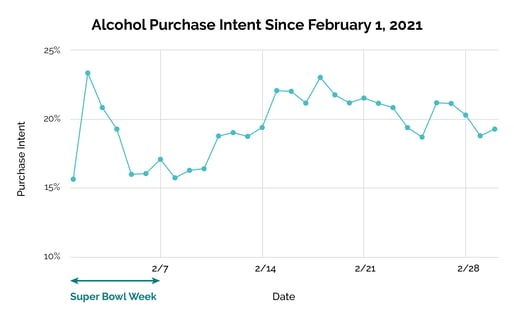 So what data should you be looking at? If you have no historical data of your own, we can tell you based on MikMak's shopper index that yes, you should be running campaigns (and collecting data) now.
For brands who do track eCommerce metrics, look at the volume of your brand's traffic and the purchase intent in the weeks leading up to St. Patrick's Day, including on the day itself. Is this a key eCommerce occasion for your brand? If so, when are your consumers making their purchases? Do they buy last minute the day of the event? What can you learn from same day delivery retailer data?
If you do not have data for this specific occasion, look at other events in which your product plays an important role, especially ones where households prepare in advance for a social gathering, to make some directionally correct inferences. And as always, make sure your creative is product focused.
The right place to be is everywhere
Online alcohol sales reached $5.6 billion in 2020 and are expected to surge by more than 80 percent in 2021. Brands should capitalize on this growth as consumers try to stay well stocked as they remain at home, event or otherwise.
Here's what we know about alcohol eCommerce during food and drink-heavy events: consumers are ready to buy now. During Super Bowl IV, although the highest purchase intent was driven by upper funnel media, lower funnel media drove nearly as much.
When almost 20 percent of the viewers of your ads are interested in making a purchase regardless of where in the funnel they are, the worst position to find yourself as a brand is having ads that are not shoppable, or not directing them to where they can successfully make a purchase.
So what data should you be looking at? Channel and retailer data. If you are depending on your social channels and retail partners to provide you with this information, you can still stitch together a narrative of what worked, where, and why. However, there's a lot of guesswork in that methodology, so we believe an end to end view is better.
Some channels are better at converting eCommerce traffic than others. MikMak data shows that historically, five major channels drive alcohol eCommerce traffic, and many consumers are captured by one of four major retailer carts. Successful brands meet online shoppers where they are, and you should be looking at which channels and retailers perform best for you.
End to end data can also show you this level of granularity, helping you identify where you should be allocating budget and directing traffic so that you are getting the most from this occasion, and always directing your consumers to where you are in stock.
---
---
Pay attention from check out to the last mile
Online shopping is all about making it convenient for shoppers to buy your product in the way they want. Empowering and satisfying consumers mean giving them opportunities throughout the shopping journey to determine how they want their shopping experience. Some of the most impactful moments to do so is the customer journey between check out and fulfillment.
When your consumer checks out at an online retailer, it is an interesting time to learn about their buying habits because you get to see what else is in their cart. The second place to take note of is in the last mile. Last mile delivery is the final step of the fulfillment process when the product reaches the hands of the consumer and where customer service and brand loyalty begins.
So what data should you be looking at? Geolocation data, retailer data, delivery data. Are they buying in bulk? What are your products being paired with? Do they prefer delivery or buy online and pick up in store? Do they care about refrigeration? Do they intend to consume your product upon reception?
This is a master class in using your eCommerce data to truly understand your consumers. Make sure you are taking advantage of this time to do so.
Make St. Patrick's Day an eCommerce win for your brand
No matter where you are with eCommerce data collection and utilization, St. Patrick's Day is a valuable time for alcohol brands. Launching an event driven campaign helps you understand your consumers so that next time (say, Mother's Day), you can do even more.
To learn more about eCommerce metrics and how to use them schedule a demo with MikMak today.