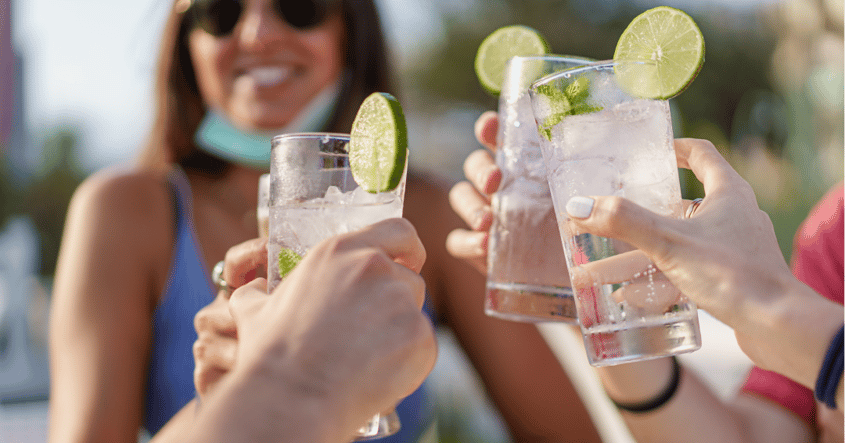 For alcohol brands, Cinco de Mayo is the first commerce event that kicks off the summer selling season. Here's what we've learned so far about alcohol seasonality in eCommerce in 2021, and how brands can be preparing for Cinco de Mayo and the summer months ahead.
But first, what is Cinco de Mayo as an eCommerce occasion?
The origin of Cinco de Mayo dates back to 1862, commemorating a Mexican victory in battle. Its celebration reached broader appeal in the US in the 1980s when it became marketed by alcohol companies as a drinking occasion.
Today in the US, Cinco de Mayo ranks seventh, right after Super Bowl Sunday, on the list of top ten off premise (at home) beer drinking occasions. For on premise drinking (at restaurants and bars), it ranks even higher at number three. In a year that social distance is still in effect, much of the on premise drinking will be diverted toward drinking at home.
Last year, when stay at home was in full effect, alcohol eCommerce sales soared as consumers stocked up their pantry and cabinets, with beer leading the category at 62.4 percent growth in purchases. Cinco de Mayo in 2020 saw tequila as the spirit of choice, growing 54.2 percent in the four weeks leading up to the celebration. However, the occasion also saw a rise in alcohol purchases across the board, not just with beer and spirits, but also with wine and seltzer.
Alcohol eCommerce has selling seasons
If you've been following our shopping index reports, you already know that two weeks before a major event is the golden period for alcohol brands to be in the market. This is a time in which purchase intent rapidly increases, and conversion rates are high for both upper funnel and lower funnel media. If you have a recognizable brand and you are running your shoppable media, you will likely be able to capture the momentum generated by the occasion. The peak date is likely to occur anywhere up to a week before the event.
The spring alcohol selling season this year began on February 1st leading up to Super Bowl Sunday, and the momentum continued as consumers stocked up for St. Patrick's Day. At its height, purchase intent hovered at 20 percent (meaning one of every five visitors proceeded to add a product to cart). In February, purchase intent for alcohol held above 20 percent for nine days in a row, at nearly 2 times the industry average of 12 percent.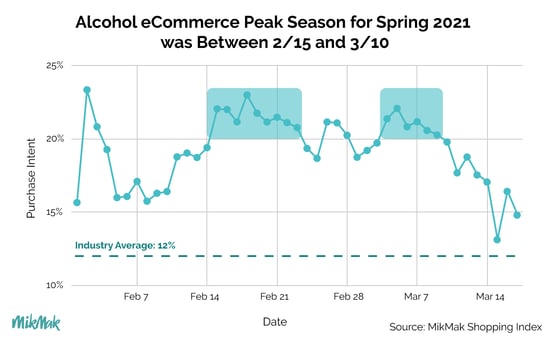 As alcohol brands prepare for Cinco de Mayo and the rest of the summer selling season, we recommend marketers pay special attention to the two weeks leading up to specific events (Cinco de Mayo, Mother's Day, Fourth of July, etc.). However, it is also important to keep your shoppable media running continuously throughout the season. After all, if brands paused their campaigns after the Super Bowl and only restarted for St. Patrick's Day, they would not only have missed the nine-day sustained purchase intent of above 20 percent, but also the eight-day period that took place days later.
---
---
Listen to what your consumers are telling you
Your consumers have spent the spring selling season telling you important information about who they are, what they pay attention to when making purchase decisions, where they are engaging, and where they are checking out. Consumers are habit and familiarity driven, making them likely to replicate their spring purchasing behaviors in summer. This is the time to go through your eCommerce metrics you have been tracking to structure your summer campaign strategy. Which channels are your consumers engaging with you in? What retailers are they buying at? What else are they adding to cart? How do they prefer to receive their purchases?
For St. Patrick's Day, MikMak data shows that most purchases took place at four retailer carts: Drizly (21 percent), Target (14 percent), Instacart (12 percent), and Walmart Grocery (10 percent). This time last year, our tests showed that there wasn't consumer loyalty yet for retailers when it came to buying alcohol. Today, Drizly has undeniably become the competitor to beat. In fact, it is firmly established as the fourth largest MikMak retailer across industries for the month of February after Target, Amazon, and Walmart. Growth for these types of same day delivery retailers is real.

Geolocation is also an important layer of consumer data to consider. eCommerce success for alcohol brands during peak season requires reviewing the supply chain to ensure product availability across a landscape of retailers. It also means taking note of regional market places and demands. MikMak shopping data shows that in aggregate, 38 percent of all alcohol purchase signals came from the South for St. Patrick's Day. Of major cities, Chicago and Houston were buying the most online. Alcohol brands can expect to see similar behavior for Cinco de Mayo.
So, are you preparing for Cinco de Mayo and the summer selling season?
Have your campaigns running at least two weeks before the event
Keep your media shoppable and in the market between events
Run both top and bottom funnel media
Review your consumer data from the spring season -- we are here to help!
Make sure Drizly is included as one of your retailer options
Are you ready? Let's get this season started!