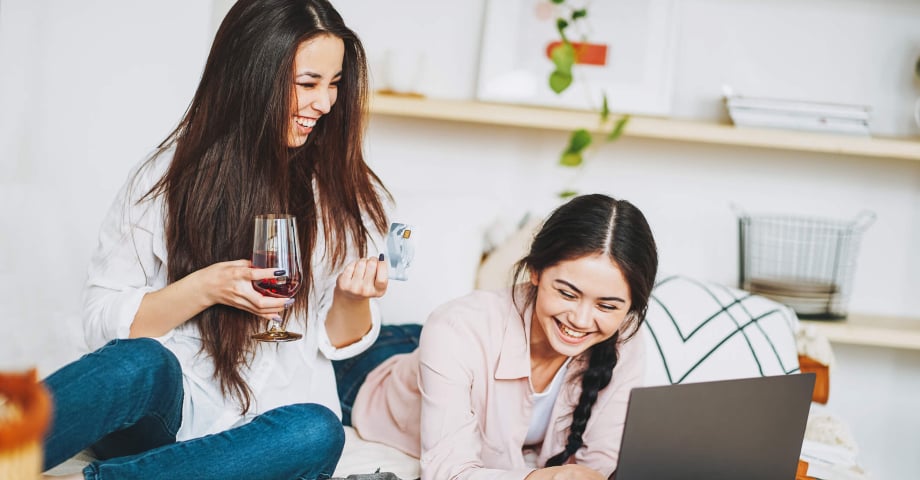 For the most part, alcohol brands have been slower than brands in other industries to unlock the full potential of eCommerce and social commerce. But with regulations relaxing in the midst of the COVID-19 pandemic, the spirits industry is finally making a big move from brick-and-mortar stores to the digital world. Suffice it to say, the industry is enjoying its time in the eCommerce limelight, with recent online alcohol sales skyrocketing 243 percent year-over-year, a Nielsen report revealed.
Still, alcohol brands are very new to the eCommerce market, and there are some nuances to explore when considering how your company should approach social commerce.
What makes buying alcohol online different than buying other products?
Unlike other verticals, alcohol shoppers often have brand loyalty but don't have any retail loyalty. In a recent A/B test, MikMak found that the retailer listed first got the most sales—just how you might expect a consumer who's buying a 12-pack of Heineken in an unfamiliar town might pop into the first store they come across.
What's also worth noting for purchasing alcohol online is that consumers want their drink as soon as possible. Unlike other categories where consumers may stock up our buy items way in advance, alcohol is all about same day delivery to quench buyers' thirst.
Overall, the transition to eCommerce has proven to be crucial for the alcohol segment, with a promise of even brighter days ahead. However, depending on whether you're a beer, liquor, or wine brand, success may look very different for you compared to other subsectors of the industry.
Wine: The eCommerce champion
Research suggests that the wine industry could lose as much as 20 percent of all revenue in 2020 due to the COVID-19 pandemic that's keeping folks away from wineries. As a result, many wine businesses have been forced to pivot online.
Luckily for them, the results have been pretty substantial—in large part because consumers have become more and more comfortable buying wine online in recent years. Online retailer Wine.com, for example, has seen daily revenue more than quadruple to upwards of $1 million each day. Similarly, Winc, a DTC wine business, witnessed a nearly 800 percent uptick in new member sign-ups between March 15 and April 4 versus the previous three-week period.
Consumers are definitely most comfortable buying wine online, compared to liquor and beer. According to a recent study from Nielsen, wine accounted for nearly 70 percent of all online booze sales over a 10-week period ending May 23, while liquor gobbled up 22 percent, and beer took the remaining 10 percent.
Wine brands can capitalize on these trends by upping their digital marketing efforts, collecting data about consumer preferences and shopping behavior to learn more about their audiences, segmenting that data into more precise audiences, and serving each group with highly targeted ads. For example, if you know that a certain segment of your audience prefers spending $15 or less on a bottle of wine, it doesn't make sense to advertise $79 bottles to them.
Other tactics that wine brands should try out to drive sales online include hosting virtual wine tastings, launching email marketing campaigns, and seeing whether influencer marketing on social networks can move the needle.
Liquor: Chugging along
In October 2019, Patrón became the first liquor brand to sell its products directly through social media—in this case, using Instagram to let its audience swipe up on ads to place orders on third-party sites like Drizly and Instacart.
Unsurprisingly, COVID-19 has accelerated the liquor segment's foray into the eCommerce and social commerce worlds. Making the most out of this transition starts with understanding consumer preferences.
For example, during the seven weeks leading up to April 18, consumers purchased 47 percent more 1.75-liter bottles of hard liquor than normal. Maybe it's time to advertise your bigger bottles more frequently?
You might also want to follow in the footsteps of Bombay Sapphire, which moved its "Stir creativity" campaign online by hosting a virtual workshop called "Cocktails & Create." Attendees learned how to create two cocktails and how to use items found in a standard kitchen to make tasty drinks. The gin distiller is now offering associated limited edition kits for sale on its eCommerce store—the perfect link between its social media content and more revenue.
Beer: Room to grow
Despite being the most popular alcohol category, beer has the most room to grow online. Although taprooms, bars, and breweries are slowly starting to open back up after being mandated to shut their doors for several months, the COVID-19 pandemic has represented the perfect opportunity for online growth.
The virus has had a profound impact on brewers. For example, Virginia's Blue Mountain Brewery usually generates $150,000 each week. In May, sales dwindled to $25,000. To avoid these revenue shortfalls, a number of smaller craft brewers have opened up shop online.
In large part, the response has been great: California's Russian River Brewing Company, for example, sold out of their Pliny the Elder double IPA online just as quickly as it would if it were shipping to restaurants and bars. "Until now, we really didn't have the beer to ship, so we never really thought about doing it," owner Vinnie Cilurzo says.
The takeaway here? Smaller craft breweries where eCommerce initiatives were typically an afterthought may find a very real market for their brands online.
Big brands are having success with eCommerce too. In 2019, Molson Coors opened up its own online sales platform in hopes of unlocking another retail outlet while generating data it could use to optimize its approach. In the midst of COVID-19, Busch began hosting trivia happy hours on Facebook and offering discount codes that audience members could redeem on Drizly. Similarly, Natural Light opted to host a "virtual college commencement ceremony," featuring influencers like Mark Cuban and actress Jane Lynch, to boost spirits (no pun intended) while collecting more data on its audience.
No matter which subsector of the alcohol industry your brand is in, chances are there's never been a better opportunity to sell your products online. You might have to think outside the box a bit, sure. But as long as you have an idea, you're able to test it, and you can collect data along the way, you can continuously refine your efforts over time—and grab a bigger and bigger slice of the eCommerce and social commerce pie because of it.