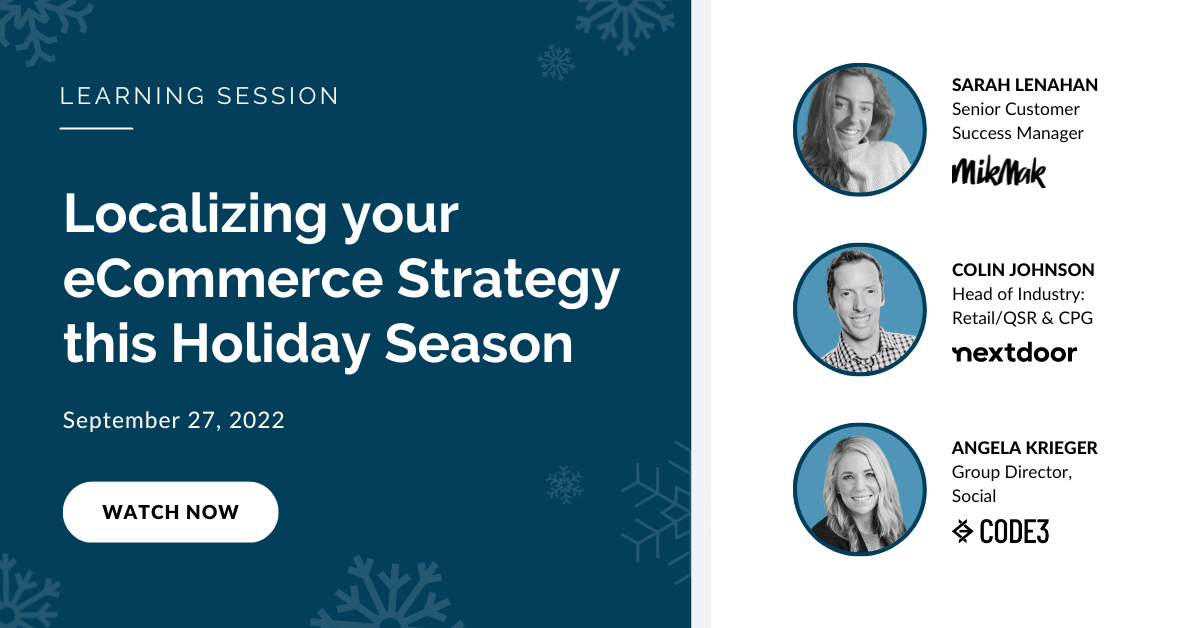 Localizing your eCommerce Strategy this Holiday Season
Holiday shopping starts November 1st. What is your brand doing to prepare as we approach the busiest time of year for commerce? MikMak partners with Nextdoor and Code3 to speak on the trends we have uncovered to make your brand's holiday season an eCommerce success story. Join us to learn the insights and best practices you should know to appeal to your consumers this year and beyond.
Here's where to find MikMak
Digital Food & Beverage
Digital Food & Beverage Connect
Adweek Commerce Week
Unlocking Omnichannel Experiences ft. KraftHeinz's Ashley Becker
VaynerX
Marketing for the Now Episode 33 with Gary Vaynerchuk featuring Rachel Tipograph
MIKMAK X HEINEKEN
A lot of strategy and a little luck: Alcohol eCommerce Best Practices
Retail Innovation Week
Next Gen eCommerce Session
MikMak x LiveRamp
Unlocking Your Current and Future eCommerce Audiences with Deeper Shopper Intelligence
MikMak x Suzy
State of the Consumer: Black Friday / Cyber Monday and the Implication for the Year Ahead
MikMak & Profitero
Opening Keynote | Presented by Indra Nooyi & Rachel Tipograph
Where has MikMak been?

Sep 19, 2022
Groceryshop
Groceryshop 2022: Your GPS For Grocery's Massive Transformation

Sep 8, 2022
The Digital Food & Drink Conference – Shopper & E-Commerce
Brand New, Insight-Led & Profitable Digital Food & Drink Ecommerce & Shopper Strategies

Jul 26, 2022
Adweek
Adweek Commerce Week 2022

Jul 25, 2022
Digital Food & Beverage
The eCommerce & Digital Marketing Conference for Food & Beverage

Jun 21, 2022
Cannes Lion
Cannes Lions International Festival of Creativity 2022

Jun 6, 2022

May 23, 2022
Sweets & Snacks
Sweets & Snacks Expo

May 10, 2022
Groceryshop
Groceryshop Spring Meetup

May 5, 2022
IAB
NewFronts Creative Panel: Bringing the Store to the Screen

Mar 29, 2022
Shoptalk
Groundbreaking Digital Commerce Technologies: Social, the Metaverse and Beyond

Mar 9, 2022

Feb 22, 2022
GDS Group
NG Retail Summit

Feb 1, 2022

Jan 19, 2022
MikMak
Improve marketing effectiveness

Jan 14, 2022
Ad Age
How Data is Transforming Super Bowl and Winter Olympics Marketing: Datacenter Weekly

Nov 17, 2021
American Advertising Federation
The Advertising Hall of Achievement Induction Ceremony

Nov 10, 2021
Digital Food & Bev
Digital Food and Beverage Summit

Nov 3, 2021
GDS
GDS Digital Marketing Digital Summit US

Oct 28, 2021
Digital Grocery Summit
Online & Digital Grocery Summit Canada 2021

On-Demand
Commerce Live
Closing Keynote | Presented by Carolyn Everson & Sarah Hofstetter
Watch Now

On-Demand

On-Demand
Commerce Live
Keynote Address | Presented by Kirk Perry & Sarah Hofstetter
Watch Now

On-Demand
The Information
Women in Tech, Media and Finance Summit 2021 - The Rise of E-commerce and Shoppable Media
Watch Now

Sep 21, 2021
NPD
The Food & Drink Trends & NPD Conference

Sep 19, 2021

Sep 7, 2021
Digital Food & Bev
Digital Food & Bev Connect