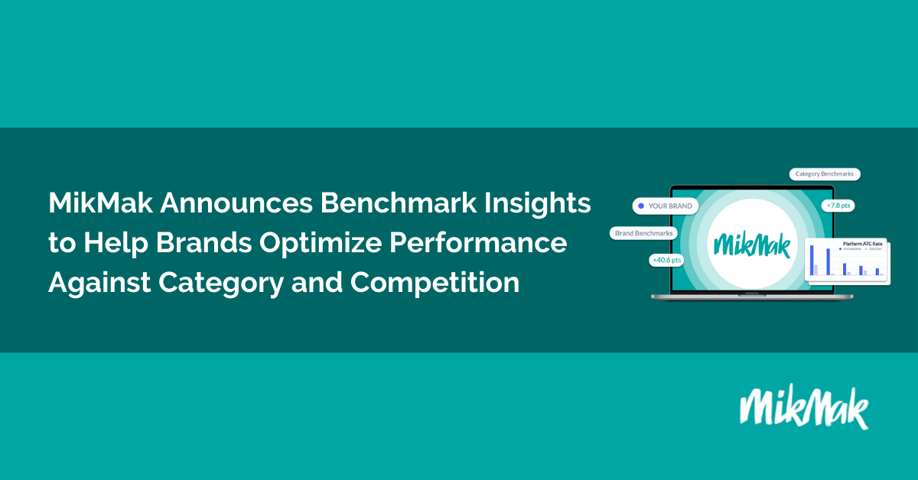 MikMak Benchmark Insights provides on-demand eCommerce intelligence for your brand and category so you can see how you stack up against the competition and better optimize your marketing spend from the moment you begin using the MikMak Platform.


Every brand wants to optimize marketing spend not just to drive more sales, but also to capture more of the market from their competition. However, without the ability to compare results against historical performance or category competitors, it is difficult to know when and how they are successfully doing so.

MikMak is excited to announce the release of Benchmark Insights, providing on-demand eCommerce intelligence for brands and their category. Now brands can have the ability to plan media and optimize the omnichannel consumer experience to win against their competition in real time.

How could MikMak Benchmark Insights work for you? Let's take a look.


Understanding and leveraging historical and category benchmarks
Let's say 4 percent of your eCommerce traffic is adding your product to cart. How do you know if that purchase intent is high? Is it enough to grow and protect market share?

Benchmarking is the comparison of your brand's performance against that of other companies, your previous campaigns, or your category. It provides a clear yes-or-no indicator for brands asking the question: Did my marketing initiative's performance do better than that of my competition? And even more powerfully — how and why.

There are two types of benchmarks that are important to optimizing eCommerce performance:
Historical: Your own historical performance as a brand. How did you do this time relative to your previous initiatives?
Category: The performance of your entire category, or your "market". How did you do relative to the group?
---
---
The value of historical performance as a benchmarking tool is clear. If an initiative drives 4 percent purchase intent when historically your performance is 2 percent, whatever messaging, tactics, or partnerships you employed this time may be a growth driver. If this is the same tactic that you've run in the past, this may be an indicator that you are seeing a shopping peak or a demand pocket form. Benchmarking against historicals is your lens into the shifting terrain geographic demand, retailer preferences, and shopping habits.
Benchmarking against category performance is also powerful. If you are driving 4 percent purchase intent as a grocery brand, that's not too bad. Based on MikMak's Shopping Index, grocery's category benchmark for 2021 has been around 4.4 percent. Dig a little deeper into your data to see what's contributing to this performance, and how it can be adjusted to do even better. However, if you're an alcohol brand performing at 4 percent, that could be cause for further examination. After all, MikMak's Shopping Index shows that alcohol category benchmarks have been around 15.9 percent, and 4 percent is a sign that there's much room for improvement — and maybe some low hanging fruits — for your brand.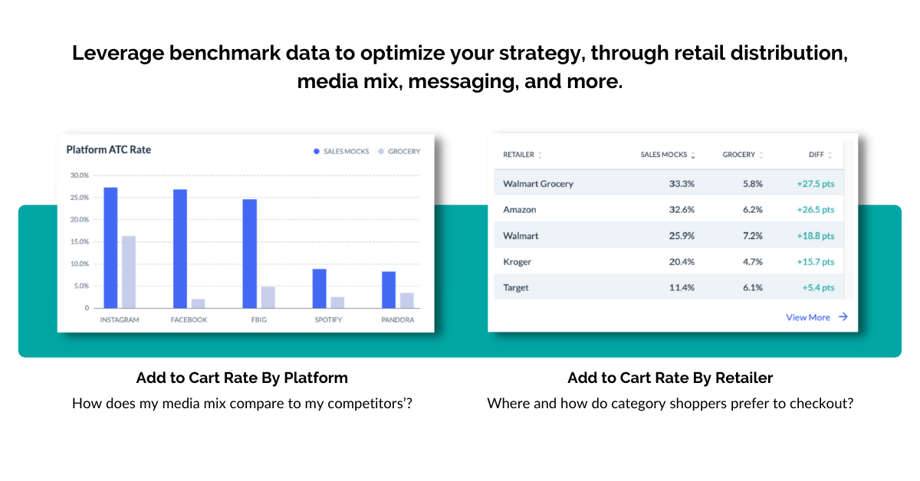 Benchmarking to optimize strategy and grow market share
Once you know what these benchmarks are for, it's time to use them in your omnichannel commerce playbook. Leverage benchmark data to grow and optimize your strategy, such as retail distribution, media mix, messaging, and more.
Retailer preference: Looking to expand to new retailers? Find out where consumers in your category prefer to shop, and identify which stores would be ideal for distribution expansion.

To do this, you can look at the add-to-cart rate for stores your consumers currently prefer. What is driving the rates that you want to expand at? Which new retailer partnerships can replicate this success? Similarly, you can add geolocation data for a regional understanding of where your shoppers are and expand distribution there.
Platform performance: How robust is your media mix? How does your campaign performance within different platforms compare? To answer questions like these, benchmark against your category. Learn what platforms your competitors are on that you need to be, and identify demand pockets where neither you nor your competitors are playing in to make the first move.
Creative and messaging: Do you know when your creative or messaging is underperforming? When is it time to make adjustments? Benchmarking against historical data is useful here. View the performance of your ads by campaign objective, traffic type, and platform to gain an understanding of what messages are resonating with shoppers and leading to add-to-carts.
Don't make key decisions in a vacuum
Plan your marketing initiatives with a full understanding of your brand's growth over time, and see how that stacks up against your category's growth. Check your performance data regularly against these benchmarks to ensure you're achieving your desired results, and staying ahead of any changes in the category, including competitor activities.
To learn about more ways to leverage benchmarking data and maximize your campaign results through MikMak Insights, schedule a chat with us today.