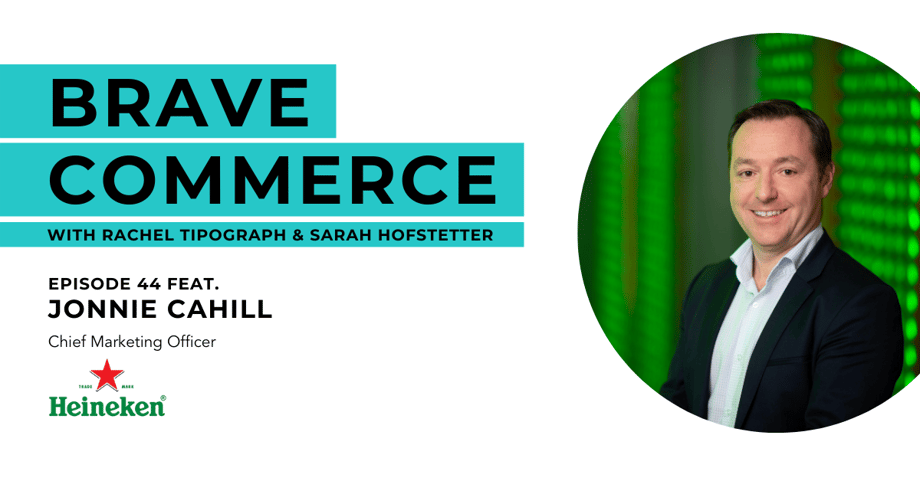 For years, Heineken used experiential events like the US Open and Coachella to physically present a progressive, iconic, and premium brand to their consumers. That was, until they had to move both brand building and commerce online when the pandemic hit. On this episode of BRAVE COMMERCE, hosts Rachel Tipograph (Founder & CEO of MikMak) and Sarah Hofstetter (President of Profitero) sit down with Jonnie Cahill, the CMO of Heineken, to discuss pivoting to digital without losing brand consistency, how eCommerce blurred the lines between beverage categories, and the bravery necessary to try new strategies even when they are completely different from the status quo.
Pivoting an experiential brand while staying to its values
Jonnie believes that success is related to a brand's ability to hold onto what it stands for. For Heineken, the brand had always been "selective about where [they] show up." As a premium brand, it was "focused on experience" and "connecting physically with people." Being able to be at physical events like Coachella and offer samplings became impossible during the pandemic. Despite this massive change in tactics, Jonnie wanted to make sure that the brand didn't do anything that would cause confusion and make consumers think, "Wait, why are these guys here?"
To adjust, Heineken chose to hold on to its premium and iconic brand but move it toward digital content, making sure that it "still embodies that cleverness and wittiness in terms of our communications" even if it is "much more seated online." One example of this is a campaign done pre-holidays of last year, the Bestie Gift Ever, where Heineken "delivered your best friend to you, no matter where they are," as a re-emphasis of the brand promise of "bringing people together over a drink." The campaign showed a large box delivered to individuals' houses which opened up to become a Heineken bar and their best friends seated inside. It's not about "seeing us on every show, on every channel, blanket bombing the consumer with a frequency bomb," Jonnie explains. It's about being at the right occasions at the right moments.
---
---
It's about what makes sense to the consumer
Knowing "what you do and what you stand for" as a brand helped Heineken lean in when the lines between beverage categories blurred. For years, the industry had a fixed mindset that there were strict swimlanes for different types of beverages. Different alcohol categories were physically separated in stores, and also pigeonholed into restrictive conventional beliefs such as a "right beer for particular occasions," and that "nobody's going to do fine dining with a beer." The combination of eCommerce and on demand delivery meant that all categories showed up together online, and consumers cared far less about whether a drink is "liquor based, wine based, or seltzer based." As long as the message was compelling and the drink tasted great, it was welcomed.
This was liberating for Jonnie, and a potential opportunity for innovation for Heineken. For example, there was Heineken Zero for consumers who love beer but don't need the alcohol—maybe even to bring to the office. Another is Merchant's Hard Lemonade, meant to bring out the love of lemonade in adults while evoking the feeling of drinking on a porch. Regardless of what is literally and physically being brought to the table, Jonnie strives to ensure that Heineken always shows up with a witty tone and a special occasion kind of premiumness.
Bravery in the freedom to try something new
The bravest thing Jonnie remembers doing is creating a successful new brand to reach a new demographic in six months. At the time, he was the CMO of O2, a telecommunications brand in Europe. While the company's brand was deeply trusted with older consumers, it struggled to attract a younger, more tech-savvy crowd. Instead of stretching the brand, Jonnie and his team decided to launch a new mobile phone brand called 48. This brand was unique in that members could only be a customer for 48 months, from the ages of 18 to 22. "It's the only mobile phone network in the world that takes you off when you age out," Jonnie remarks, "because we wanted to celebrate those magical years between high school and graduating college."

This new angle worked, and Jonnie found it not only rewarding to him as a marketing success, but also enjoyable in the freedom he had in the exercise. "You leave mobile phone companies," he jokes. "Well, not this one, it leaves you."

Ready to become BRAVE together? Subscribe today!