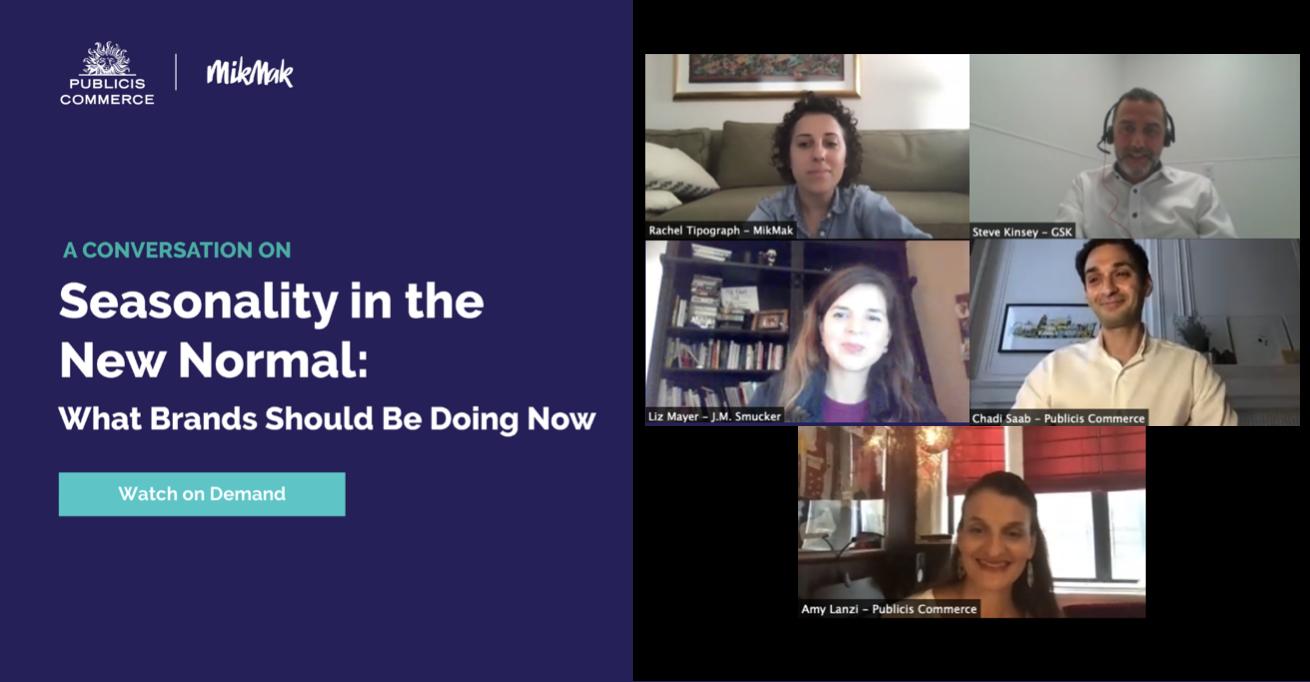 In a pre-pandemic world, the back half of the year is synonymous with specific moments such as back to school and various holidays. However, 2020 will be anything but normal with shifts in consumer behavior and the acceleration of online shopping.
This week, Publicis Commerce's Amy Lanzi, EVP, North America Commerce Lead, led a panel discussion with Rachel Tipograph, Founder & CEO of MikMak; brand marketers Steve Kinsey, Director, Commerce Marketing at GSK and Liz Mayer, Consumer Engagement & Omnichannel Customer Marketing Lead at The J.M. Smucker Company; and Chadi Saab, VP, Head of Omnichannel Commerce at Publicis Commerce, to discuss impacted consumer behaviors, what the future of seasonality in e-commerce looks like and how to best prepare commerce strategies moving into the end of 2020.
Rapid Commerce Acceleration Challenging Legacy Silos
What was projected to happen over five years has happened in five months, and for many brands, this rapid change has also surfaced the need for internal brand teams to rethink ways of working outside of legacy silos. Today's new normal means end-to-end ecosystems no matter the consumer category and holistic marketing efforts to address the entire consumer experience. For Liz Mayer of The J.M. Smucker Company, this means making sure the funnel works as fast as the shopper buys. For GSK's Steve Kinsey, their team implemented more frequent touch points across teams to identify leading and lagging indicators to help prepare. They did this by monitoring key search continuously and aggressively to reorganize, respond and shift budgets across brands as necessary and as quickly as possible.
---
---
Brand Moments and Shopping Occasions Will Look Different
With every school having its own back to school plan and the potential of dips in revenue/sales during the shopping season due to consumer's economic hardships, retailers and marketplaces are finding new ways to account for lower foot traffic and more online shopping. Chadi Saab, VP, Head of Omnichannel Commerce at Publicis Commerce explained how strategies that were in place pre-pandemic have now accelerated, and scenario planning has increased in order to adapt to unpredictability.
Retailers are doubling down on subsidizing their operational losses from offline to online sales, prioritizing focus on user experience and interface and accelerating marketplaces to drive higher assortments for shoppers. The economic impact and uncertainty of the pandemic is forcing retailers to scenario plan for shopping occasions such as discounting back to school items, focusing on private label brands and enhancing loyalty programs. Heading into the holidays, shipping costs are also increasing and retailers are looking to pick up in-store and curbside pickup options to help reduce cost, streamlining operations to accommodate scale and demand in-store. With 60% of consumers open to buying new products this holiday seasons, retailers will need to increase discoverability through upper funnel formats and work to drive consideration and purchase intent.
Platform Strategy for Social Commerce Success
With increased internet browsing over the past few months and social media as a connector, e-commerce has boomed during this time. The customer journey has changed alongside the pandemic and we are not just living through a public health crisis, but also a social justice crisis. Amongst the pandemic, brands are also navigating how to make themselves better corporate citizens, and looking at alternate or fewer platforms to do better.
Consumer demand is everywhere, not just across larger platforms. Rachel Tipograph, Founder & CEO of MikMak, says the secret sauce is to ask if a platform is an environment that drives both upper and lower funnel engagement – touching on consumer engagement, performance and conversion. Another important strategy is to get data out of platform "data lakes" into brands' own customer platforms. In 2022 cookies will disappear, and brands need to know their customers to be in a position to succeed.
The Future of Seasonality
When it comes to shopping online, search and discoverability are key. Today, consumers are shopping online all the time. An always-on media campaign allows brands to better respond and better invest as the inability to forecast demand patterns and consumer behaviors continues. It is also important to have empathy for what consumers are going through. Shopping occasions linked to back to school and holiday will feel more stressful, and brands need to ensure they are building relevancy in content strategies and messaging as consumers turn to brands for guidance. Further, top-of-mind awareness and brand salience is imperative. Brands should continue to build familiarity with consumers who purchased during the initial pandemic impact by targeting and re-targeting shoppers, shifting focus on retention.
While seasonality will always be present, consumers are now expending on-demand all the time. The agility of brands and retailers will be here to stay. As we enter a potential recession, needs will be consistent and consumers will put dollars there first. Brands need to create special seasonal moments and fight harder to earn those dollars in the future.
Missed the live webinar? Click here to rewatch the recording.