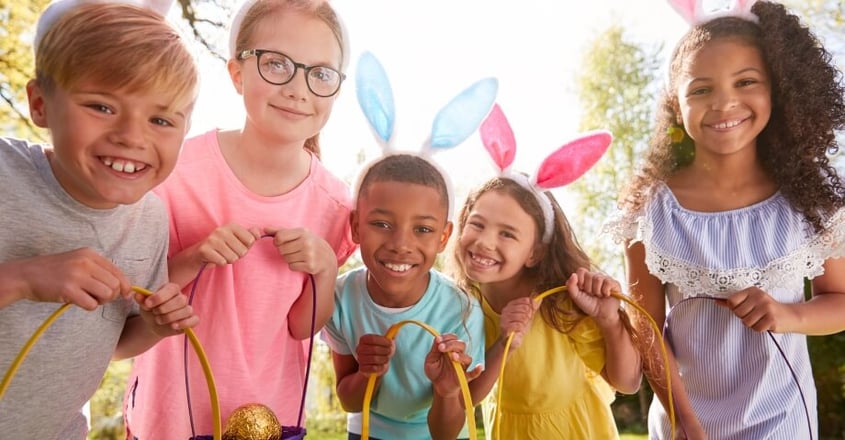 This year's Easter celebration takes place as vaccines are rolled out across the nation. forty-two percent of consumers still plan to see fewer people than in the years before the pandemic. Households are exploring creative ways to celebrate in their own homes. Let's look at what trends grocery and toy brands can expect for Easter 2021.
Last year, Easter celebrations were put on hold as households assessed the safety of gatherings and activities during a pandemic. Although 77 percent of Americans celebrated the holiday, 51 percent opted to keep the occasion simple by cooking a meal at home, and 34 percent virtually connected with friends and family members online. Shopping was conducted predominantly via eCommerce, and favored the brands that were prepared.
Consumers prepared for Easter last Thanksgiving
Easter 2021 will be another predominantly eCommerce driven shopping holiday. How do we know this? Because consumers have been researching it since Thanksgiving the year before.
Last November, Google reported that online searches for "Easter" peaked at about 136,460 searches each week, while searches for "Easter egg hunt at home" increased by 350 percent; and searches for "Easter mass online" increased 1,300 percent.
In other words, consumers have been planning for a socially distant Easter, even if they have yet to make the purchases. Cooking (and drinking), decorating, and at home Easter egg hunts will be the primary activities these purchases support. For brands, that means candy, toys, and food still rank as some of the most popular items across consumers who plan to purchase online.
It's peak season for grocery purchase intent
If you're a grocery brand, this is prime shopping season for your products! MikMak's shopping index shows that as of March 16 (a little over two weeks before Easter Sunday) consumer purchase intent for food and beverage items is at 4.9 percent, the highest it has been this year and 1.5 times the industry benchmark.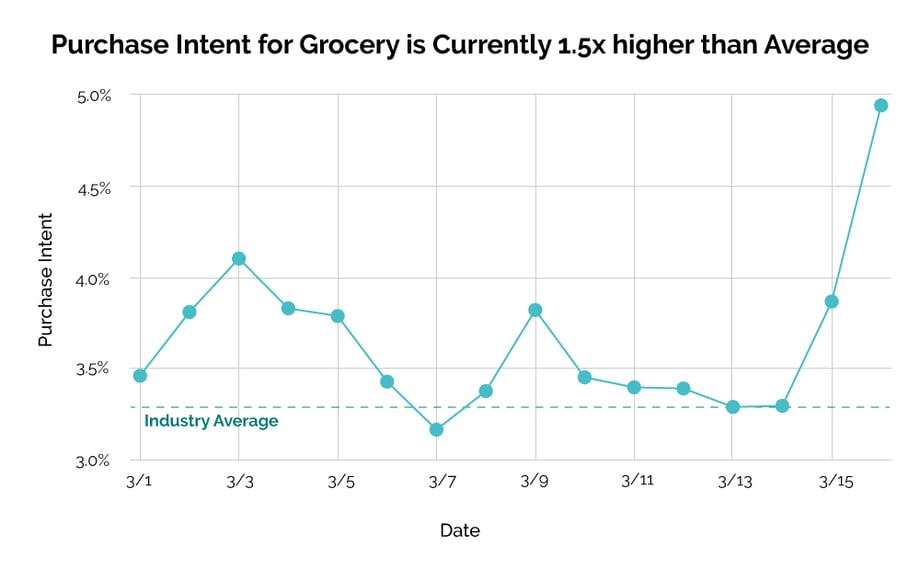 At this time, upper funnel media is the primary driver of traffic (75 percent of total) as well as conversion (1.4 times higher than what we usually observe). For event driven shopping occasions, it is common to see success with awareness based media as the occasion is top of mind. These campaigns can be effective as long as they are run at the right time (at least two weeks before the event), and enable shoppers to make the purchase. Making sure your brand has been flighting shoppable media during this time is crucial to eCommerce success.
---
---
You should also pay attention to your campaign's creative. For example, it is best practice to display the product first, showcasing its relevance in the context of the event. An example of this would be for candy brands exhibiting their product in plastic Easter eggs and baskets, or themed recipes. Here are some more ideas on how to maximize the effectiveness of your digital marketing campaigns.
Online or in store means the same to toy shoppers
Preference for where to check out is spread evenly across Walmart, Target, and Amazon for toy shoppers this Easter. As long as shoppers can get what they want in time, they are willing to check out at any of the three carts. Given that Amazon is the only retailer of the three that does not have physical store locations, we observe that to the shopper, the physical aisle and the digital aisle are the same for toy buying this Easter.
If you are a toy brand, your strategy is likely also more targeted this Easter. Today, 96 percent of all toy traffic is driven by lower funnel media with 84 percent coming from Facebook and Instagram, signaling that these brands are familiar with who their consumers are and where they may be engaging online.
Winning at eCommerce requires a seamless shopping experience, powerful analytics, and data driven consumer insights. 2021 is a great time for toys and grocery brands to step up their eCommerce measurement and capabilities to understand their customers' online shopping habits. Read The Modern Digital Marketer's Guide to eCommerce Performance Metrics to get started.