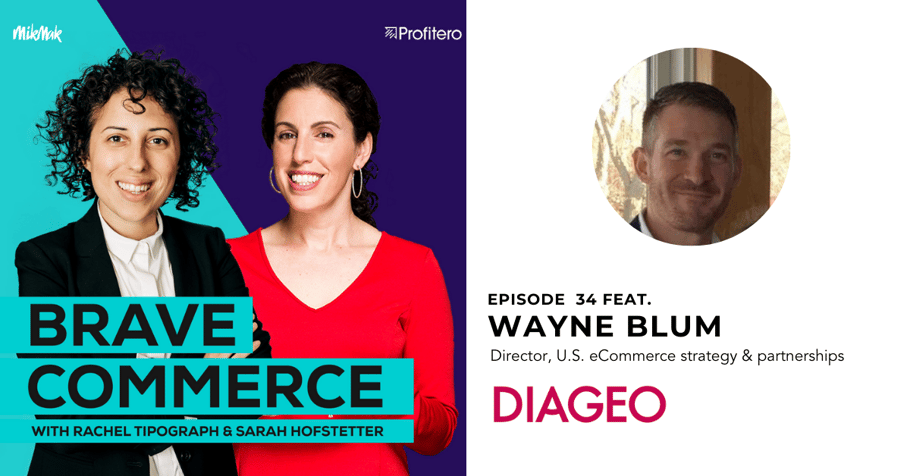 With five brands in Drizly's 2020 top ten sellers, Diageo has made a mark in the alcohol eCommerce world, especially given the astronomical adoption of online shopping during the pandemic.
On this episode of BRAVE COMMERCE, hosts Rachel Tipograph (Founder & CEO of MikMak) and Sarah Hofstetter (President of Profitero) sit down with Wayne Blum, Diageo's Director of U.S. eCommerce strategy and partnerships. Together, they talk about connecting the physical and digital shelf, tapping into demand density, and choosing bravery through difficult undertakings.
Connecting the physical shelf with the digital shelf
How has Diageo been winning in marketplaces like Drizly? Wayne explains that Diageo "first and foremost [ensured brands were] available across the landscape of retailers''. Online marketplaces like Drizly include thousands of physical stores. That means when it comes to winning alcohol eCommerce, Diageo was able to lean on their existing excellence in execution, taking what is on "the physical shelf and equating that to the digital shelf". Whether it was through "category management, assortment planning, sales, or supply chain", Diageo ensured that their representation on the digital shelf was "as robust as it had been in the physical retail store."
To do this, Diageo first took a step back to comb through data and understand the business from a historical perspective. With that, they then set actionable eCommerce goals for the years to come, with an emphasis on evolving with the marketplace and forming strong relationships with partners like Drizly.
---
---
Demand density and aligning eCommerce with digital media
Wayne notes that when looking at where marketplaces like Drizly are growing at a rapid pace, it tends to be in urban places like New York, Boston, and DC. All of this is a function of demand density. There is no "comprehensive eCommerce retail brand there for alcohol, so the marketplaces of Drizly have come in and helped these retailers turn their stores into, to some extent, a fulfillment center for consumers who are looking for on demand delivery offering."
Last mile retail marketplaces serve on demand, Wayne explains, and "a baseline understanding of where [demand is] clustering is fundamental for success." This also means using the eCommerce data gathered from existing customers in these marketplaces to align the digital marketing and eCommerce teams, and drive digital media strategy. Direct response advertising helps Diageo refine the advertising they "are buying on digital channels and really fine tune the ability to acquire the next customer."
Bravery as a test of personal fortitude
Wayne considered the bravest moment in his life one where he applied the most pressure on himself, and that was when he decided to start business school full time. At the time, he was already working full time at AMEX, and his first daughter was just two weeks old. Taking on full time schooling became a test of his, and equally his wife's, fortitude. Today, Wayne believes the good friends he made during his time in business school was what made the sacrifices most worth it.
Ready to become BRAVE together? Subscribe today!