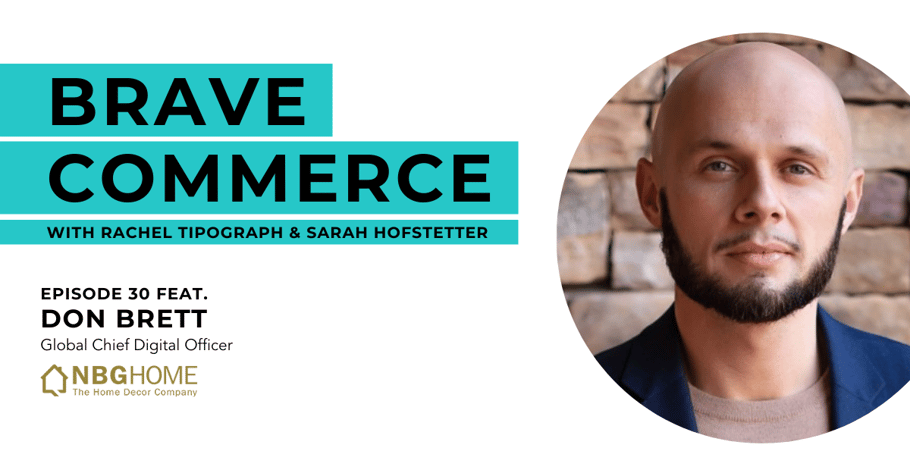 When a category like eCommerce is growing at 30 percent year over year, it's time to think about how to position both strategically and from a capability perspective to get your business where it needs to go.
On this episode of BRAVE COMMERCE, hosts Rachel Tipograph (Founder & CEO of MikMak) and Sarah Hofstetter (President of Profitero) sit down with Don Brett, Chief Digital Officer of NBG Home. Together, they discuss how to align commerce facing functions within an organization, how to work with retailers, and how one brave action can lead to many more.
Stepping back for eCommerce alignment
As Chief Digital Officer of NBG Home, Don knows that larger teams don't necessarily "equal greater ability to drive value creation". Companies are not always sufficiently scrutinizing people as resources to determine what capabilities and partnerships are needed to succeed in the eCommerce space. Instead, many rely on "pure brand power alone in digital" to win the sale, but that is not always what works. While brand is important, so are many other things, including "digital shelf excellence, ratings and reviews, and supply chain excellence." During the pandemic, for example, inventory levels in stores and online became paramount.
Across "sales, marketing, and supply chain", every commercial facing function must be designed for and aligned to a clear strategy. Don's role involves "bringing forth, advancing, and casting a clear digital strategy" for the entire organization. He believes that when everyone steps back, they gain the ability to "understand the components of the flywheel and how to make it spin." It's important to be clear and simple with the organization. Be honest about where the company is at, where evolutionary steps are with "countries, categories, customers, and capabilities from a digital perspective."
---
---
Working with retailers to make the flywheel spin
Within eCommerce, Don understands that brands in any category now "have a much more crowded space of consumers and much more competition with regards to other brands." Those that come out on top are going to be the brands that figure out how to "move consumers through top, mid, and low funnel, and ultimately repeat." To do so, brands need to understand the importance of "ratings, optimized content, search excellents, in stock, the ability to convert and ultimately drive sales", especially within their retailer partnerships.
Brands must form their own point of view and figure out what they want in terms of capabilities before determining what value they'd like to be created from the retailer partnerships. In turn, retailers can help brands in these partnerships by "stepping back and recasting the vision of the big picture." Once that is established, there's tremendous value in linking social resources toward driving traffic to retailer pages, and using this capability to "react to what's working and what's not."
The bravest thing that made more brave things possible
Professionally, the bravest thing Don has ever done was making the full jump into eCommerce. During a time in which a general management track in a brick and mortar capacity was a more popular idea, Don opted to move into digital. "I was very intrigued by digital and I was very interested to learn more and I saw what was happening in the space", he said, "and I wouldn't have changed a thing."
Personally, the bravest thing Don remembers doing was speaking at his mother's funeral when he was in his early twenties. "It honestly gave me a perspective that if I wanted to do something, personally or professionally, I had a window of time to do it," he recalled. "It just was very finite." This perspective provided him with motivation to make some of the moves that he did in his life. "Through that," Don said, "She continues to support me. And I think whenever my time does come, I think I would expect she'll be right up there saying, 'I told you he would do it. I told you he would do it.' So I'm just going to keep chipping away until I get there."
Ready to become BRAVE together? Subscribe today!