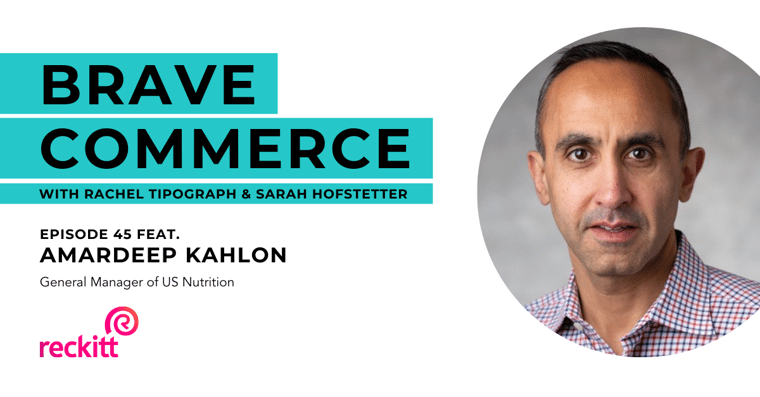 Baby brands and vitamin brands have a lot in common. On this episode of BRAVE COMMERCE, hosts Rachel Tipograph (Founder & CEO of MikMak) and Sarah Hofstetter (President of Profitero) sit down with Amardeep Kahlon, Reckitt's General Manager of US Nutrition to discuss consumer demand for baby and vitamin products, the value in strong retailer relationships, and creative bravery.
Addressing trends in baby and vitamin products
Emotions play an important role in how consumers make shopping decisions. In the baby category, decisions are highly charged "as parents are looking to make the best choice they can for their baby." Purchasing decisions for vitamin products, on the other hand, are made more pragmatically. "It's more of a wellness decision," Amardeep explains, "making sure that you've got the best nutrition for yourself."
However, Amardeep acknowledges that trends can swing in different directions due to factors "outside of your control." For example, it's hard to run a business based on people's decisions to have children. The best way for brands to succeed "is to keep investing in the right experiences for your consumers. If we can innovate and surround them with the right offerings, we know we will win in the marketplace in the future as well."
---
---
Retailer partnerships through omnichannel and finding the right signals
Strong retailer relationships are the key to effective inventory planning. Armadeep describes Reckitt's relationship with their retail partners and supply chain as one that is very tightly connected through data. Reckitt uses "data for as much as we can," he notes, "and we look for the right signals." This includes paying attention to leading indicators that show "what may happen" so that production and delivery can be adjusted accordingly. It is "not ever perfect," Amardeep admits, but they "try and get it right. Most of the time."
Additionally, Reckitt's multichannel business approach leverages powerful retailer partnerships and their own DTC business to deliver an omnichannel experience to their consumers. "People like to have a choice in where they buy, even online," he says, so whether that's at their favorite retailer online or a DTC store, Reckitt makes sure to stay "consumer first and shopper first" to give them the options.
Bravery in creativity and transitions
Amardeep believes bravery isn't limited to life changing decisions, but is also present in innovative solutions. "I've always been a big advocate of creative bravery, because I think you see creativity when extreme conditions or situations happen." With the impressive shift "towards things like online, click and collect, more frictionless options for payments," he finds bravery in the "better solutions and technologies that retailers and others are investing in, and even the acceleration of same day deliveries."
As for personal bravery, Amardeep cites his moves across various countries for his career. The bravest one, he notes, was the first move. At the time, he and his wife had moved from the UK to the US with a six month old baby and two year old toddler and no prior plans for living accommodations. "Back then I said, 'Yeah, absolutely. Let's go for it'", he reflects. "And we convinced ourselves, it'd be a great thing." Amardeep credits his wife, her support, as well as her bravery, for being the reason he and his family were able to make these dramatic transitions. "I think we made it through, but now we look back at it and think, wow, how did we do that?"

Ready to become BRAVE together? Subscribe today!