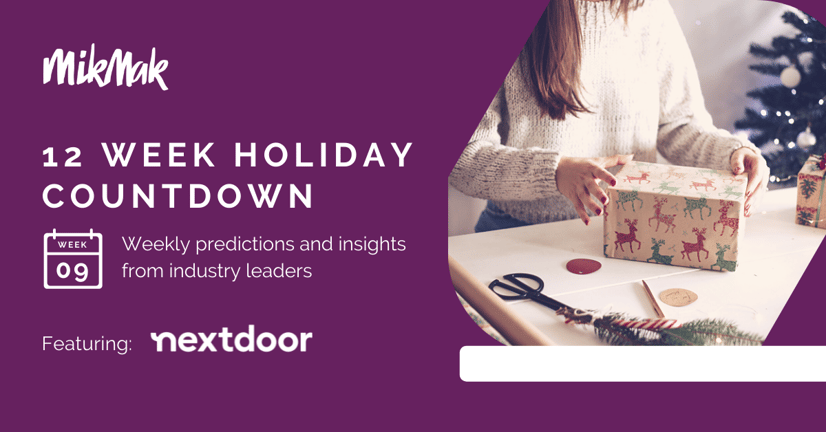 In previous weeks, we've looked at eCommerce with a national lens. This week, we're getting local. Nextdoor is an app for neighborhoods to stay in the know about events, businesses, and local finds, and has also been a powerful way for brands to reach households that look to their neighbors in their shopping journey. Joining us for the ninth week of MikMak's Holiday Countdown is Colin Johnson, Head of Industry for Retail/QSR & CPG at Nextdoor.
MM: Thank you for being here, Colin, to give us a more local lens to eCommerce. Why don't we start with a quick overview of what this local perspective looks like today, and how that has been showing up in holiday shopping trends?
CJ: Happy to be here! I think Nextdoor offers a very unique perspective for brands. As you have mentioned, we've been tracking a continuing trend around "localism," which is broadly defined as a consumer preference for brands and businesses located geographically nearby. Today, 87 percent of Nextdoor neighbors travel 15 minutes or less for their everyday purchases, and broadly 72 percent of US adults are making it a priority to support local businesses more than they did prior to the pandemic, and I think you'll see that for this year's holiday shopping.
Not only that, but shoppers are warming up to the idea of returning to "normal". For instance, the top growing keyword search term of Q3 this year was "Stubhub," increasing 146% from the prior period. To us, this means that consumers were beginning to be more comfortable participating in large group activities. At the same time however, we also saw some of the largest quarter-over-quarter mention increases for terms such as GoPuff (+92%), Shipt (+46%), and Instacart (+48%). Despite a gradual return to brick & mortar shopping, consumers are attracted to the convenience of eCommerce they've experienced in the prior year. Shopping online, particularly within the grocery space, is not poised to slow down at all.
MM: Very interesting. At MikMak, we've also seen eCommerce continue to grow in 2021 and consumer driven commerce continue to evolve. What do you think that national brands should consider as shoppers may feel more inclined to buy local?
CJ: There is a lot of opportunity for bigger brands as some consumers become more inclined to shop locally. There is significant differentiated value, affinity, and sales that can be unlocked nationally when brands connect in a personalized manner based on where consumers reside.
When a mom in the Chicago suburbs talks about "Target" she's not referencing HQ in Minnesota, she's talking about "her" Target. By leveraging technology and tools that deploy a national message with local personalization we're seeing brands unlock meaningful impact across all age, ethnicity, and income groups.
---
---
MM: Really love your comment on Target versus your Target. What stands out to you from a consumer standpoint about Nextdoor users that you think brands should know?
CJ: I think our users, who we refer to as neighbors, present opportunities that brands do not get on other platforms. No matter how brands choose to engage, Nextdoor members are most looking forward to the holiday stories they'll see in advertisements this year.
A recent GWI survey showed that 33 percent of neighbors look out for and enjoy checking out products being advertised in holiday ads, 8 percent higher than the US average. Paired with knowing that neighbors engage with ads 18 percent more on Nextdoor than they do on Facebook, there is value to be unlocked by bringing brand messaging into the neighborhood.
MM: With Black Friday and Cyber Monday just ended, how would you summarize what we saw and can continue to expect?
CJ: This has been a very unique holiday season as a confluence of factors continue to create new challenges for marketers and consumers alike. From a macro manufacturing perspective supply chain issues and labor shortages limited the availability of products available to retailers, impacting eCommerce, brick & mortar, and omnichannel alike. At the retailer level, we've seen brands lean in more heavily to performance based marketing investments that are closely tied to revenue ROI than during last year's holiday season. Finally, at the consumer level, consumers are re-engaging with traditional brick & mortar shopping, but the gains eCommerce made over the previous 18 months continue to hold strong.
MM: Thank you so much for your valuable insight. Happy Holidays!
CJ: Thank you! Happy Holidays.