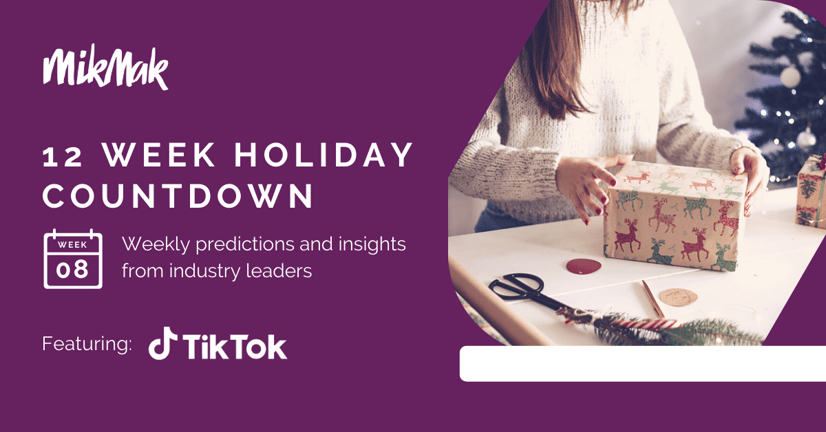 TikTok has grown from a newcomer in social commerce to a must-have for brands organically engaging consumers online. In fact, on the MikMak Platform, we've seen TikTok drive over ten percent of all eCommerce traffic this year. So to satiate the appetite of all the brands looking to TikTok as a promising platform this holiday season, we invited Lorry Destainville, TikTok's Head of Global Commerce Partnerships, for this week's MikMak Holiday Countdown to talk about the role of creators and influencers in driving engagement.
MM: Hi Lorry and thank you for joining us this week. TikTok is such a unique platform that allows both those watching and those engaging to have such an immersive experience. How do you see this dynamic influencing holiday purchases this year?
LD: Oh, I think it will be an interesting holiday season. Consumers trust their favorite creators to make thoughtful product recommendations, so I think they will play a key role in driving sales this year. It's now easier than ever for brands to identify and partner with the right creators to promote their products and services, and I'm excited to see what innovative collaborations will come to life this holiday shopping season.
MM: We do too! Our Shopping Index found that many categories, especially personal care, have found TikTok to be an impactful source of eCommerce traffic. TikTok's huge influencer presence has snowballed (pardon our pun!) into some pretty neat eCommerce marketing success stories. What do you anticipate consumers will prioritize this year when buying their gifts?
LD: This year, I expect consumers to spend more responsibly than before and take time to consider how their purchases impact the world around them. We'll continue to see environmentally conscious consumers buy from sustainable businesses and brands. They'll also make an effort to support their local businesses. Social commerce enables consumers to discover and shop from businesses of all sizes, whether they buy in-store or online - and I'm excited to see more people shopping with and spreading the word about their favorite SMBs this holiday season.
More generally speaking, authenticity is everything. Tell consumers your story, and show your passion for the products you sell. Consumers are looking to connect with the brands they buy from. Don't just sell, engage.
---
---
MM: That's really powerful. As you say, there's a lot of opportunity for both brands and consumers when looking at regionality. And as for engagement, what can brands expect to see today when considering TikTok as a social commerce platform?
LD: In my opinion, TikTok's engagement is really unmatched, and our community comes onto our platform in order to discover new products.
In many ways, we're like a shopping channel for our users. On average, our users spend a movie's worth of time consuming content on TikTok every day. According to a 2020 TikTok study conducted by Walnut Unlimited, 67% of TikTok users say that the platform inspired them to shop even when they weren't planning to do so. In fact, the hashtag #TikTokMadeMeBuyIt also now has over 6 billion views, demonstrating the unprecedented organic conversation our community has generated around product discovery and shopping.
MM: That's seriously impressive, and I particularly love what you said about coming onto TikTok to buy even without planning on doing so. It really shows how the marketing funnel has collapsed.
LD: Yes, and believe it or not, the TikTok community loves to discover products both new and old, so don't just focus on promoting your newest or top-performing products on the platform. We've even seen classics come back in style and sell out years after first launching, like the brown GAP hoodie that recently made a comeback on TikTok. On our platform, brands are empowered to tell entertaining stories around the products that they have collected significant stocks of. If you are leveraging our TikTok Shopping offering via platform integrations, product information such as inventory will update according to your latest data.
MM: We're excited to see TikTok continue to evolve as a social commerce powerhouse. Thanks so much for your time, Lorry!
LD: It is always a pleasure!