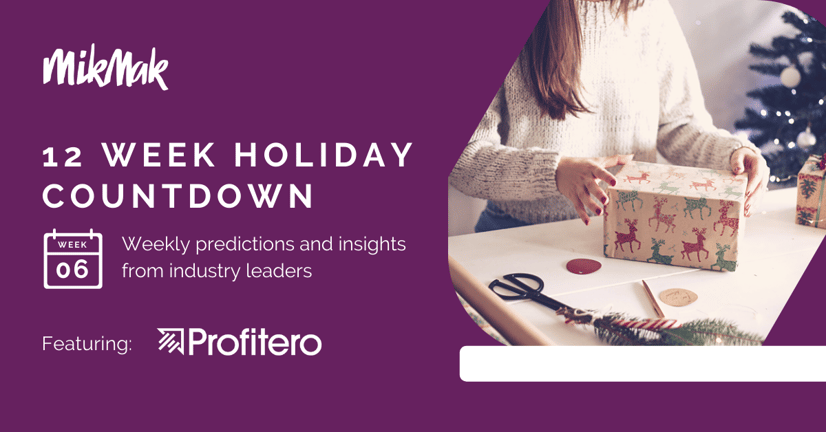 We've been hearing about potential disruptions in the supply chain and now it is reality. Inventory availability has fast become the top concern for brands and gift givers alike for Holiday 2021. How does this development change our expectations for the 2021 Holiday Season, and should brands adjust their strategy? For the midpoint episode of MikMak's Holiday Countdown, Profitero's CMO Mike Black joins us to talk about just that.
MM: Hi Mike! Thank you for joining us for the countdown, and let's open up with the elephant in the room. It's going to be a different kind of holiday shopping season this year due to supply chain disruptions. How has this been impacting consumer shopping behaviors?
MB: Thank you! I am excited to be here.
It's true, this is looking to be a very different holiday season. In previous years, consumers would plan their holiday shopping around finding the best deals and prices for the gifts they want. This year, we predict that price will be a secondary factor and it will be more about whether they can find the gifts they want in stock, at all -- and if so, where. That means no matter what smart shoppers will shop early, rather than waiting until even Black Friday.
MM: So given Profitero's speciality in helping brands optimize online and in store performance, what is your biggest piece of advice for brands looking at holiday shopping coming into full swing earlier than usual?
MB: Well, there is a lot of anxiety around the holiday season for brands and consumers alike. Brands must be ready for early shopping behavior and have their digital shelf optimized with great content and reviews, which are table stakes at this point. Since the demand for goods is already high and the supply is low, brands may be able to do less discounting and less advertising than years past, or at least limit those activities to the long tail, lesser known products in their portfolio where the ROI can be more incremental. Finally, brands should watch competitor products closely and conquest them with ads when they go out of stock. Last year a toy client of ours who competes with Barbie Dreamhouse did this when Mattel had issues staying in stock and they saw incremental weekly sales grow 10 percent.
---
---
MM: And what about for consumers? What will be their biggest pain point of holiday shopping this year?
MB: The supply chain in itself will already cause a lot of stress, but consumers will find little holiday joy in the prices they'll be paying for holiday items this year too.
In the US, online prices in October were up 6.9 percent, on average, compared with what shoppers were paying in June 2020, according to our eCommerce Price Inflation Index. Profitero's recent analysis of 1,000 toys in the UK found online prices have increased 4 percent since last September.
MM: These are some really telling stats, Mike. Here at MikMak we've been talking about preparing eCommerce strategies for the inevitably high out-of-stock rates. Has Profitero been seeing this too?
MB: Oh absolutely. Out-of-stock rates heading into the holiday season are even higher than we saw during the early stages of pandemic panic buying for many categories.
In fact, we found unusually high levels of out-of-stocks in October in some top categories, like electronics (34 percent of products out of stock) and grocery (33 percent of products out of stock), according to Profitero data featured in Bloomberg. Trying to avoid a late holiday shopping runup – rife with out-of-stocks and last-minute shipping delays – is exactly why the big 3 retailers (Amazon, Target, Walmart) opted to pull promotions forward this year and not rely as heavily on Black Friday. Walmart launched their Black Friday deals on November 4th!
MM: Wow! A lot to consider this year with holiday shopping. So what is a positive that you see coming from the changes that are happening to the way that people are choosing to do their holiday shopping?
MB: Yes, there will definitely be some great benefits for brands to reap. People are shopping for Christmas earlier than in past years for fear that things are running out of stock. For example, we already saw "Christmas decorations" become a top 10 search term on Amazon in October. And searches for some major toy brands – like Barbie, Paw Patrol and My Little Pony – were up substantially year-over-year in mid-October on Amazon in the UK. (Barbie dolls are up 2,000 percent already versus last year!). This benefits retailers and brands because it tends to spread sales, related promotions, and other jobs to be done, across several months instead of weeks.
MM: That's a reassuring silver lining, Mike. Thank you so much for sharing this with us. Let's keep our eyes on the coming weeks as we continue to count down to the holidays!
MB: It was my pleasure. Happy Holidays!