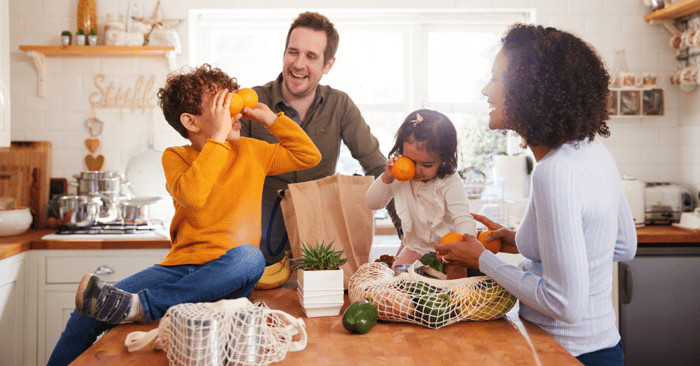 In the UK, eCommerce Food and Beverage sales are surging. According to eMarketer, eCommerce grocery sales have climbed steadily since 2020 and are expected to make up 18 percent of all UK eCommerce sales by 2025—a more than 3x increase from 2019. As this group purchases more Food and Beverage products, it's busting eCommerce sales opportunities wide open.
MikMak examined what eCommerce brands are doing right to connect with this growing shopping group in the UK Here are the biggest patterns that are emerging and tips on how to shape your eCommerce marketing strategy to reach more Food and Beverage consumers in the UK
Stay ahead of the UK's social commerce upswing
As social commerce spikes across the globe and among EU consumers, it's poised to explode in the UK According to eMarketer, UK social buyers increased by more than 5.5 million from 2019 to 2022. The same report estimated just one in four UK residents would buy through social media in 2022—a signal that social commerce may just be taking off in the region.
Here are a few ways to build an eCommerce strategy that sparks more social commerce sales:
Craft creative ads to fit top-performing channels
To draw in more Food and Beverage consumers, identify what channels your potential shoppers are visiting and craft ads to fit that environment. For instance, YouTube visitors tend to head to the site for education or entertainment. So many top-performing Food and Beverage ads on YouTube lay out a new recipe, dinner ideas, or other helpful ways to use a product. To engage consumers, identify which channels shoppers are using and build creative ads to fit your audience's experience.
Lean on influencers and partners
Top-performing brands will target bartenders, chefs, and influencers who shoppers trust for Food and Beverage expertise and collaborate with them to promote the brand.
Put food and drink on display
When you're highlighting Food and Beverage products via social channels, make sure you're showing off your brand's value in ads that are bright and visual.
UK Grocery eCommerce brands need to adjust to the local region
Global brands take note: Food and beverage sales in the UK are taking on a different shape from those in the United States, especially when it comes to social commerce. According to MikMak's UK Food & Beverage eCommerce Benchmark Insights, YouTube racks up the highest purchase intent (PI) rate in the Food and Beverage category, by far. YouTube's PI rate for beverage category crashes in at 10.7 percent—a rate that's 1.8x more than the category benchmark.
---
---
Instagram pulls in the next highest PI rate with 7.7 percent, and Facebook crawls into the third spot with 3.9 percent.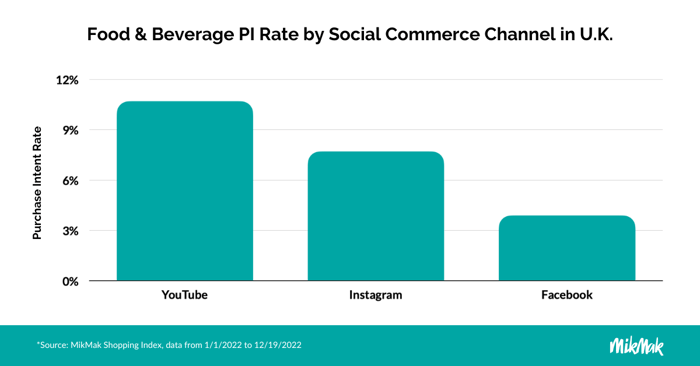 To draw in more UK Food and Beverage consumers via your social commerce marketing strategy, identify which social channels local shoppers use most and build your eCommerce strategy around those key platforms.
Brands need Tesco and other leading retailers in their eCommerce marketing strategy
Like with social commerce channels, popular retailers in the UK wear different names than in other parts of the globe. According to MikMak data, Tesco is dominating in-market traffic for UK Food and Beverage brands—with 49 percent of PI clicks.
Sainsbury's and Amazon UK bring in the second-most traffic with 16.7 percent. ASDA Groceries trails slightly in the third spot, driving 16.3 percent.

To reach the most UK shoppers possible with your Food and Beverage brand, be sure to weave Tesco into your eCommerce Strategy.
Dig deeper into the UK Food and Beverage market.
By staying ahead of the latest shopping trends, brands can ride the rising Food and Beverage tide to more sales in the UK But these insights only scratch the surface when it comes to UK shopping data. Download MikMak's UK Food and Beverage Guide to learn this group's shopping patterns and how brands are using habits to increase sales.