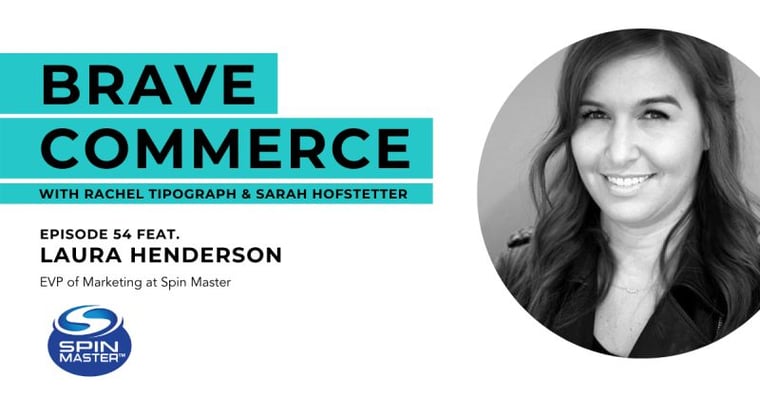 While toys and games are "a fundamental part of childhood", they were especially crucial during the pandemic as parents juggled childcare and work at home. This wasn't just for parents buying games and activities to replace vacations, theme parks, and movie theaters — "kidults" became an emerging demographic looking to relieve boredom, create new hobbies, and even find emotional support.
On this episode of BRAVE COMMERCE, hosts Rachel Tipograph (Founder & CEO of MikMak) and Sarah Hofstetter (President of Profitero) sit down with Laura Henderson, EVP of Marketing at Spin Master, to discuss the growth of toys and games during the pandemic and its continued importance afterwards, advice on staying toy-trendy, and taking risks to reach your professional goals.
"Kidults", emotional chicken soup, and transitioning to life post-distancing
Social distancing created the condition of "play deprivation", and this impacted children and adults alike. Toys and games were key to filling this gap, leading to the growth of the "kidult" demographic, the expansion of brands that served them, and the shifting trend toward nostalgic favorites and higher price points. Laura shares how this trend of attracting an older audience even extended to Paw Patrol, a preschool brand popular for two to four year olds, as it became a top show for the eight and older audience that enjoyed this show as a form of "emotional chicken soup." Similarly, online games like Roblox, Fortnite, and Toca Boca became digital playgrounds, conducive for social interactions and play without physical proximity. Other toys such as Kinetic Sand and Orbeez were therapeutic and stress relieving in nature, and were especially helpful for sensory play, ASMR, and fidgeting activities.
Laura believes that the role of toys in augmenting play is going to be even more critical as we move out of the pandemic. Imaginative play, for example, can provide individuals a smooth emotional and social transition back to post-distancing life. What's more, these categories "that saw explosive growth during the pandemic, like games, activities, and outdoor toys, will start to normalize" while "those that suffered, especially lower price points and collectibles, will do better." Physical experiences will also return in a big way for toys as parents begin to want more quality time with their children. This presents an opportunity for innovation post pandemic. Laura gives the example of the CAMP store in New York, a family experience toy store with indoor play. "Traffic is roaring back in a big way."
---
---
Omnichannel commerce for toys is trend-led and highly targeted
When it comes to omnichannel commerce for toys, Laura shares that it's all about "[getting] it discovered" and then to "guide shoppers through that journey." Toy category is unique in that consumers are constantly aging out of categories (literally!) and brands are constantly looking for new audiences and fans. As a result, the toy industry is extremely trend led. "It's all about the hot toy for that season."
In fact, although the winter holidays are still critical for toy companies, trendy toys aren't even limited to holiday shopping anymore. "The reality is that the holiday season has been expanding both earlier and later, especially last year, which was driven a lot by these retailers pushing forward with price promotions," Laura explains. The expansion of shopping seasons with retailer-driven shopping events has given parents and children a way to discover what's new in the category while giving brands and retailers early indicators of product traction as they plan which products to lean into or pull back from for the holiday inventory. Laura tells us that both brands and retailers are "watching very closely at performance and being pretty surgical at this time of the year, putting the most hardworking media we can against our most important brands to generate demand, and then very targeted placements to drive conversion."
Bravery in the pursuit of professional goals
Laura's relentless drive to achieve her professional goals led to her bravest moment — "throwing a guy out of a plane at 25,000 feet without a parachute." At the time, she was creating a media monetization model at Mondelēz because consumers were becoming harder and harder to reach, skipping and blocking ads. Their strategy at the time was to "create content that's good enough to make money" because "if it's good enough to make money, it's good enough to earn attention."

After trying all the tools in the toolbox, from digital apps to a video series partnership with Buzzfeed, her team's efforts culminated in a live TV stunt to support the relaunch of Stride gum, which was all about "mad intensity." In it, a world famous skydiver would jump from a plane with no parachute. There were endless logistic concerns and obstacles along the way. "Can he physically do this? Is that possible? But even bigger, can we get it made? Can we get it funded? Will it get on air? Will it generate some revenue?" The brand name, as well as Laura's name, were at stake and it was a colossal risk to take on. "We almost didn't make it to air," Laura shares. "But ultimately, he landed safely. We did get it on air. We generated money, we had over a billion impressions. And I got a lot more gray hair."

Ready to become BRAVE together? Subscribe today!