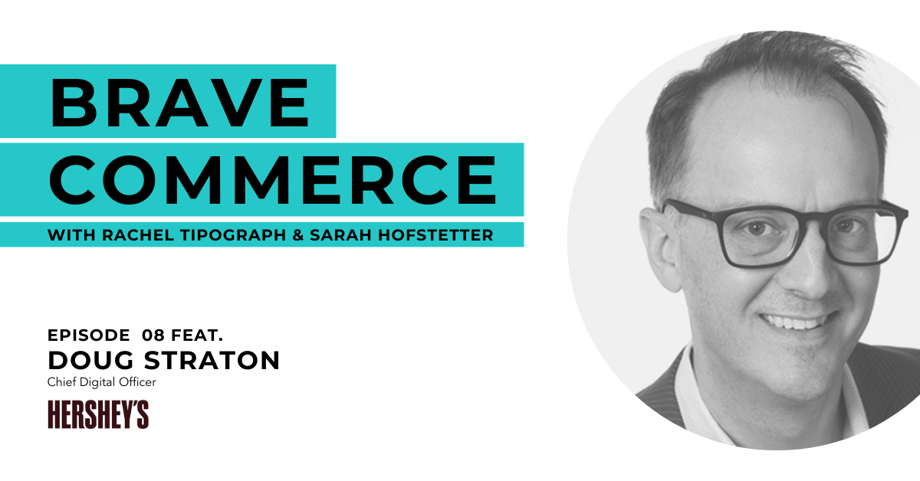 When you order chocolate online, so much goes on behind the scenes for you to get what you purchase. In this episode of BRAVE COMMERCE, hosts Rachel Tipograph (Founder & CEO of MikMak) and Sarah Hoffstetter (President of Profitero) chat with Hershey's Chief Digital Officer, Doug Straton. Together, they discuss the importance of inventorying eCommerce data, executing a full omnichannel activation, and making choices for the important things in life, even if it comes with uncertainty.
Keep and share an organized eCommerce data inventory
Last year, while many of Hershey's competitors shied away from product promotions during a socially distant Halloween, Doug's team leaned in. For Hershey's, Halloween is like the Super Bowl. Doug knew that Hershey's products were deeply embedded in US culture. Even during a pandemic, the memories associated with these candies would be the same. In fact, in some ways, there were more reasons for people to use this occasion as a reason to socialize and celebrate, whether it were through video or in person.
These insights were possible due to Hershey's successful inventorying of different types of eCommerce data -- both accessing data and organizing it. Providing this data inventory to the broader organization allowed an end-to-end enterprise perspective to see where the consumers were, and where the organization needed to go. For example, from Hershey's experience during Easter 2020, Doug had learned that sales online weren't taking place evenly across all retailers, but concentrated at a couple of big retailers. Historical data showed that one retailer saw over 40% of their confection business from Hershey's take place online, up from prior years when it was only 3%. This allowed Hershey's to develop a strategy that anticipated similar behavior to be reflected in that year on Halloween.
---
---
A fully omnichannel execution
Doug believed in the power of data transparency in breaking down organizational silos. In fact, Hershey's was able to leverage their eCommerce experience with Halloween 2019 and Easter 2020 to execute a full blown activation around omnichannel across retailers. Since the pandemic, portfolios have had to adjust to their product mix, pack size, price point, packaging, and fulfillment models to adjust to changing consumption preference. Brands not only have to consider impulse purchase behavior, but also instant consumption behavior.
Using their ship to home model, Hershey's had accounted for necessary adjustments in their fulfillment processes in anticipation of retailer demands and profitability in their unit economics. Doug anticipated that the next wave of work for omnichannel sales required thinking about pick up versus store only fulfillment formats, and the different types of product packs that would be necessary to adapt to the changing consumer traffic in the physical and digital world.
Choosing what is important
For Doug, the bravest decision he had ever made was choosing to leave his job to nurture what he truly valued -- his relationship with his wife. At the time, he wasn't happy in the role he had, so much that it was beginning to impact his personal life.
At the time, Doug and his wife lived in New York City. When the attack on September 11, 2001 happened, experiencing this tragedy amplified his urgency to choose what was important to him. Even though there weren't many jobs to be had immediately after the attack and even though Doug didn't have another job ready, he quit the job that was making him unhappy. This not only allowed him to build his relationship, but position him toward his next job, at which he would be much happier.
Ready to become BRAVE together? Subscribe today!