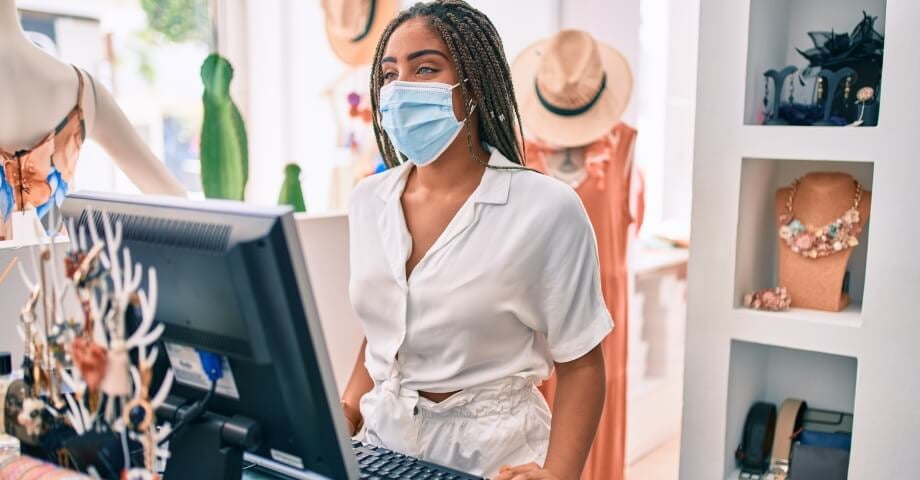 Buy online, pick up in store (BOPIS) is growing in popularity, and for good reason: It's an easy way for brands to accelerate their omnichannel strategies and drive more sales. Although BOPIS had been steadily growing over the last few years, that trend accelerated significantly in 2020, with 28 percent year-over-year growth between February 2019 and February 2020, according to a recent report by McKinsey.
More and more forward-thinking brands are prioritizing BOPIS as part of their omnichannel strategy because it enables them to combine the digital world with the physical one. This gives customers one more option in how to shop in an age where consumer choice is becoming more important by the day. This article explores how today's leading brands are using BOPIS to get better business outcomes.
What is an omnichannel strategy, and how does BOPIS fit into it?
Before 2020, many marketers considered omnichannel as the next evolution of multichannel marketing. One year later, eCommerce has accelerated ten years, and the omnichannel approach has quickly grown in popularity.
Omnichannel, meaning "all channels", is an eCommerce approach that enables consumer choice. Consumers can choose how they want to browse, check out, and receive their purchases at every stage of their shopping journey. In addition to consumer engagement, physical shopping features such as inventory and fulfillment become important data points to consider at the top of the funnel.
The omnichannel goal is to create a customer-centric experience that fully immerses consumers and gives them the ability to buy products wherever they are—whether that's reading an email, perusing Pinterest content, or sitting on the couch watching a commercial. In any of those circumstances, a customer can decide to buy the item online and either have it sent through the mail or pick it up at the store.
BOPIS Defined
BOPIS—also known as "curbside pick up" and "click and collect"—is the process of shopping online, making a purchase, and going to the store physically to pick up. It's an easy way to give shoppers the convenience that comes with browsing products from the comfort of their homes while also enabling them to get products quicker than they would if they waited for them to come through the mail.
This has been an attractive option for many shoppers as they socially distance, while still taking advantage of flexibility in pricing and fulfillment. In mature BOPIS programs, consumers are given the option to either pick up the item in the store or outside the store, depending on their preference. It's an easy way to customize the shopping process while meeting consumers' expectations for instant gratification, personalization, and safety concerns during the pandemic.
---
---
What are examples of BOPIS done well?
Although BOPIS has come of age recently, a number of brands are already knocking it out of the park. Successful brands keep a close eye on consumer preference and behavior at every stage of the buying journey. Where consumers are engaging, how they respond to different messaging, and where they choose to buy are all key factors to keep in mind.
Candy buying is a unique case study for omnichannel because consumer choice plays a role in so many areas of consideration when making a purchase. If purchased for Halloween trick-or-treating, products would need to be sold in bulk but individually packaged. If buying for an event days up to a candy centered occasion like Valentine's Day and Easter, availability and fulfillment become top priority, as does product packaging for the occasion. Even catering to nostalgic sentiments when marketing childhood candies as comfort food can be challenging, as some consumers want a single chocolate bar while others want to buy in bulk. Introducing BOPIS as an option helps consumers choose their own experience when they select at a retailer cart.
To give you an idea of how BOPIS can transform your omnichannel strategy, let's briefly examine what one of today's leading candy brands is doing to drive more sales.
Case Study: The Hershey Company
When you think about Hershey, eCommerce might not be the first thing that comes to mind. After all, chocolate melts, and buying a single candy bar online doesn't scream profitability.
In a recent MikMak webinar, Hershey's Director of Digital Direct & Operations Andrea Steele outlined what the candy brand is doing to stay relevant in today's ever-evolving retail landscape. In 2020, the company rapidly pivoted to cater to consumers who were increasingly buying things online.
To that end, Hershey focused on making sure they understood online behavior. Then they scanned their product portfolio and prioritized products that made sense to buy online (e.g., a five-pound bag of Jolly Ranchers), and they used real-time inventory tracking capabilities to make sure those products were available at appropriate retail outlets, to support BOPIS purchases.
Make BOPIS work for your brand
No matter where your brand stands in its BOPIS initiatives, here are three ways to work toward that optimizing its presence in your omnichannel strategy:
Use the right technology and data to get to know your audience on a deeper level and make it as easy as you can to buy your products.
Gain deeper insights into inventory management so you can make sure that your products are stocked at optimal levels to support BOPIS transactions.
Enable your consumers to buy anywhere by using technology that makes all your creative shoppable in a single click.
If your brand hasn't yet incorporated BOPIS into your omnichannel strategy, the time is now. The sooner you get started, the faster you'll be able to meet consumer expectations and build a more efficient sales operation.
To learn more about how eCommerce is changing and what you can do to stay ahead of the curve, check out our free eBook, The Evolution of eCommerce and How to Accelerate Brand Growth.