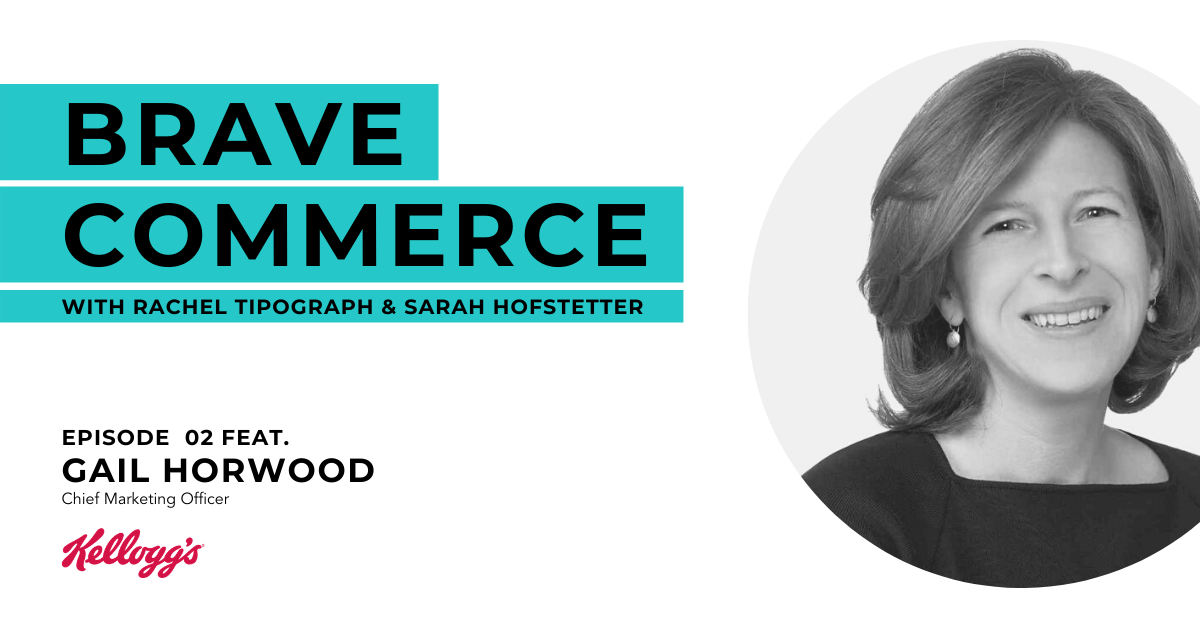 In addition to accelerating eCommerce adoption overnight, COVID-19 caused a shift in the roles and responsibilities of brand marketers. In the second episode of BRAVE COMMERCE podcast, hosts Rachel Tipograph (Founder & CEO of MikMak) and Sarah Hofstetter (President of Profitero) are joined by Kellogg's CMO, Gail Horwood, to discuss the balance of building brand equity while driving sales, the online shopping experience, and how Kellogg's is adapting to the pandemic. Here's what they had to say.
Making it onto 'The List'
Prior to COVID-19, Gail couldn't remember the last time she made a shopping list. Now, with more families being forced to stay indoors, shopping list creation has become a communal activity. Families are now consuming more of their meals within the confines of their home than before. The shopper for a household is also no longer limited to the heads of the family. Rather, everyone contributes their wants, needs, and ideas. "It's become a ritual," Sarah agreed. "It is the unifying element of many people that have more than one person in the household."
As marketers, it has become important to know how and if your products make it onto 'The List,' noted Gail. This rings true more now than pre-pandemic days because brand loyalty is a thing of the past. Consumers are more inclined to try new brands in order to fulfill their grocery needs if their preferred brand is unavailable where they are shopping. Making it onto the list is half the battle, the other half is making sure your brand is available to fill that order.
Bridging the gap between physical and virtual retail
"I'm somebody who loves to actually go to a grocery store because I just love the product discovery, I love the sights, the sounds, the smells," shared Gail. With more and more families turning to eCommerce for their grocery needs over the last few months, Gail noted a desire to bring the product discovery experience online and create consumer experiences that reflect their consumer's reality.
Gail described her excitement about making online shopping more experiential and bringing "joy back to commerce". She explained that "because eCommerce is so obviously measured on performance conversion in the moment, it's made it very transactional and not very joyous," So how do we take advantage of technology to enhance the online shopping experience?
For Gail, "it isn't necessarily about investing in more technology. It's in the bridges, connections, the behaviors, and the behavioral science that tunes these algorithms and brings the pieces together."
---
---
Rachel Tipograph related this idea to an episode of The Daily, New York Times where Twitter founder, Jack Dorsey, describes how Twitter as a platform should have hired more game theorists and behavioral scientists to think through the implications of how the platform was unfolding. Gail noted, "I couldn't agree more. It's the application of technology rather than the technology itself." Leveraging existing technology to bridge on and offline purchasing behaviors will create an elevated consumer experience.
Knowing your worth
The podcast name BRAVE COMMERCE alludes to the moments of bravery that marketers take on during their careers. For Gail, her bravest moment was when she said "no" to a job she "really, really wanted," for a lesson in negotiations and knowing your worth.
Gail shared, "I told the prospective employer what I was looking for in terms of overall compensation and what I needed, and they came back to me and said, 'This is not a negotiation. We will not make a counter offer.' And I took that at face value and I made the decision to pass." It was difficult because it was a job she desperately wanted, but she explained, "I knew myself, and I knew I would be disappointed if I accepted something that I didn't really believe was right, so I said no." She struggled with the discomfort of saying "no" but found the bravery to respect her own value.
Ready to become BRAVE together? Subscribe today!