This past week was another record breaker for retailers like Amazon, Target, and Walmart. With Amazon Prime Day alone reporting to have surpassed its 2020 Cyber Monday with $11 billion in sales, these annual shopping occasions continue to offer discounts in store and online to shoppers waiting to take advantage of price drops.
Unlike event driven shopping occasions such as Mother's Day or Valentine's Day, where consumers plan up to a month in advance, purchase intent for retailer driven shopping occasions accelerate sharply when the deals begin. By June 22, the last day of Amazon Prime Day, consumer purchase intent across retailers in the MikMak Shopping Index had reached 9.5 percent, 1.4x the 2021 average of 7 percent.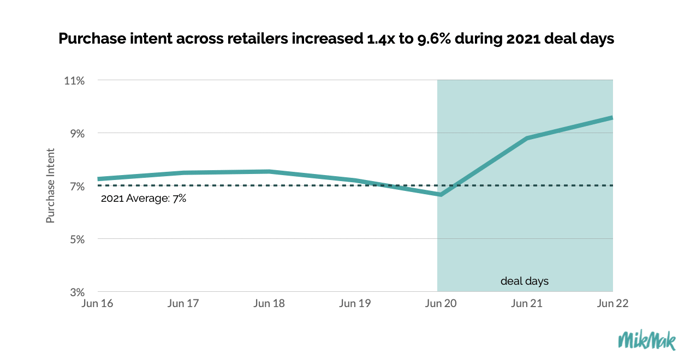 What about on an individual retailer level? What channels performed the best, for which industries, and across which geographies? Let's take a look and find out.
Consumers were equally willing to check out at Amazon, Target, and Walmart
Although Amazon Prime Day is seen as the real pioneer of retailer deal days, this year consumers were equally willing to make their purchases at Amazon, Target, and Walmart. From June 16-22, MikMak's Shopping Index showed that consumers preferred checking out at Amazon 17 percent of the time, at Target 19 percent of the time, and at Walmart 16 percent of the time, all three differing only by two to three percent.
However, when we look at the top three industries by purchase intent for each retailer, differences begin to emerge. While CPG remains one of the focus categories for all three retailers, Amazon ranked high in both purchase intent and shopper volume for tech products. This is likely due to Amazon's roots as an eRetailer for electronics which continue to give it advantage today. Meanwhile, Target and Walmart competed in beauty, grocery, and CPG—a sign that these are three eCommerce-friendly industries.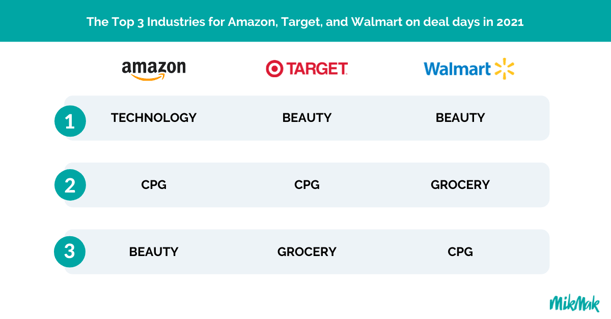 Amazon Prime Day (June 21 - June 22)
A significant number of shoppers headed to Amazon during Prime Day were looking for electronics, driven by Facebook, Instagram, and Google Display Ads. High demand came from the East Coast and the South, but also the West Coast.
For brands selling on Amazon, how do these channels play together in the entire consumer journey? Pinterest, for example, may be a sign that your product is a purchase your consumers have been planning. What can you do to move these shoppers down the journey earlier? If they were waiting specifically for Prime Day to take the next step, it may be due to price sensitivity. This year, we noticed a unique cluster of Amazon shoppers from California with 15 percent purchase intent (more than 2x the 2021 overall average). If you were planning for demand, this would have been a cue to revisit your West Coast inventory.
Finally, check your up-funnel Amazon attribution reporting to see if these commerce channels successfully drove sales. You want to put the money where the revenue is coming from, and look closely at where there is shopper traffic but few dollars spent.
---
---
Target Deal Days (June 20 - June 22) and Walmart Deals for Days (June 20 - June 23)
Shoppers checking out at Target during Deal Days were predominantly purchasing beauty, CPG, and grocery products. They arrived mainly from Facebook/Instagram, Youtube, and Google Display Ads.
Shoppers checking out at Walmart were buying similar products as Target shoppers, and from similar social channels. However, while Target shoppers were mostly from Facebook/Instagram, Walmart shoppers originated their shopping journey more evenly from across various sources. What's more, Walmart shoppers exhibit a unique behavior. The highest purchase intent (at 15 percent) to a Walmart cart on Walmart's Deals for Days was driven by brands' websites. This insight tells the story that many shoppers who go onto a brand's website to do research prefer buying at Walmart.com.
So if you're a brand preparing for Target's Deal Days and Walmart's Deals for Days, make sure you are approaching your off-retailer media strategies differently when it comes to Target and Walmart, even though they may look like they are addressing similar demographics. Know that your brand website is an important origin for Walmart shoppers and provide the product details consumers need on your page. Make sure that your brand.com site is shoppable, and that the transition into a shopping experience (that will likely land in a Walmart cart) must be frictionless.
What have you learned to prepare for the 2021 holiday season?
The first half of 2021 is over, and that means that brands are preparing for the holidays. It's time to not only know the industry trends for eCommerce, but begin applying them.
Treat the media strategy driving to each retailer differently.
As we have seen, there are nuances in consumer shopping behaviors for each retailer. To maximize your brand's success, learn how your consumers see each retailer and what their off-retailer behaviors are.
Diversify your channel mix so that it doesn't only focus on Facebook and Instagram.
Last year, brands had clear preference investing in Facebook and Instagram for deal days. 2020 deal days saw Facebook and Instagram drive the highest shopper traffic and conversions. This year, the distribution is evening out. While Facebook and Instagram remain the social channels with the highest shopping volume, YouTube and Pinterest are closing in as effective commerce drivers. TikTok also captured a piece of the social commerce pie. Find out where your consumers are, and make sure they can find and buy your product.


Leverage sales attribution when testing and learning.
Testing and learning today is about knowing what is actually working. Which channels and tactics off of retailer sites are successfully driving sales on them? If you aren't tying sales up funnel to investments and tactics, how do you know if they are effective?
How did your brand do this year for these deal days? Did the consumer insights you receive look like ours? Talk with us today to make sure you are incorporating these learnings into your holiday strategy.