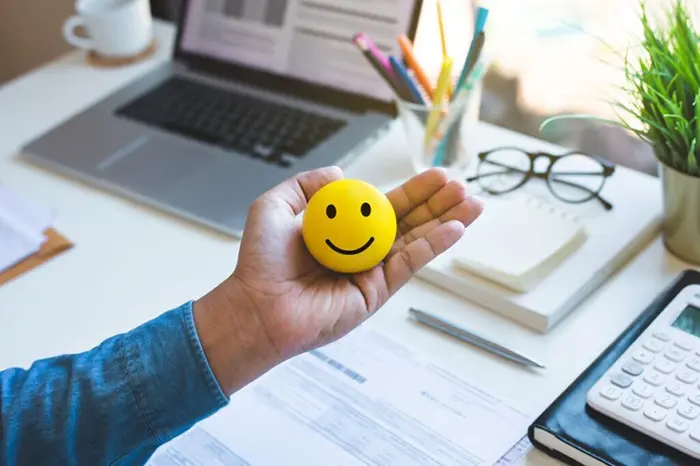 At MikMak, we can live and work from all over the country, meaning that most of us work from home. We call this program 'MikMak ANYWHERE.' As one of the pioneers in the remote-first workforce, we have had a good amount of time to learn about maintaining boundaries and work-life balance.
Having the flexibility to work from anywhere offers many benefits to employees, but not without presenting some challenges. Reflecting on May's Mental Health Awareness Month, here are some of the tips and tricks we've learned which have helped us thrive in a remote working environment.
'Always on' is never a good idea, remember to set boundaries
Working from anywhere means you're often able to connect to work at any given moment, but it doesn't mean that you should. Sometimes, when life gets busy, working after hours or on your days off can be very tempting. However, in many cases, it can hurt more than it helps. This habit can not only negatively impact your mental health, but also the quality of your work, and eventually leads to negatively impacted physical health.
We believe it is vital for remote employees to set daily work hours. At MikMak, we have a policy that all employees are 'on' and able to host and take meetings from 10AM - 6PM ET, with a few exceptions for our international teammates. We also do not hold internal meetings on Fridays. With this standard workday schedule in place, it becomes much easier to respect our own time and the time of our fellow employees.
Another important practice while working from home is taking time off. MikMak allows employees to have unlimited "health days", where they are encouraged to take days off, not dedicated just to planned vacation or being physically sick, but to recuperate mentally. We renamed these to "health days" from "sick days" to help avoid the stigma around taking time off. One of our core company values is that high performance starts with healthy employees. Being committed to our team's mental and physical health helps them produce the best quality of work and have meaningful interactions.
Using these health days is highly beneficial because it gives employees a chance to rest on days they might not feel able to bring their best selves to work. When this time is taken off, it's important for employees to turn off work related notifications and unplug. That time is sacred and helps us all ensure we show up in the best way every day.
Take some time to yourself every day
A full day's work without a break can be draining. While working from home, make sure you're taking some time to focus on yourself. Research shows that people are most productive and healthy when they take time to schedule short breaks throughout the day. Whether this means walking the dog before the day starts, listening to your favorite song, or planning a 20 minute meditation between meetings, take a few moments to take a mental break each day.
This month, to help inspire us to take this time, MikMak joined Marissa Cole from Mind Guided Meditation in a guided session about the benefits and importance of focusing the mind. Relaxation and meditation are excellent examples of ways to take time to yourself. Taking time to breathe and refocus allows your brain to return to work refreshed.
During the session, Marissa said, "Asking the brain to stop thinking, is like asking the heart to stop pounding." While during the workday, you may place pressure on yourself to hit every deadline, or have perfect outcomes, it is equally important to recognize this might not always happen. Life happens, and that's okay.
Therapy works, and it's important
Behind every great person, there's a high likelihood of there being a great therapist or coach. Often, there can be a stigma around therapy that it does not work or is only for people with critical mental conditions. That is absolutely not the case.

Having an unbiased party to talk to is invaluable. While friends and family may offer great advice, sometimes they have their own perceptions and biases, or even dismiss your problems altogether. Having a therapist that you trust can help you make clear and rational decisions both in and out of the workplace. It can also help you tackle the problems you're facing in your everyday life.
Therapy isn't a one size fits all solution, so it might take some trial and error to find a therapist that works for you. Regardless of if you're currently dealing with stress, depression, or anxiety, using therapy as a tool to recognize your thoughts and feelings can improve your mental health and increase your quality of life.
Value yourself as much as you value your work
When you're working from home every day, it can be easy to not socialize with your coworkers, and not reach out when you need help. In honor of Mental Health Awareness month, this is your friendly reminder that your mental health matters. During today's workday, consider taking your work outside and enjoying the sun, using a few minutes to meditate, or scheduling that appointment with your therapist that you've been putting off. It will pay off in the long run.