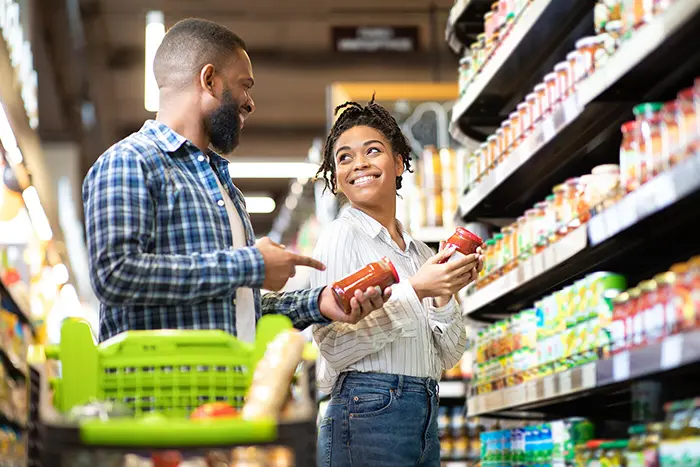 When it comes to eCommerce, how do you shop? Do you discover products on social media? What items are must-haves for certain holidays? Do your friends and family buy the same brands as you? Of course, everyone shops a little differently from one another. To uncover some of these differences and take a pulse on shopper expectations and perceptions around product categories, buying occasions, and channels, MikMak recently surveyed our 8000+ LinkedIn followers.
In this blog post, we reveal what the polls showed, and compared these findings to real-time data from the MikMak Shopping Index. We were able to uncover allowing some interesting similarities and differences between the perceptions and expectations of our followers (aka shoppers) versus the reality of actual consumer actions. Here's a closer look at what we asked, and what we found out.
Question 1: Which demographic is likely to have the highest purchase intent for alcohol?
Leading up to the Super Bowl, alcohol eCommerce was top of mind for many of our brand partners, so we took a deep dive into the first party data concerning who exactly was buying booze online. We surveyed our LinkedIn network, asking which household demographic they expected to have the highest purchase intent for alcohol.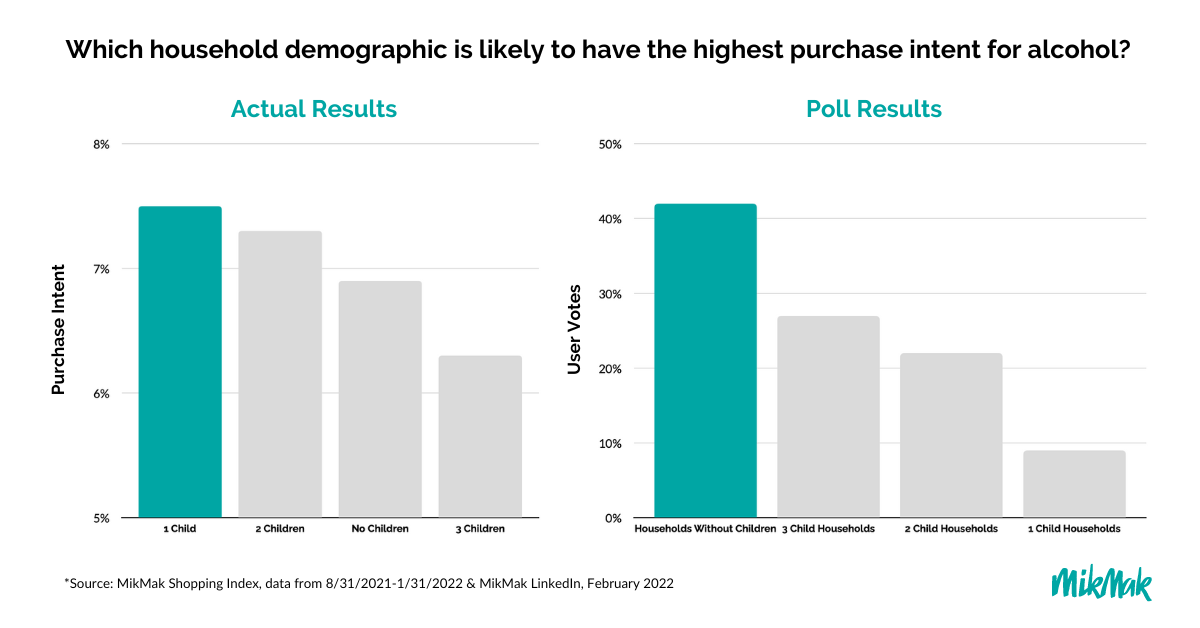 Given the options of "households without children", "1 child households", "2 child households", and "3 child households", most of our followers voted for "households without children"; dominating the poll with 42 percent of the votes.
However, the actual data showed something much different. According to the MikMak Shopping Index, households with 1 child had the highest percentage of alcohol purchase intent. This option got the lowest amount of votes, with only 9 percent. This just proves that we can't always trust our assumptions when it comes to eCommerce, first party data is always necessary to find out exactly how people are shopping.
Question 2: What's your preference when it comes to grocery shopping?
Some online grocery shoppers want their groceries as soon as possible, while others might want to get them delivered and have them waiting for them right when they come home from work. Meanwhile, there are certainly shoppers who find strolling the aisles of a brick and mortar store most appealing. Whatever the case, most grocery brands are finding ways to make shopping as convenient as possible.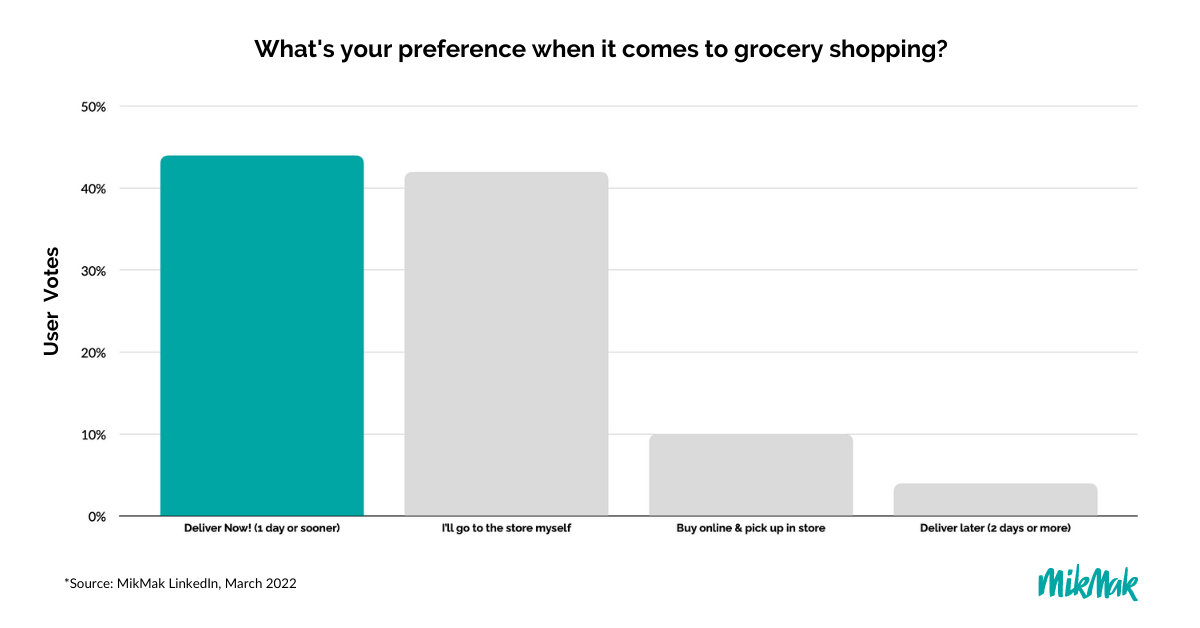 When we asked our LinkedIn followers about their preferences, 44 percent said they wanted it delivered right away, and 42 percent said they wanted to shop at the store themselves.
This lines up with what we see in the data today, although it's changing all of the time. Online grocery is still a fairly new concept, but its popularity is growing rapidly, It is likely that in the future, more and more people will prefer getting their groceries delivered over shopping in person.
---
---
Question 3: Last time I discovered a product, I was on…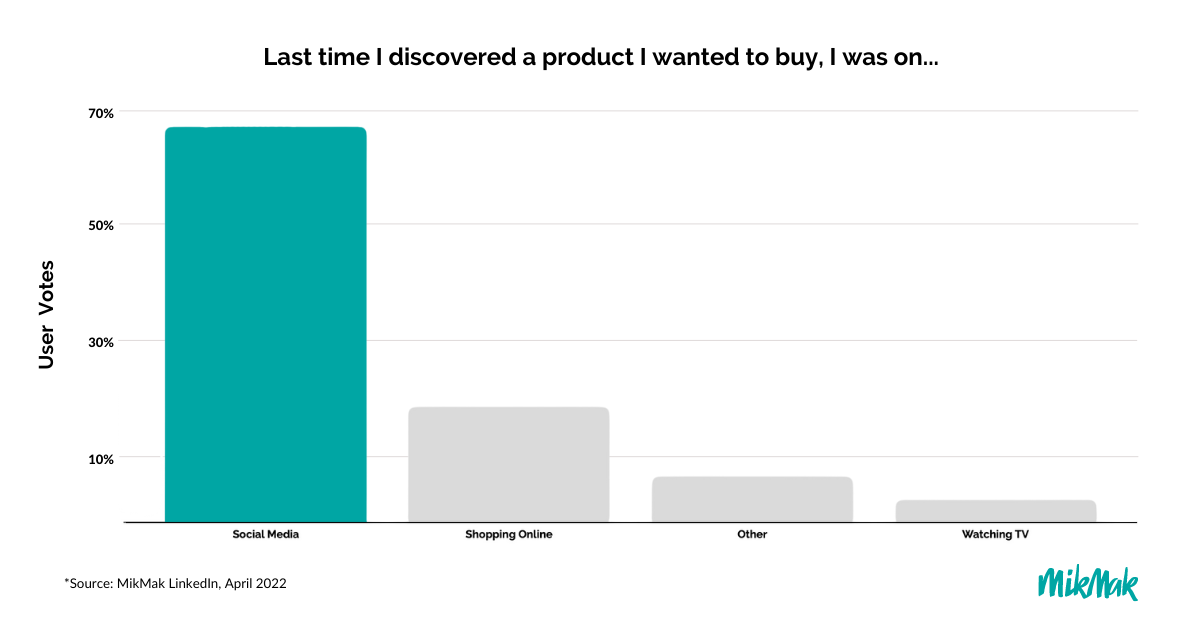 Product discovery can happen in a myriad of ways. According to our LinkedIn followers, most people (68 percent) discovered the last product they purchased on social media. This trend is supported by what we see in the MikMak Platform, which indicates that about 53 percent of all eCommerce traffic comes from social channels.
Considering our LinkedIn audience and the data agree, now might be a great time to consider amping up your social media strategy. We also know that consumers might learn about a product from multiple sources. Someone might tell the shopper about a product in person one day, then maybe they would search it on Instagram, see an ad for it on YouTube, and then purchase it for pickup from their preferred retailer. Being everywhere, so omnichannel consumers are likely to purchase, really allows shoppers to discover your product in the way that best fits their habits.
So what did we learn?
Sometimes there are misconceptions about eCommerce trends. Also, different audiences might have different preferences. This stresses the importance of having access to real-time, first-party data. To be able to understand your shopper's behaviors, it helps to know who they are, what's in their basket, what they're shopping for, and where they are shopping.
Having access to this data can inform marketing initiatives, supply chain, retailer availability, delivery options, and more. For more information on how you can access the most powerful insights and information for your brand, schedule a demo today.