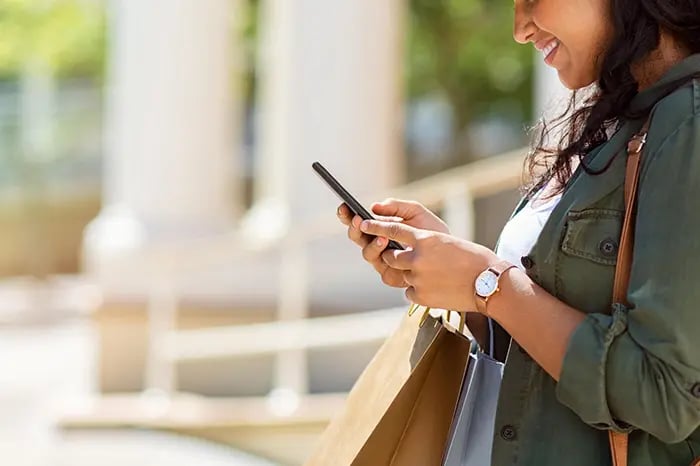 At MikMak, we believe in enabling consumers to choose where they want to shop, with a seamless path to purchase at any retailer they prefer. Our entire MikMak Commerce product, used every single day by hundreds of CPG brands all over the world, was built on the promise of this concept, in fact.
That being said, sometimes it may make sense for a brand to drive a specific campaign or SKU to just one retailer, and MikMak helps with that too. Even if driving to a single retailer, MikMak allows brands to capture key performance insights that can fundamentally change and grow their entire business.
This is a topic we often find ourselves talking about with our brand partners. Based on those discussions, here are some considerations we suggest and pitfalls to avoid when crafting single or multi-retailer shopping experiences as part of your overall linking strategy.
Avoid Unnecessary Trade-Offs
You don't have to decide between driving conversions and collecting data -- with a partner like MikMak, you can do both. The type of data brands are able to collect through the MikMak Platform can lead to big strategic shifts that can drive an entire business forward.
Take Clairol for example. The brand had a Target-specific promotion running, and decided to leverage MikMak Commerce to highlight the promotional messaging in the post-ad click experience, while also being able to measure SKU preference, conversion, and sales lift at the retailer. Armed with these real-time insights, they were able to optimize creative and messaging to ultimately experience a 2.4x lift in Sales and a 16x increase in Purchase Intent Rate at Target.
According to Diana Haussling, Vice President - General Manager, Digital Commerce at Colgate-Palmolive, the demographic and psychographic insights that MikMak offers can enable her team to "identify dig sites." For example, they've learned that in order to acquire new households and adult users - the priority Hum toothbrush consumer target, it actually worked better to target young families who are focused on instilling healthy oral care routines for their little ones. Ultimately driving larger baskets with solutions for all ages and improving lifetime value. An insight like this leads to major media targeting and creative changes that drive real business impact.
Don't Let Inventory Disruptions Drive Your Customers Away
When driving media to one retailer without leveraging a partner like MikMak, brands run the risk of leading their consumers to out-of-stock products. Not only does this lead to lost sales, but out-of-stocks also result in reduced customer satisfaction and lower loyalty levels.
In the instance of a single-retailer campaign, MikMak Commerce can automatically switch to a backup SKU of the brand's choosing, significantly reducing the risk of lost sales and loyalty. We can also show alternative retailers that do have the item in stock. This can be a real game-changer, especially as consumer expectations around immediate availability and access continue to rise.
Take Olly for example, a leading vitamin and supplement brand that recently integrated MikMak onto its website. When shoppers come across an out-of-stock product, instead of an "add to cart" button they will see a "where to buy" button that loads MikMak Commerce Discover showing online and in-store purchase options based on the shopper's geo-location. This not only ensures that the sale happens, but also allows Olly to capture first-party data on the shoppers interacting with out-of-stock products, providing the brand with valuable insights into the shopping preferences of their consumers.
---
---
See the Bigger Picture
Due to the deprecation of cookies and the ongoing push towards more consumer privacy, the days of direct response, performance-based marketing are challenged. This trend is aligned with the larger need for brands to focus on true consumer-driven commerce. Don't decide against a running campaign because $1 in may not instantly translate into $1.50 out, because the insights gleaned from eCommerce data make your money go much further in the end. Here are a few examples:
Gaining insight into the efficacy of the influencer's content in driving actual purchases, and a better understanding of where their brand's consumers prefer to shop, increased purchase intent by 5.4x for

COVERGIRL

BIC

was able to use the first-party data collected by MikMak to identify that BodyMark consumers preferred discovering their product on Instagram, especially when ad creatives featured people using the product. With this insight, BIC drove 10x higher purchase intent on Instagram.
By leveraging MikMak Insights and the recommendations of their Customer Success Manager, Sabra

was finally to understand their full-funnel marketing efficacy and increase purchase intent rate by 85%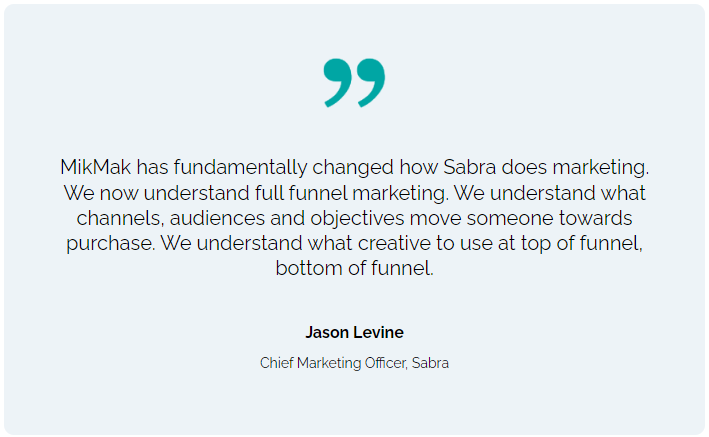 Consider your Options
So, single-retailer vs retailer-agnostic linking strategy, what's the decision-making process look like? Here are some differences to consider.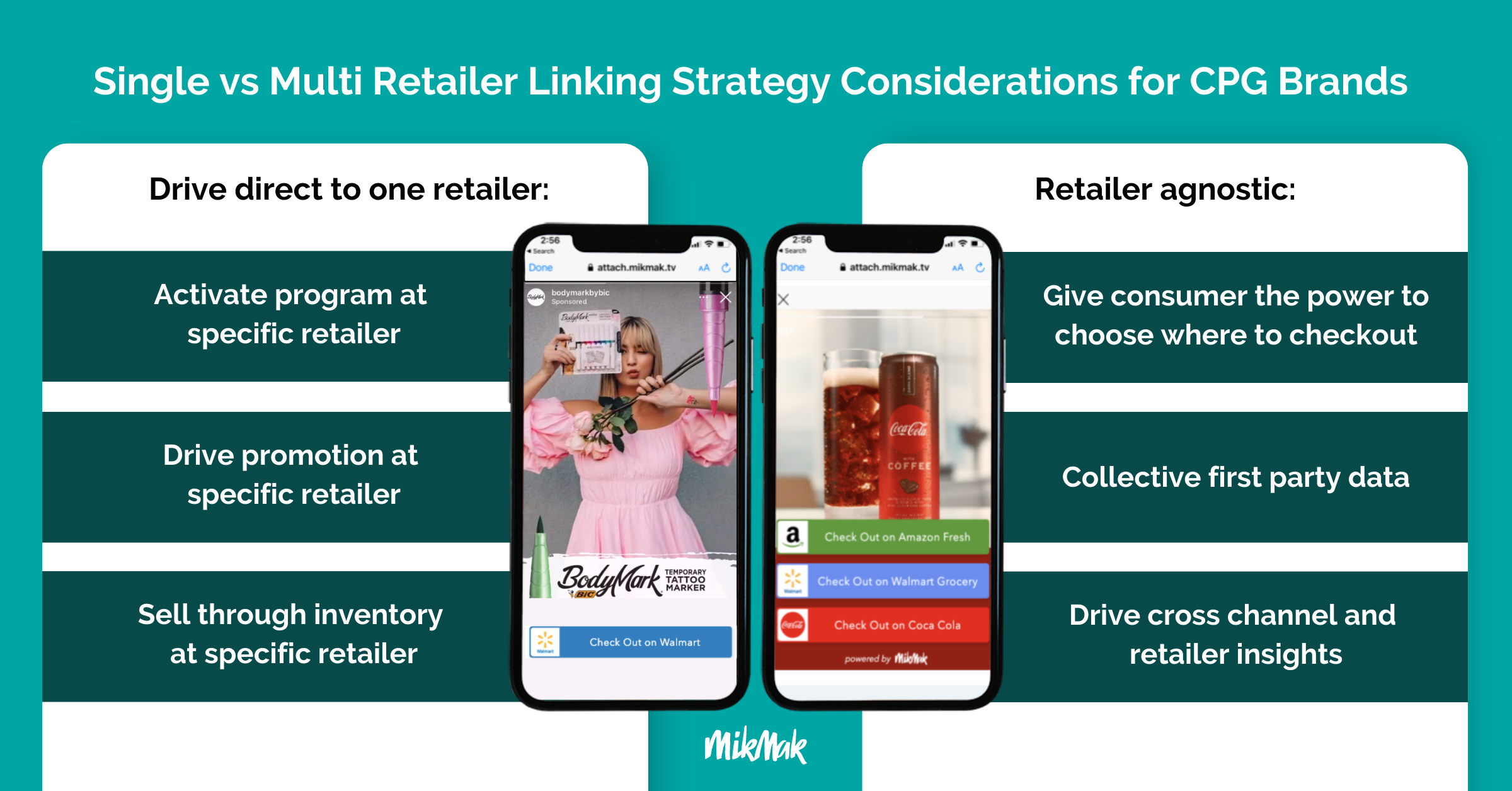 We're Here to Help
Want to talk strategy, and continue the conversation around retailer linking recommendations? Every brand that works with MikMak gets a dedicated Customer Success Team that equips you with the latest industry best practices and thought leadership. Think of them as ​​a full-time extension to your own team, committing ~300 hours of support and eCommerce expertise annually toward growing your business. That's just one of the many reasons the world's leading brands choose MikMak. You can contact us and learn more here.