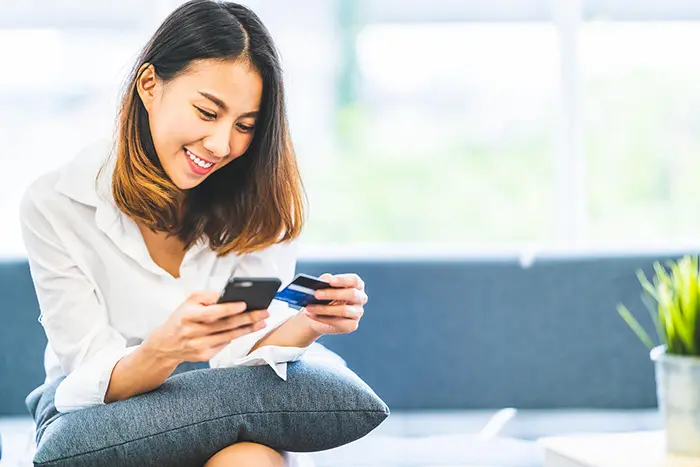 With Amazon Prime Day set for July 12th and 13th this year, some of the most highly anticipated online sales and shopping occasions are coming up. During last year's retailer driven shopping occasions, Amazon alone saw $11 billion in sales, and retailers in the MikMak Shopping Index reached a purchase intent rate of 9.5 percent, 1.4x the 2021 average. It is clear that these events are going to be crucial in driving strong summertime sales, and brands still have some time to prepare.
Here's what to keep in mind while getting ready for Amazon Prime Day and other retailer driven shopping occasions this year.
What exactly are retailer driven shopping occasions?
Sales and discounts are an instrumental part of most retailers' strategies, Amazon included. Initially presented as a way to commemorate their 20th anniversary, Amazon's Prime Day is a two-day annual (or sometimes biannual) event for shoppers to take advantage of deep discounts throughout the site, across all categories of products.
Since Prime Day's launch, many retailers have followed suit. While Walmart+ launched their first membership exclusive shopping occasion in June, Walmart will still hold their traditional 'Deals for Days' event this July. We can also anticipate Target to launch their annual 'Deal Days', and Best Buy to hold their own 'Bigger Deal Savings Event' right around the same weekend (July 12th and 13th this year).
Amazon's deals for Prime Day are exclusive to Amazon Prime Members, making these sales a major perk of a Prime subscription. While other retailers might have similar membership options like Walmart+, the events comparable to Prime Day will likely continue to be available to all shoppers at their respective retailers.
Home care and personal care are among the categories to keep an eye on
Last year, many categories saw success with Prime Day deals. According to eMarketer, Electronics are among the most shopped for products on Amazon in general, and Prime Day is no exception. However, 2021's Prime Day showed us home care, personal care, and beauty items were among the leading categories as well. For Amazon, the leading product category shopped for was technology, with CPG second, and beauty in third. For Target, beauty led the way, with CPG second, and grocery items third. Walmart also saw beauty as the leading category, with grocery second, and CPG third.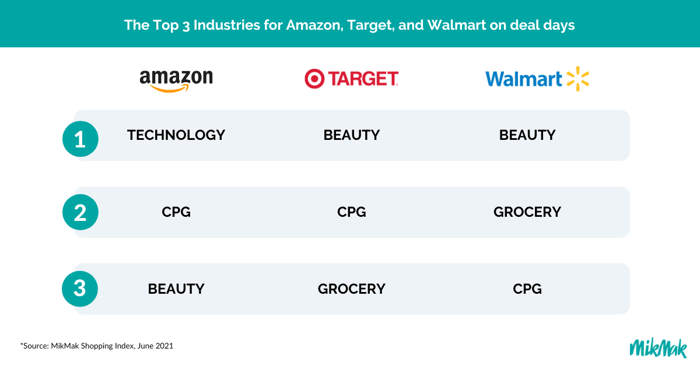 In summer of 2021, the MikMak Shopping Index showed us purchase intent increased by 1.5x in the month leading up to Prime Day (which was in June). This year, with there being more space between Memorial Day and Prime Day, we aren't seeing as consistent a rise in purchase intent rates just yet. Unlike event driven shopping occasions such as Mother's Day or Valentine's Day, where consumers plan up to a month in advance, purchase intent for retailer driven shopping occasions tend to accelerate sharply when the deals begin.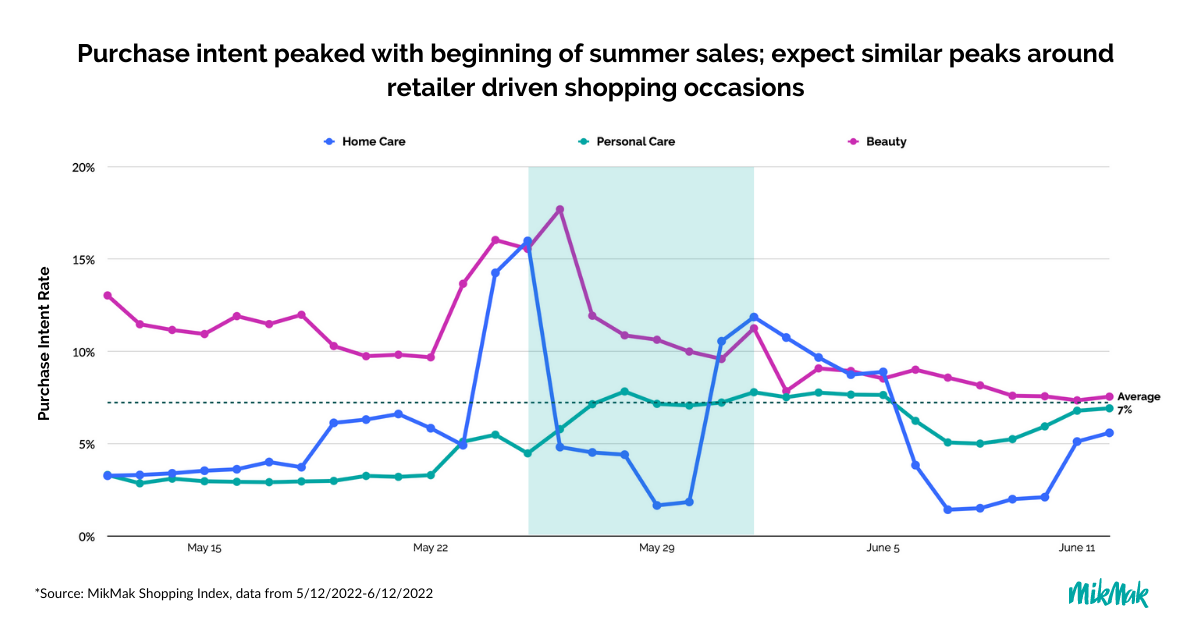 However, across categories, we did see peaks of purchase intent around the start of summer and Memorial Day, which coincided with seasonal specials and deals this year. So, shoppers are still very active when promotions are running. We are sure to see another peak on or around Prime Day and its respective competitor events.
---
---
Use shoppable media and diversify content across social and programmatic channels for your brand to win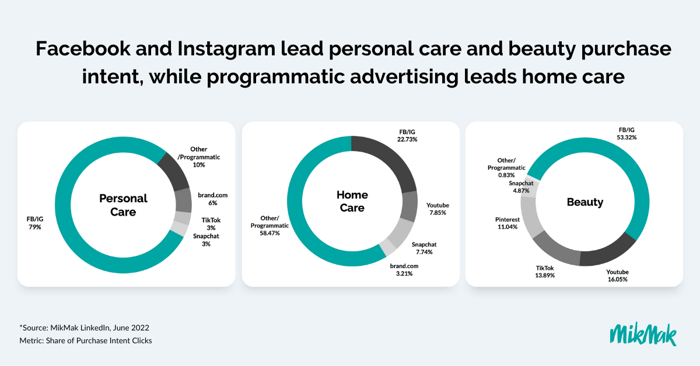 When it comes to product discovery, keep your shopping experience frictionless. Shorten the path to purchase so when consumers see your ads, they buy. An example of this in action was a recent influencer ad run by COVERGIRL on TikTok. When their influencer's video went viral, they made the content shoppable, allowing consumers to buy the product from their preferred retailer directly from the video. Allowing this resulted in 5.4 x higher purchase intent rate that the beauty category benchmark on TikTok and 38 percent higher purchase intent rate than the next highest performing channel in that time frame. Further, 62 percent of those checking out from the ad, preferred shopping at Amazon and Walmart, both of which have retailer driven shopping occasions planned this July. Running shoppable media campaigns like COVERGIRL could result in major sales when it comes to these events.
To optimize shoppable media, take advantage of shopping experiences featuring multiple retailer options. Leaning into this leading up to the big day on July 12th can inform you of what audiences are shopping with what retailers prior to the event, so you can focus your efforts on them accordingly. During the event, advertising retailer specific deals can attract consumers to add your product to their shopping cart.
When deciding which social channels to utilize, it's important to use a mix to reach as many shoppers as possible. Looking at the past month's data specifically, we saw Facebook/Instagram led the way for personal care with 79 percent of purchase intent clicks, and beauty with 53 percent of purchase intent clicks. For home care, most purchase intent clicks were from programmatic advertising (paid advertising platforms, The Trade Desk, etc). Being everywhere to appeal to the omnichannel shopper is the best route to take when planning media and creative for this July.
Take note of major trends; you may use them again soon
In 2021, Amazon held two Prime Day events. While nothing is set in stone, a recent report from eMarketer forecasts a second Prime Day in October. This means it is likely other retailers will also have similar events in Q3 and Q4. Luckily for you, July will be a major indicator of shopping behaviors and trends to come.
With MikMak Insights, you can understand your consumers' online behavior across platforms, retailers, and campaigns to increase purchase consideration from your shoppers. To learn more about how MikMak can help you for Prime Day and other retailer driven shopping events, schedule a demo today.