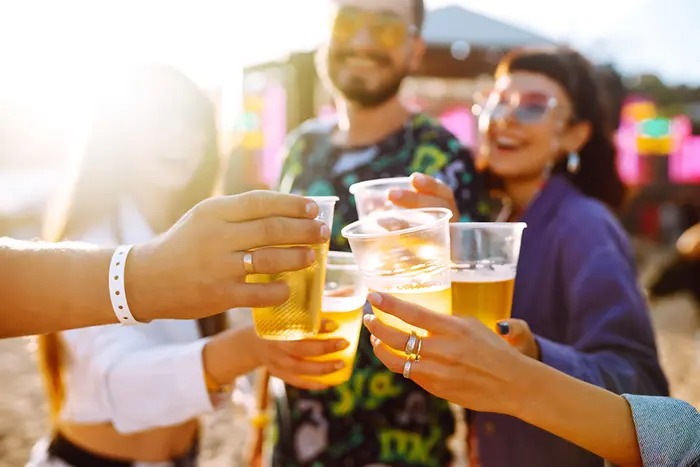 Keeping up with evolving consumer trends is challenging enough in normal times, many industries in recent years have seen significant shifts toward eCommerce. During my own shift to rapidly spending more time at home, it was convenient enough for me to order resistance bands so I could work out in my tiny apartment, or a ring light for better lighting during my dramatic increase in Zoom calls, but what if I wanted a freshly made margarita?
Luckily, for margarita megafans like myself, many states adopted laws allowing for the sale and service of to-go cocktails and drinks. During the height of the pandemic, to-go cocktails and drinks were allowed in 39 states. What was meant to be a temporary order to help local businesses keep their lights on, was so popular with consumers that 18 states and counting have adopted the measures full-time.
A similar trend to develop during this time was open container zones or social districts. Defined public spaces in which consumers could enjoy the cocktail, wine, or beer they just picked up from a local restaurant or bar. Think of Larimer Street in Denver, Old Town in Lansing, or how things have always been in New Orleans. After purchasing a to-go drink consumers can drink their beverage in these designated areas before continuing on with their evening, or repeating their purchase while continuing to enjoy the outdoors.
Consumers want access to their preferred beverage anytime, anywhere
These laws are changing how consumers find, purchase, and consume products in the alcohol category. What's not changing is that consumers in this space have particular tastes, preferred brands, and like all consumers, want their path to purchase to be as frictionless and easy as possible. What establishment I order my to-go margarita from may be entirely dependent on who carries Don Julio, my favorite tequila.
With shifts in consumer demand, shopping behaviors, and changes in laws in how and where these products can be bought and consumed, brands will need to properly communicate to consumers where they can expect to find their products.
Find out what, where, and when alcohol shoppers are drinking with MikMak Commerce Discover
To keep pace with these changes in consumer behavior MikMak offers MikMak Commerce Discover which increases the omnichannel purchase options that brands are able to offer their shoppers. Through this feature, brands have access to an omnichannel geo-location aware shopping solution, to offer consumers shopping for beer, wine, and spirits the ability to see even more nearby in-store checkout options including mass, supermarkets, grocery, liquor, drug, convenience, gas, bodegas, bars, tasting rooms, and restaurants. Beverage brands will also gain access to actionable insights and first-party data to better understand which platforms, retailers, campaigns, regions, and more are influencing shoppers on their path-to-purchase.
At the end of the day, every brand marketer knows that digital marketing is a significant driver for both online and in-store shopping. Optimizing your media with shopping locations that meet consumer demand across online, in-store, and at bars and restaurants will be key for alcohol category brands to keep pace with changing consumer behaviors and state laws. Want to learn more? Schedule a demo today.