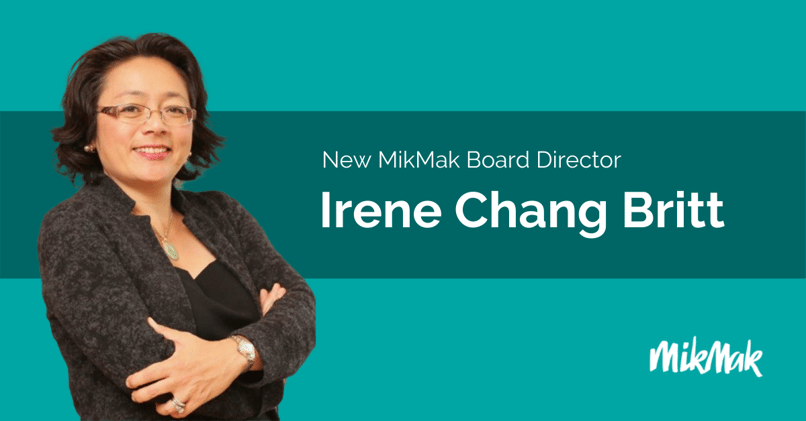 I'm beyond proud to announce that Irene Chang Britt is MikMak's newest board director.
When I started building MikMak in 2014, never did I imagine we'd attract world class board members like Irene. Irene Chang Britt spent 30 years as a CPG operator, with her most recent roles being the CEO of Pepperidge Farm Inc, Global Chief Strategy Officer at Campbell Soup Co. She has served on several company boards, including Dunkin' Brands, and will be joining myself, Gary Vaynerchuk (CEO of VaynerX), Danny Stein (Managing Partner at Volery Capital Partners) and Deepak Sindwani (Managing Partner at Wavecrest Growth Partners).
One of my personal goals this year was to diversify the perspectives on our board. I sought to find someone who can represent the CPG operator, someone who has C-suite level experience at public companies, and someone who can be another incredible mentor to me as we scale MikMak. Irene too believes that business is really about people, and if you can get that right, everything else should fall into place.
I was first introduced to Irene through one of MikMak's customers, Mike Pierson (SVP of Sales at Campbell Soup Co). Mike thought Irene and I were kindred spirits. Mike was right. Like anyone who joins MikMak, Irene interviewed us as much as we interviewed her.
Irene's conclusion was, "MikMak is an invaluable eCommerce enablement and analytics platform. It gives brands a complete understanding of consumers' online behavior and preferences to optimize marketing spend. I wish I would have had access to MikMak's first party data in my past life to accelerate online sales and drive brand awareness."
---
---
Over the last year, MikMak's business has tripled in headcount and revenue. We have employees in 19 states, we have customers around the world. The MikMak Platform has become the leading eCommerce acceleration software for multichannel brands, giving them unprecedented visibility into their consumers' behavior to drive conversion at every stage of the shopping journey. With Irene aboard with her strong CPG perspective, MikMak will be in a position to share the future of this industry for years to come.
Did I mention that we're hiring? Be the next addition to the MikMak team -- join us and Irene! Check out our open roles.