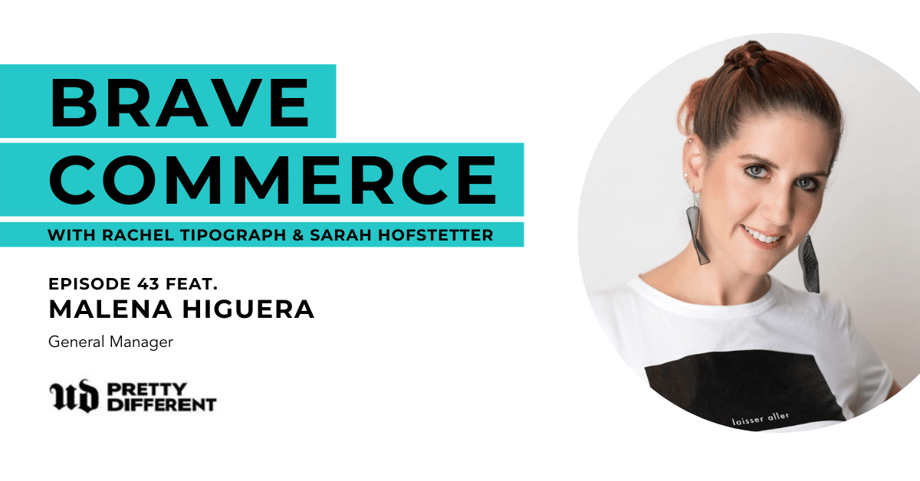 Historically, shopping in the beauty space has been known to be tactile. Trying on makeup and finding the right colors were important steps prior to making a purchase. Nevertheless, beauty brands have been moving their shopping experience online, turning in store associates to influencers, and replicating the key moments of the physical experience to eCommerce.
On this episode of BRAVE COMMERCE, hosts Rachel Tipograph (Founder & CEO of MikMak) and Sarah Hofstetter (President of Profitero) sat down with Malena Higuera, the General Manager of Urban Decay. Together, they discussed how the beauty industry is adapting its in store strategies for eCommerce, using eBoutiques as an educational destination, and finding bravery in starting and raising a family.
Untethering field marketing teams to become influencers online
In brick and mortar retail stores, makeup brands depend on field makeup artists to bring the experience to consumers. Malena recalls that Urban Decay's field makeup team was actually what introduced her to makeup when she was in high school. The team did her makeup for Prom—a particularly momentous night for her as a child of immigrants. Their role and the makeup she used in this memorable occasion sparked her love for Urban Decay, and fueled her lifelong passion for makeup itself.

With the acceleration to digital, these in store moments had to be adapted for marketing strategies online, and Malena and her team worked hard to replicate this intimate experience in eCommerce. At Urban Decay, field artists were "untethered" from brick and mortar stores and supported in extending their influence beyond the store. With this new digital strategy, Urban Decay artists are now content creators. The field team remains the center of gravity for their commerce model, operating across social platforms or answering one-on-one consumer questions in real time. This success came from a humbling amount of flexibility, and Malena reflects that her team's interest in "testing and learning" and bravery in "understanding how to change in real time" were key reasons why this was possible.
---
---
Utilize eBoutiques as an educational touchpoint in the shopper journey
For Malena, understanding eCommerce means "understanding the consumer experience, putting ourselves constantly through that journey, and making sure that it is smooth." Ultimately, a good consumer experience is "experiential" and "at the service of the consumer." When it comes to beauty, she found eBoutiques to be a "flagship destination" that offers brands a unique opportunity to help their consumers learn about and deeply engage their products. That way, when the consumers are having a unique shopping experience at the retailer site, they are also touching the brand in a way that may enhance their impression of the brand itself. These eBoutique environments can also become key moments to gather powerful consumer data that help brands test, learn, and make decisions.
Bravery in becoming a parent
Malena's bravest decision was becoming a parent. "You will spend your entire life totally in love and then totally in fear," she reflects. "Being a parent is a full-time, 24/7 all-the-time gift, one that has given me more in the last few years than anything I've ever done in my life."

When it comes to balancing a career and starting a family, Malena finds that having children has actually made decisions easier as she asks herself "is it good for my children or is it not?" She gives the example of moving across the country for her new role at Urban Decay and how that choice was made with her children at the forefront of her priorities. "In this scenario, [moving] was actually great for my children. So yes, let's go."

Her guiding principle? "I will never miss something that my children will remember that I missed, and I cannot remember why. If I miss a goal [my son made], but I could have been off that phone call, what does it matter? My son will remember the missed goal and I will not remember why in the world I missed it."
Ready to become BRAVE with us? Subscribe today!