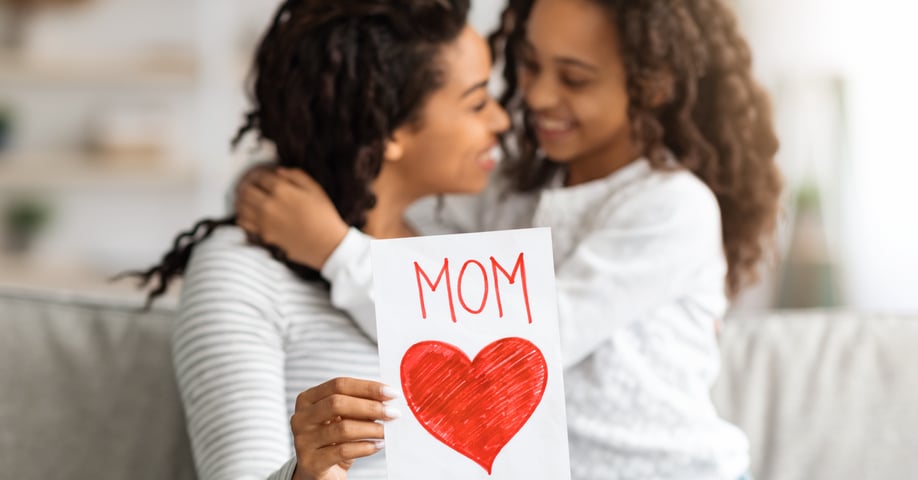 Mother's Day is the fourth largest retail holiday in the US, exceeded only by back-to-school planning and winter celebrations. Last year, 86 percent of consumers celebrated the holiday, with 66 percent doing so virtually. In fact, 78 percent of consumers surveyed by the National Retail Federation (NFR) last year believed that celebrating Mother's Day has become more important than ever during a pandemic.
This year, consumers are expected to spend more than $28.1 billion for this occasion. So what are shoppers buying to say "I love you" this Mother's Day? Here's what we are expecting to see.
Gift giving as a growing love language during the pandemic
Developed by Gary Chapman, Ph.D, the five love languages are five different ways of expressing and receiving love in interpersonal relationships. Of them all, quality time and physical touch have been the most impacted by social distancing. Meanwhile, gift giving has become an increasingly popular way to connect at a distance with loved ones during the pandemic. NRF research expects shoppers to go all out this Mother's Day, spending a record high of $220.48 on average. Virtual celebrations continue to substitute in person get-togethers, and no matter what your mother's love language is, gift giving has become part of it.
Shoppers are thinking of gift giving not only as a standalone way of saying "I love you", but also as a way to enhance other forms of expressing love and appreciation. NRF's survey results show that 44 percent of shoppers are looking for gifts that are unique, and 40 percent are looking for gifts that create a special memory. Spending quality time? Gifts that can be used together at a distance such as at home spa kits can enhance a video celebration. Acts of service? Home and gardening purchases that you can use to plant a garden or beautify a part of your mother's home can also be meaningful.
---
---
Electronics, grocery, and home and garden
The emotional value of celebrating mothers means that gifts have to be personal, meaningful, and special. So what will consumers buy as gifts this year?
Before the pandemic, 55 percent of gift givers treated their mothers to a meal at a restaurant or special outing. Without the guarantee of safe and on premise dining, many consumers are opting to celebrate at home, prompting an increase in food delivery as well as grocery and alcohol purchases online. MikMak's shopping index shows that purchase intent for groceries has been climbing since April 17, and is currently at 5 percent, which is 1.5 times higher than the industry average of 3.3 percent. 91 percent of eCommerce traffic for grocery is also being driven by awareness based media -- typical for popular events that are top of mind for shoppers.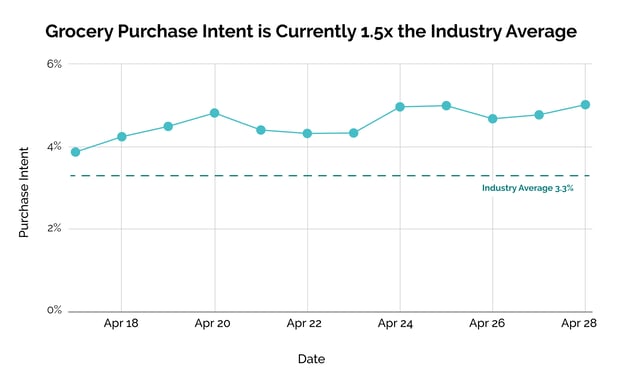 Traditionally, flowers and cards were popular gifts to show appreciation on Mother's Day, and jewelry was also frequently gifted as sentimental luxury pieces. These continue to be top contenders even during socially distanced celebrations. But what about other categories?
When it comes to gifts, electronics, gardening tools, and books experienced a massive boost in sales before Mother's Day last year, and is likely to continue growing in popularity this year. NRF's survey saw a 24 percent increase in shoppers planning on gifting electronics for Mother's Day, and 21 percent increase in shoppers planning on gifting houseware and gardening tools. Like everyone else, mothers were spending more time at home, taking up new hobbies, and engaging in more solo activities. Across the board, gifts given to mothers shifted toward thoughtful purchases that supported new hobbies mothers were taking up, and the work they were doing in their home and gardens.
Getting the most out of gift giving occasions
Brands and marketers should pay attention to how consumer preference and spending habits are changing to target messaging in a way that will resonate with shoppers. For these event specific shopping and gifting occasions, particularly as omnichannel commerce becomes the name of the game, here are some best practices to keep in mind:
Timing matters. Why are gifts so expensive during Mother's Day? Because having the gift on hand by the event date can often make or break the gifting experience. Make sure your ad states upfront that you can deliver by Mother's Day if this is something you can offer. (It can create a sense of urgency to purchase too!)
Fulfillment matters. Regardless of why, there will always be last minute purchases to make. Make it easy for your consumers to receive what they need in the way that is most convenient for them. Do you offer same day delivery? Buy online pick up in store? This is information that your shoppers will need to know when making a purchase decision, so make sure to communicate it up front.
Consumer impression matters. Gift giving occasions can be high stakes and stressful socially and emotionally. Complimentary gift wrapping services, a thoughtful note, or even adding something extra in purchases made that day can make a memorable impression for your consumers and develop brand loyalty.
In order for brands to be successful this Mother's Day, it's critical to create a seamless omnichannel shopping experience fueled by data-driven consumer insights. Read our free guide, The Modern Digital Marketer's Guide to eCommerce Performance Metrics, to learn more about which eCommerce metrics can be used to make smarter decisions about future campaigns.