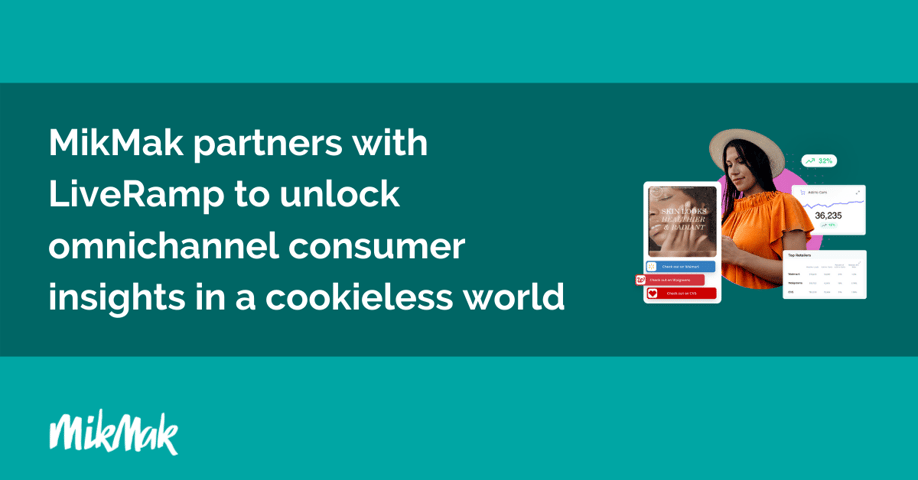 Partnership Combines Industry-Leading eCommerce Analytics and Enablement Software with Invaluable Demographic Data to Unlock Omnichannel Consumer Insights in a Cookieless World
We're excited to announce MikMak's new partnership with LiveRamp, the leading data connectivity platform, to enhance our first party data insights offering for brands. Through this partnership, MikMak brand partners will be able to access invaluable demographic data to better target consumers in a fair, equitable and scalable way.
With the inevitable deprecation of third-party cookies and the increasing push for consumer privacy, first-party data is at a premium. MikMak has been a proven leader in providing first-party data and insights to brands like Colgate, L'Oréal, and The Hershey Company, helping them to better understand their online audience and optimize media and marketing spend. To continue providing the most comprehensive shopper profile to brands, MikMak is integrating with LiveRamp to enable eCommerce acceleration in a cookieless world and provide brand partners with an even richer understanding of who their consumers are.
"As the digital advertising ecosystem evolves, MikMak has remained at the forefront of consumer driven commerce, providing eCommerce analytics and enablement software that helps multichannel brands better understand their audience and win market share," said Rachel Tipograph, Founder and CEO of MikMak. "We are grateful to have found a partner in LiveRamp to further advance our insights offering and help MikMak to provide an omnichannel view of the consumer to our brand partners."
---
---
"LiveRamp has helped the world's leading brands, agencies and publishers to support their first-party data strategy and analyze the entire customer journey," said Dennis Ellis, VP Product, GM Identity Infrastructure at LiveRamp. "Integrating LiveRamp's suite of identity products with the holistic insights and analytics offered by MikMak will provide brands with more control over their customer identity, more customization in how that identity comes together and better privacy management.
Through this integration with LiveRamp, MikMak brand partners will also be able to pull rich demographic segmentation into MikMak Insights to understand who their customers are, which can range from age and gender to more targeted categories including lifestyles and interests. MikMak will be able to offer hundreds of specific demographic data points on a brand's shoppers to understand and perfect the online shopping experience, with additional audience building capabilities and omnichannel insights to follow.
The integration comes on the heels of MikMak's recent feature launches of Commerce Discover for Brand.com and Up Funnel Analysis, to further support brands in understanding consumers' online behavior in a cookieless web. Commerce Discover for Brand.com dynamically displays retailers for online and in-store shopping based on user location and inventory availability, increasing conversions for brands by providing a seamless path to purchase. Up Funnel Analysis helps brands to connect upper funnel metrics to the end sale at major e-Retailers with MikMak Sales Insights. This allows brands to see the full customer journey and drive business growth.
Identity insights via LiveRamp will be available through the MikMak platform in the second half of 2021. To learn more about how MikMak can help accelerate your brand's eCommerce growth, schedule a demo here.