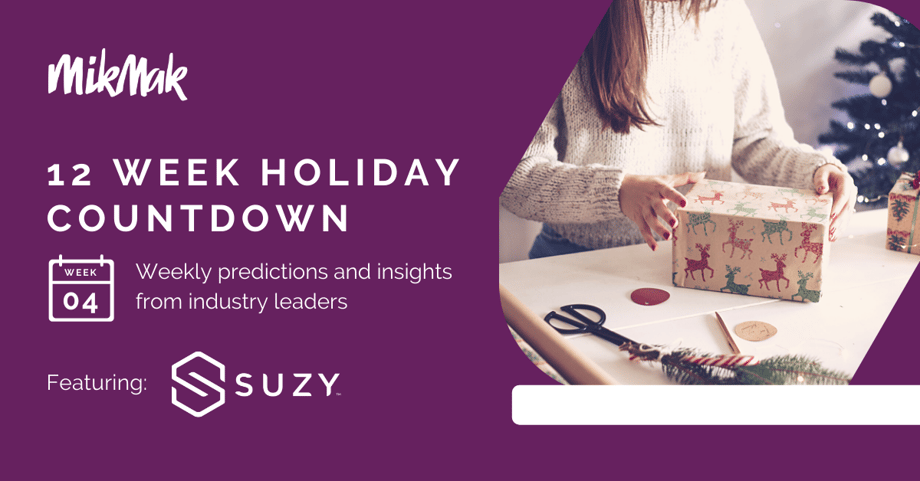 After three weeks of industry forecasts for consumer demand this holiday season, it's time to hear from the shoppers themselves. For the fourth week of Holiday Countdown, MikMak and Suzy bring to you: consumer shopping data! We ran a survey sampling over 500 shoppers on the real-time market research platform, Suzy, asking them how they are planning on spending money this holiday shopping season. Here's Matt Britton, Founder and CEO of Suzy, to explain some of our latest findings that could potentially impact your brand's eCommerce strategy.
MM: Hi Matt, and welcome to our holiday countdown. We always love running these consumer research surveys with Suzy to present joint thought leadership, and this year is no exception! Would you please take us through some of the findings?
MB: Of course, and thanks for having me. The first thing we did is take a temperature overall of shopper enthusiasm, and how they foresee spending money this year, particularly for Black Friday and Cyber Monday.
As you can see, 60 percent of all shoppers surveyed commented that they see themselves spending the same or more than the year before, indicating higher demand than the year before. Only 9 percent planned to spend less. Due to the impact of the pandemic across the global supply chain, we're going to closely observe if companies are able to meet this potential surge in demand.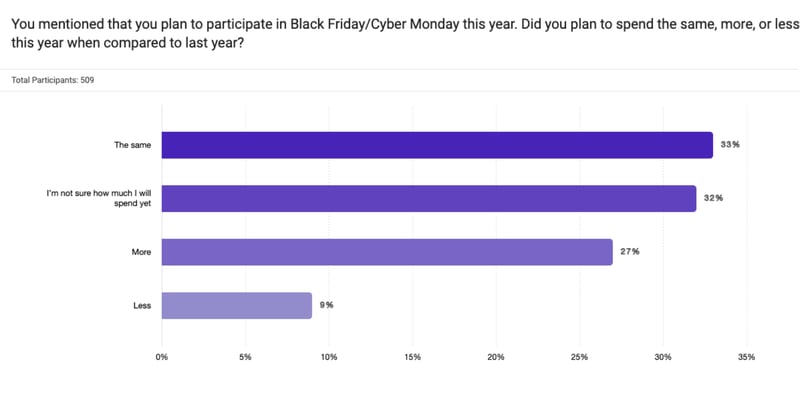 ---
---
MM: That's very exciting for brands participating in this shopping season. I see here 32 percent of the shoppers surveyed responded that are not yet sure how much they will spend. To us at MikMak that's a promising group. They're still making decisions and are at an earlier stage in their planning, which means there's a lot to learn about them and to tap into with your campaigns. Any commentary you would like to make on that?
MB: Certainly. We see that the pandemic has impacted consumers very differently. We suspect that given the added complexity of the Delta Variant, some consumers will likely push off holiday spending till later in the season.
That said, if you look at the results of our next survey question, it becomes more promising. 79 percent of shoppers answered that they are planning on buying online and having it delivered to their homes. Brands who are running online campaigns hoping to directly influence online sales, this is your moment.
However, just because shopping online is preferred doesn't mean other methods are not when it comes to Black Friday and Cyber Monday. Between buying online, shopping in-stores, BOPIS, and curbside pick up, there's still a variation that indicates omnichannel preference.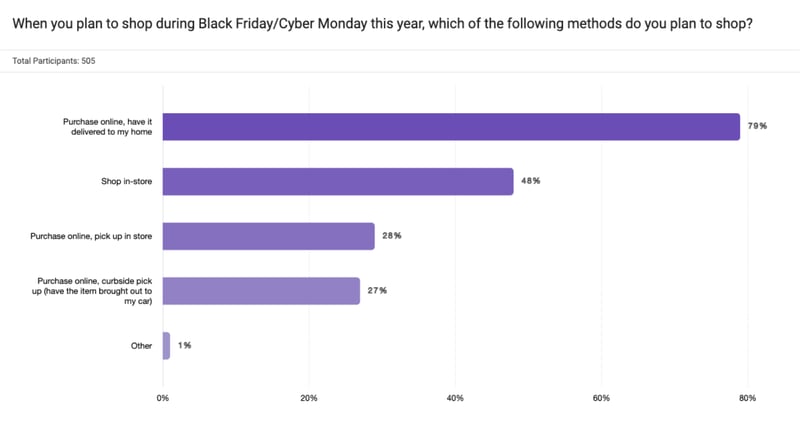 MM: Looking at the top two options between purchasing online for delivery and shopping in-stores, there's likely a good number of surveyed shoppers that chose both. Brands, get your online and in-store shopping toggle button ready! And Matt, do we see anything of interest on a category level?
MB: We did look at category preference. If you're a consumer electronics brand, apparel brand, or toy brand, Black Friday and Cyber Monday is still the occasion for you. Many of these purchases will end up as holiday gifts, as evidenced by the popularity of significant others (64 percent), parents (64 percent), and kids (60 percent) being primary recipients of these purchases.
If your brand doesn't fall under these three categories, it may still be a great holiday season for you. While in terms of dollar amount, most of consumer spending is going toward higher priced items such as consumer electronics, beauty and personal care products (44 percent of shoppers), home goods (40 percent of shoppers), and food and beverage are still popular items for shoppers to purchase.
MM: Interesting. I can see these items being popular add-to-cart products when shoppers are checking out. There' a lot brands can do to explore their product adjacencies to increase the chances of being added to an existing basket.
Finally, let's talk more about Suzy. Your specialty is on-demand consumer research, and I'm sure you've done a ton of research outside of this survey on what to expect for the holidays. What else are you seeing and what can brands anticipate?
MB: Based on a recent survey we ran for Halloween, we know that anticipation for the holidays is at an all-time high, as consumers continue to express an excitement for a return to normalcy. This will definitely be a holiday season to watch.
MM: Thanks so much for joining us!
MB: Thank you.