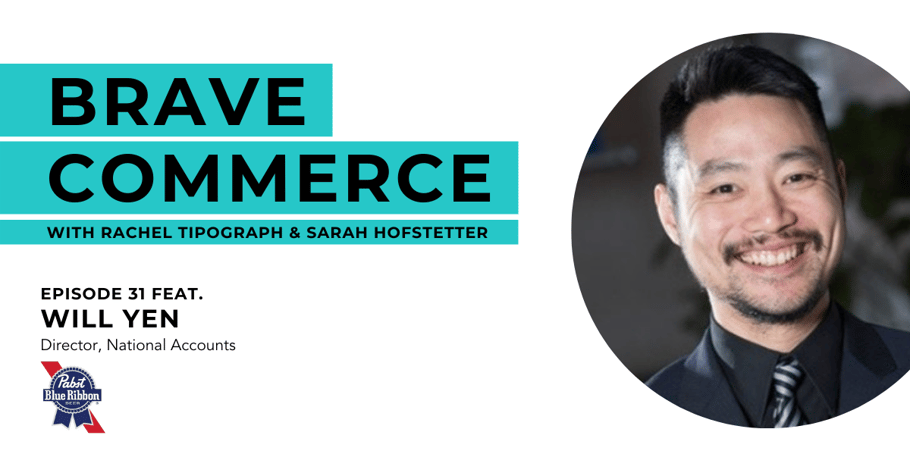 The consumer journey for purchasing beer online shifted during stay at home, creating new preferences and behaviors that brands had to adjust to in order to meet their consumers where they are.
On this episode of BRAVE COMMERCE, hosts Rachel Tipograph (Founder & CEO of MikMak) and Sarah Hofstetter (President of Profitero) sit down with Will Yen, Pabst's Director of National Accounts and eCommerce. Together, they discuss how beer brands have adjusted to social distancing, opportunities at the last mile, and making career pivots.
eCommerce for beer developed to match social distancing needs
No one wants to drink warm beer. Thus, one consumer preference that emerged during stay at home is the refrigeration of the beers ordered online. "Beer doesn't have to be refrigerated necessarily from an eCommerce perspective," Will notes, "but most consumers who order beer through a delivery platform like an Instacart, or Drizly, or goPuff, or Amazon Prime Now want it in the moment, and so they want that beer to be ice cold."
Additionally, on-premise orders from "restaurants, bars, hotels" where beer is sold on tap decreased and shifted toward off-premise. As with food and beverages, shoppers also stocked up on their favorite beer brands during the pandemic. Pabst saw an increase in bulk purchases and larger pack sizes. As a result, known regional brands grew in popularity. Will gives an explanation, "If I have less trips to the store, I'm not going to spend time picking out a new IPA I'm not aware of. I'm going to go with something I know and love."
Regional relevance and last mile delivery
For Pabst, cultivating regional relevance means making products meaningful to the regions that they're sold in. When going into hard seltzer, for example, the Rainier brand developed a huckleberry flavor as it has recognition and relevance to Pacific Northwest. As products become regionally specific, media investments and activations must also take geolocation into account. Just doing national programs "may not resonate with the consumer in a certain market", Will remarks.
Last mile delivery means the final step of the fulfillment process when the product reaches the hands of the consumer. For brands like Pabst looking into optimizations at the last mile, the biggest challenge is with consumer data and insights that belong to different retailers and delivery partners. Nevertheless, Will mentions, these partnerships "open up more purchase occasions". Last mile is also where there is opportunity to build brand equity. Giving branded swag as part of the purchase, such as "jackets and coolers and glassware", can really resonate with consumers as a form of appreciation.
---
---
Taking chances on brave career changes
For Will, bravery took the form of a career pivot, one that left all that he invested into a law degree behind. After finishing law school, Will took on a role at a legal nonprofit which he soon realized began impacting his mental health. Yet, he wasn't wasn't sure of what to do next since he only had legal experience. Soon enough, a friend reached out with a sales and marketing opportunity at Expedia, back when it was only a newly minted startup. In deciding between another legal job offer and one with Expedia—one which utilized his full background and one whose industry wasn't entirely defined yet—Will made the leap, even though he felt it was so late in his career to pivot to something he didn't know much about.
"The learning for me was really about being brave with my career in the sense that I could always go back to what I trained for, but there wasn't always going to be an opportunity like what I had at Expedia—to get into something that I had totally no business being in, but to take it head on with positivity, with curiosity, with passion. And it's been my entire career ever since. 12 years of eCommerce starting with that one brave decision."
Ready to become BRAVE together? Subscribe today!