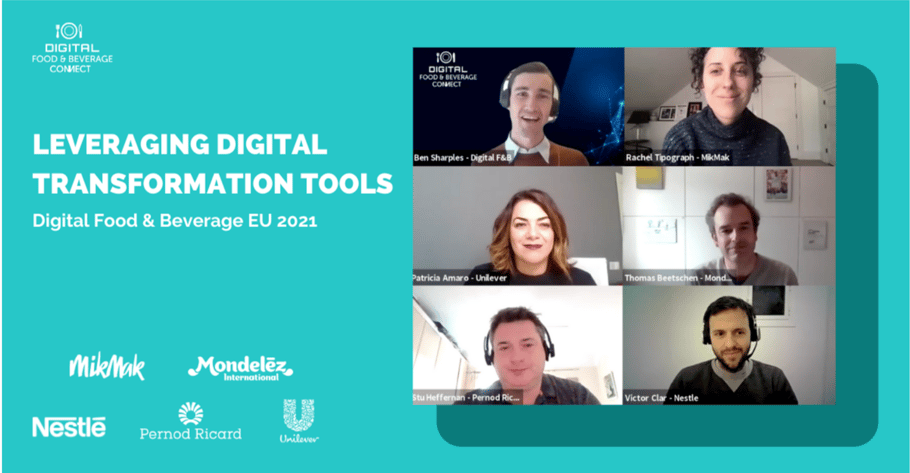 When selecting eCommerce technology, whether consumer facing or internal, brands must first align around people and process. At Digital Food & Beverage EU 2021, MikMak's founder and CEO, Rachel Tipograph, spoke alongside brand leaders Thomas Beetschen (Mondelēz), Victor Clar (Nestlé), Patricia Amaro (Unilever), and Stuart Heffernan (Pernod Ricard). Together, the panel discussed how these global brands are redefining the customer experience and leveraging technology to personalize online shopping. Here's what they had to say:
Maximize the ROI on your software through alignment
eCommerce impacts teams on an enterprise level. That means it is important to establish teams around eCommerce and define how the technology will serve them. Stuart agrees; at Pernod Ricard, "the human element is really important". Getting the right people in the roles will drive "data, performance, and technology forward".
Yet so much of what must be established is also dependent on the goals you have set for your brand as it relates to your eCommerce growth. For Stuart, Pernod Ricard is currently focused on improving "the internal capability of being able to measure [themselves]." What are ways to measure "the commercial value of [your] business today"? How do you expand this understanding on a global level? For Thomas, Mondelēz's goals emphasize strong data collection processes to drive insights and automate decisions.
Once goals have been established and teams organized around eCommerce, it's time to define the internal process around how to operationalize the software. Brands need to ensure their teams break down silos for constant collaboration around these workstreams. Patricia notes that this is an important focus for Unilever. "In order for your employees to best make use of the technology," she explains, "all teams, whether marketing, sales, business, channel strategy," must review their roles and approach to eCommerce to include how this piece of software can help achieve their new eCommerce goals.
Use your data to meet consumers where they are right now
Brands succeed when they understand their consumers, are responsive to their preferences, and are agile to shifts in purchasing behavior. Leverage your data and insights from across all teams, from eCommerce to social listening, to make your decisions. Rachel tells an example with e.l.f. Cosmetics, whose CMO gathers the leadership team weekly to share market lessons. From these meetings, the brand realized that consumers have stopped shopping at specialty beauty stores during Stay at Home, and started buying beauty products at grocery stores. "Customers are looking to make fewer trips right now and drive bigger basket size." With this realization, e.l.f. Cosmetics then enabled Instacart shopping on their consumer site, "reorganizing themselves around last mile delivery because that's how the customer wants to shop."
Making decisions around data to better serve consumers is also an arena in which brands are protecting and gaining market share. Brands should also keep in mind that unless the data is first-party, it is likely accessible to competitors as well. Getting ahead of competition will require more accuracy and being strategic about the collection and enrichment of consumer data from the very start.
---
---
Personalize eCommerce from messaging to fulfillment
Consumer driven commerce has long been the name of the game for eCommerce. Rachel encourages brands to consider what actually drives consideration and conversion for the customer. Pre-pandemic, customized messaging was a key focus for marketing teams. During the pandemic, inventory became top of mind as brands looked to marry consumer demand and inventory availability at a local level. Personalization in the shopper journey can take the form of a timely message that notifies the consumer that "this product is in stock right now, at this price, and you get it within one hour". That's what the customer wants", Rachel explains, and so that's where brands should be.
What did you think of Mondelēz, Nestlé, Unilever, and Pernod Ricard's strategies? Ready to do the same for your brand? Watch this webinar on demand to learn more.