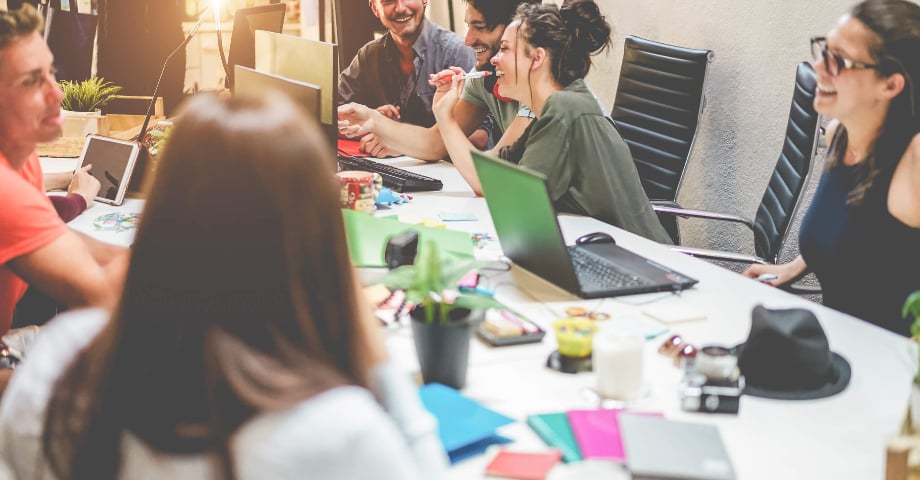 Marketing silos can spring up easily within your organization if you aren't careful and being cognizant of visibility and good communication within your internal teams. Oftentimes (especially inside large organizations), the right hand has no idea what the left hand is doing. When these efforts and teams are fragmented, marketers are executing campaigns without unified goals or even tactics.
For example, if you receive an email from a brand you just signed up with and it looks and sounds different from an ad you just saw, that's because one team is writing emails and another is creating ads—and neither are working together. Meanwhile your customers are thinking, "Is this even the same company?" Or even worse, "Does this company deliver what they promise?" These types of disconnects affect your overall customer experience and can hurt your business. When a customer's experience feels disjointed and confusing, they are likely to lose interest and even trust.
Collaborating with teams across your organization is easier than you think. Marketers can be leaders in championing internal change to be more collaborative, by nature. They are used to experiencing and introducing change, in a way that other areas of the business aren't. With organizations implementing omni-channel and multi-channel marketing strategies, it is more important than ever for cross-collaboration internally between marketing, sales, creative, and technical departments. If internal teams can change the "swimming only in your lane" mentality, create more cross-departmental visibility, and work within more unified goals and tactics, it can make a big change in breaking down silos.
The Disconnect Between Brand and Shopper Marketers
Brand and shopper marketing have traditionally existed in silos, with their own techniques, knowledge base, objectives, and goals. That's because each team has a fundamentally different role within the larger marketing function.
Brand marketing, for instance, is all about building and investing in brand values, reputation, goals, vision, and visual representation. However, shopper marketing has a natural alignment with sales, leveraging a deep understanding of the retail and eCommerce space and how to optimize within it. One gets criticized for not understanding retailers; the other for not understanding consumers. When marketing is set up this way, it's easy to see the disconnect between the experience as a brand consumer (watching ads, engaging on social media) and a brand shopper (actually making a purchase).
If you've found yourself in a similar situation within your own marketing team, read on! Here are some of our tried-and-true strategies to create unison across both teams:
1. Identify Shared Objectives Between Teams
This one is really simple but crucial. The more shared objectives you can identify among teams, the more cross-collaboration is needed to measure these goals against KPIs. The more you can integrate this practice into your teams, the more alignment you will have. Build a review process in which teams meet to talk through objectives and measure concrete results.
---
---
2. Encouraging Change from Both the Leadership Level and the Individual Level
Implementing change and best practices doesn't just come from the top. It takes every individual making an active effort to collaborate, communicate often, and provide as much visibility as you can to keep everyone on the same page. For leaders, keeping the collaborative goals top of mind and active is key. It takes constant effort to build and keep a collaborative flow with supporting strategies like building process, visibility, and accessible information.
3. Open Up Team Building and Cross-Department Education
This tactic not only will boost morale, but will also give teams valuable insights into the roles and responsibilities of other departments. Build a shadowing program in which someone can learn new skills from another person from a different team. This builds invaluable understanding into the operation as a whole and a richer knowledge of the big picture. One simple problem this solves is individuals knowing what other people actually do. How many times have you had no clue what Brian, the Senior Yield Analyst, does? As a result, this makes it easy for people to identify subject matter experts that they can go to with questions or to help problem-solve in the future.
4. Embrace Technology
Technology is one of the biggest tools we have to unify teams and ensure efforts are visible and measurable across teams. Use an eCommerce marketing platform to help keep teams focused on the same goal. Though these platforms are key for marketing goals like automation, scalability, time savings, and effective spend, their greatest attribute is the amount of visibility they create. Team members now have access to campaigns and efforts across social media, email, content, demand generation, and the list goes on. Technology makes quick work of strengthening teams and is the olive branch that has escaped businesses for decades.
With some of these simple tools and best practices implemented internally to break silos, your customer will be the one that truly benefits with a world-class experience from both your brand and product.