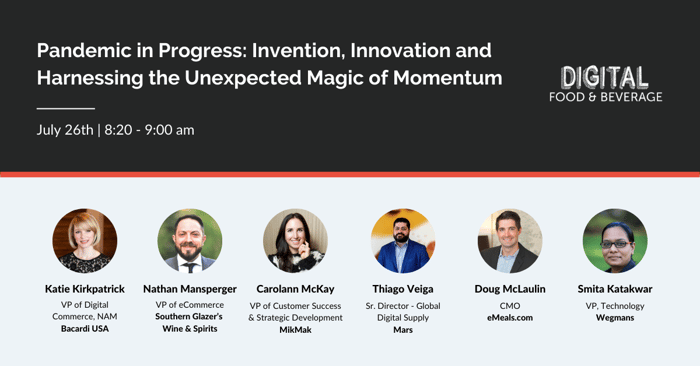 Last week at ​The eCommerce & Digital Marketing Conference For Food & Beverage, Carolann McKay, MikMak's VP of Customer Success & Strategic Development, moderated a Keynote Panel with industry leaders on how the pandemic affected the food and beverage industry. This in-depth panel discussion, featuring industry experts from eMeals.com, Bacardi Southern Glazer's Wine & Spirits, Wegmans, and Mars, explored how in a time of unpredictable growth, these companies seized the moment and harnessed the magic of momentum.
Beyond the pandemic, visibility into the consumer journey has become exceedingly important
As an opening question, Carolann asked each speaker what was keeping them up at night. Among all the responses, it became clear that the pandemic had a lasting impact on each brand in its own way, and required them to innovate and look at data more closely than before. Both Katie Kirkpatrick of Bacardi and Nathan Mansperger of Southern Glazer's Wine & Spirits mentioned that a lack of transparency into the consumer journey was a major concern for their brands. This seemed to be a common concern among the panelists and the crowd alike. For them, the pandemic magnified the need to keep consumer needs at the forefront.
To expand on this, Carolann brought up the topic of organizational structure, and how this can contribute to keeping the consumer front and center. Kirkpatrick shared that Bacardi has recently added more cross-functional, special ops teams that help better align the company with the shopper.
Likewise, Mansperger explained that Southern Glazer's Wine & Spirits has placed emphasis on aligning the whole company on understanding the consumer by setting dual goals for both online and offline sales. He shared that recently making sure the whole company understands where traffic is coming from helps the alcohol brand strategize for the future.
Thiago Viega of Mars added that when it comes to strategizing in a post-pandemic world, the trial and error process has been instrumental. "Part of it, is giving ourselves permission to fail," Viega said, "we'll invest in an MVP or a pilot, try it out, understand the implications of that, and we're not rushing decisions."
Shopping should be a seamless, omnichannel experience that is able to cater to digital and in-store preferences
A common theme of the session was that the modern consumer is paying close attention to the shopping experience a brand is able to provide. To speak on this, both Smita Katakwar from Wegmans and Kirkpatrick explained that consumers no longer see the difference between what channels they are engaging on, but rather that they just want to engage with the brand. Kirkpatrick noted that ideally, over time, this concept will transition out "digital teams" at companies, and require alignment among the entire company, as every role in marketing and sales will require digital expertise.
Mansperger expanded on this by sharing that teams at Southern Glazer's which were once dedicated to brick-and-mortar, are now aligning with teams dedicated to eCommerce to ensure that advertising efforts are cohesive. He predicts that the future will hold more connection between in-store and online data.
---
---
On the retailer side of things, Katakwar says that Wegmans is placing focus on bringing the digital experience in stores to make shopping more seamless for any shopper. She mentions that at the height of the pandemic, eCommerce was more of a "buying journey", which emphasized how orders were being fulfilled. Now, the focus is on creating a "shopping journey", placing emphasis on product discovery.
When it comes to understanding consumer needs, Mansperger asked Katakwar, as a retailer, how Wegmans shares data with brand partners. In response, Katakwar said, "Data is the new currency." She mentioned that the retailer assesses if the data shared will be used responsibly by the brand to benefit the customer.
Hybrid teams with a range of experiences create a beneficial, innovative workspace
Carolann asked the panel about what talent the leaders were looking to add to their respective organizations right now. To respond, Kirkpatrick shared that Bacardi has been looking at their team in totality, and recruiting people externally from different industries to offer new perspectives. Additionally, she noted that her team has been hiring internally too, pulling people with more commercial experience and pairing these new hires in a "hybrid" environment. Along with having the skills, Kirkpatrick spoke on the importance of company culture, and finding employees who are open to learning and trying new things has been key as the company further fosters innovation post-pandemic.

To recall the importance of data in the industry, Veiga expressed the importance of data science roles at Mars. Having employees with a great understanding of data helps the brand find success.
Doug McLaulin from eMeals.com adds that a growth mindset is particularly important in candidates right now. On this topic, he said, "If you're looking at what was true a year ago, or two years ago, you're already out of date."
When it comes to post-pandemic commerce, the future is reliant on data
Among all the panelists, the importance of data post-pandemic was a common theme. As brands move forward and try new strategies, it is important to keep a pulse on industry trends and consumer behavior. Having access to data can make the future less uncertain by informing brands as they plan. For more information on how you can access the most powerful insights and information for your brand, schedule a demo with MikMak today.