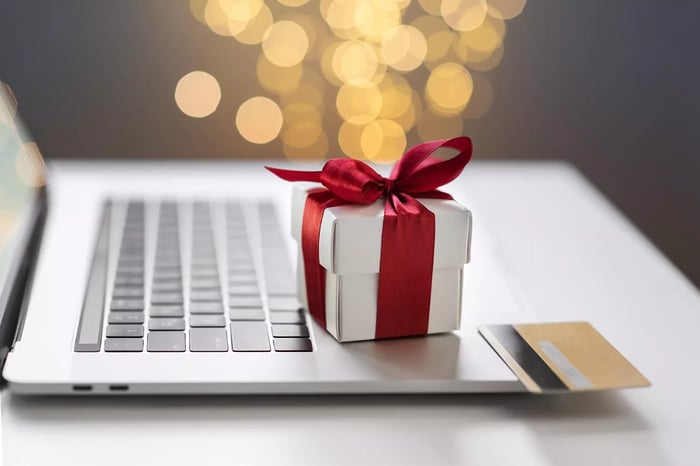 With Q3 in full swing, now is the time for brands to focus on planning for the 2022 holiday season. MikMak's Shopping Index shows that this year, holiday shopping will begin on Tuesday, November 1, and continue until the end of the year with three major purchasing peaks before the end of the season.
With macroeconomic factors affecting consumer habits this year, brands should use current data and strategize accordingly to meet changing consumer needs. Planning ahead to ensure inventory is available in the right place at the right time can help brands win over the consumer this upcoming holiday season and beyond.
Consumers will make trade-offs to get what they want, when they want it, at the price they want
The overall average purchase intent rate in 2022 so far is 5.5 percent; this can more than double during peak holiday shopping dates. That means shoppers are twice as likely to purchase during the holiday shopping season than for the rest of the year.
Using last year as an indicator, MikMak predicts the first shopping peak to begin the two weeks before Black Friday and Cyber Monday, and extend through the shopping events. We anticipate the second peak to happen about two weeks before Christmas, leaving a week of buffer before the holiday. The third and final peak is expected right after the Christmas holiday, as people prepare for the new year.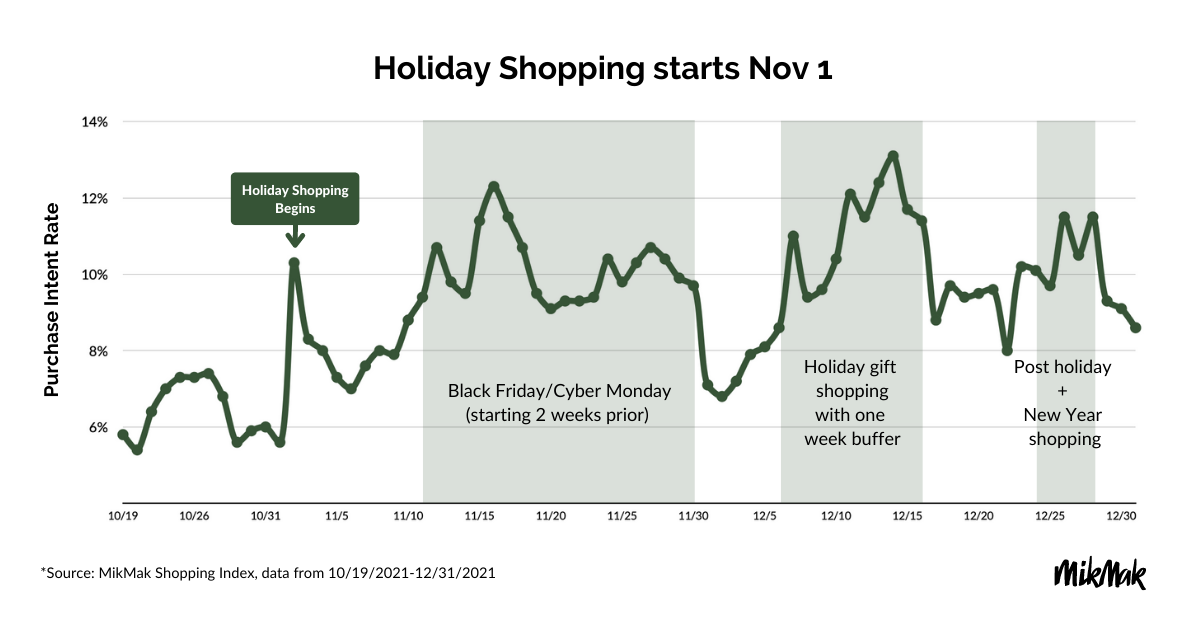 This year, shoppers want to ensure they can get what they want, when they want it, at the price they want. More so than years prior, being out of stock might cause shoppers to go with a different brand. To maintain consumer loyalty, have your products available at the right retailers during shopping peak periods so consumers have the option to choose your brand over competitors.
Meanwhile, alcohol brands will see different demand peaks. MikMak's Shopping Index shows that alcohol eCommerce brands have one sustained surge between the Saturday before Thanksgiving and the Sunday before Christmas. This surge signifies that online alcohol shoppers combine purchases for multiple social events into one bulk order. This year's anticipated surge dates are November 19th - December 18th, so if you're an alcohol brand, pay close attention to inventory between those dates.
---
---
For all brands, always make sure consumers know when your products are on shelves. Focusing your spending on awareness-based media will help your consumers know what retailers to shop for your products. To promote your product when available or on sale at certain retailers, consider executing a retailer-specific linking strategy to make consumers aware of deals and availability. If your products are in stock while your competition isn't, you may be in a position to win market share by displaying your availability to frustrated shoppers ready to switch brands.
Be diligent and mindful about when supply is limited
Even with keen planning, sometimes it is still hard to predict demand. In the case that your brand finds itself in a situation with limited product availability, be sure not to lose market share. Use inventory management capabilities with a partner like MikMak, so your consumers know where to buy your products in the place and time that they are actually available.
Further, when supply is limited, keep a close relationship with your retailers. Don't stop spending, because the less traffic you send to the retailer, the lower you begin to rank in search results to shoppers. Keep your product discoverable by keeping media running, and consumers aware of your product.
Consider including drugstores in your retailer mix this holiday season
Despite consumer loyalty to retailers being lower this year, it's still important to know where consumers prefer to check out first. MikMak's Shopping Index found that Walgreens ranked number 4 in share of purchase intent clicks, just under the "big 3" retailers (Walmart, Amazon, and Target). In years past, drugstores may not have been the preferred retailer, but are becoming more popular as prices increase and discretionary income decreases.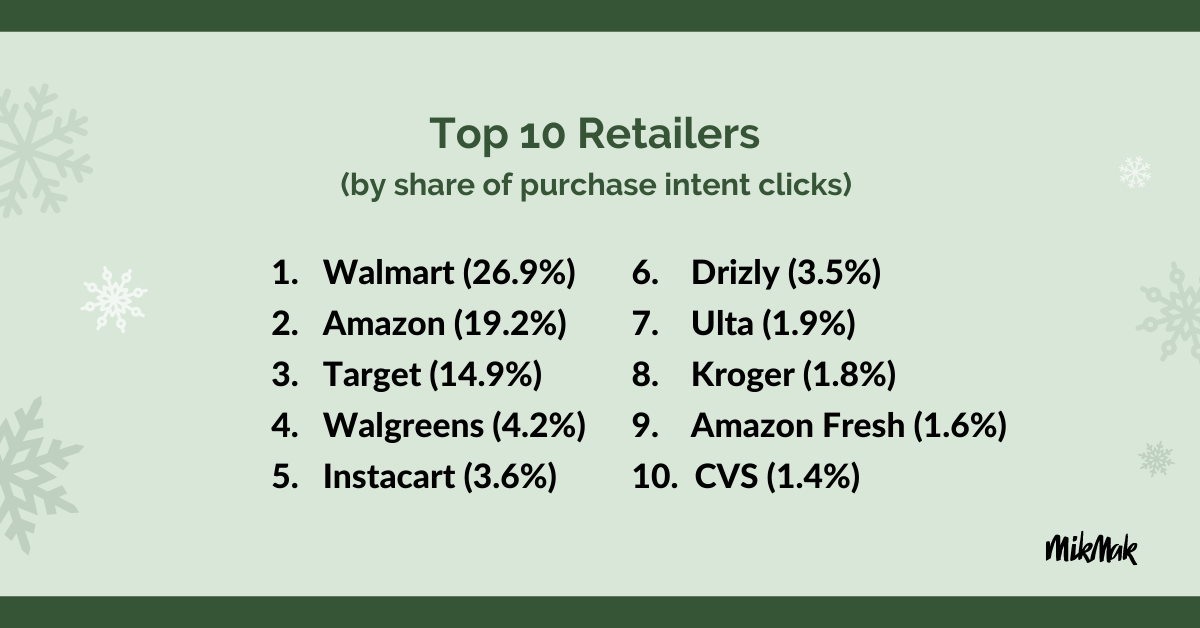 Beyond drugstores, consider having inventory at local grocery stores like Kroger, and other online retailers like Instacart, Drizly, and Amazon Fresh. These retailers also ranked among the top 10 this year, and consumers will likely be shopping with them this holiday season.
Plan ahead for the holidays by knowing the latest trends and insights
Planning early is key when it comes to winning during the holidays. Make sure your brand is keeping a pulse on the trends. To learn the latest insights to appeal to your shoppers and further understand how shopping habits have shifted this year, download MikMak's 2022 holiday guide, "Giving Consumers All They Want for the Holidays."