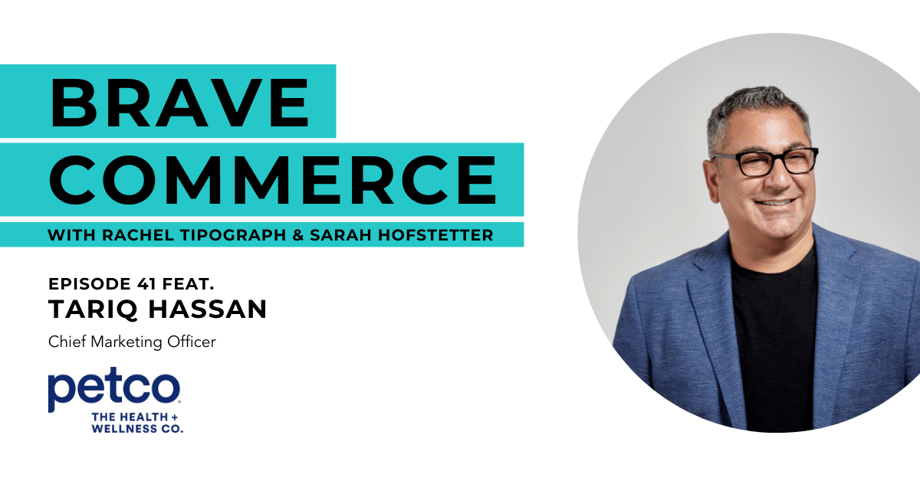 eCommerce adoption and pet adoptions skyrocketed during the pandemic, resulting in 35 percent of pet-owning households adding a pet during this period. This created a happy challenge for retailers like Petco, who had the opportunity to scale its eCommerce vision and reimagine an omnichannel role for its physical storefronts. On this episode of BRAVE COMMERCE, hosts Rachel Tipograph (Founder & CEO of MikMak) and Sarah Hofstetter (President of Profitero) sit down with Tariq Hassan, Petco's Chief Marketing Officer. Together, they discuss how Petco is adapting to the accelerating pace of eCommerce, the transition of physical storefronts to wellness centers, and taking risks with enthusiasm.
Linking data to infrastructure to meet demand for pet products
While other major retailers struggled with inventory management, product unavailability, and slow shipping speeds during the pandemic, Petco was ready. The team had been piloting an eCommerce inventory system that allowed pet care centers to ship from stores. This gave Petco a "significant strategic advantage," and allowed them to maintain faster shipping than other retailers. While competitors in the category slipped to seven to ten day delivery, Petco's worst case scenario took only three to five. This was made possible because they tied infrastructure with data, allowing order data to travel back to specific pet care centers where products were shipped. To meet the growing demand, Petco quickly scaled this beta program, expanding it from 25 locations to 900.
Regardless of comfort with in-store traffic, the biggest hurdle that consumers overcame during the pandemic was the perception that eCommerce was complicated and inconvenient. As more and more consumers tried buying online, it created the mentality that "maybe this isn't so hard." That's a new shopping habit that Tariq believes is not likely to change back. In fact, 90 percent of Petco shoppers said they plan to continue utilizing eCommerce options to shop for their pet post pandemic. As a result, Tariq is looking to focus on two key areas to foster a strong commerce foundation for growth: The first is strengthening the customer experience through innovative retail media. As an example, Tariq shares that today, 85 percent of all Petco's transactions take place on their loyalty platform, which is a valuable "direct line into that audience." Petco is looking into how to "take the great brands that are with Petco and continue to give them a unique experience, and leverage that audience data to their benefit and the programs that [they] do together." Secondly, Tariq shares Petco's focus on maturing its eCommerce capabilities. The retailer has just relaunched their website and Tariq further explains, "That becomes very valuable real estate for us to think about the next generation, which is how we start to think about that as an open media landscape."
---
---
Reimagining physical stores as pet wellness centers
For Petco, their physical locations are not only here to stay, but they are also evolving. Today, Petco's brick-and-mortar presence are "overall wellness centers" for the pets. "We're in a category that it's not simply about the movement of products," Tariq says. "It's also about the connection of information, the reassurance of care [for pets]." In fact, Petco employees no longer refer to their physical locations as stores, but rather "pet care centers"—a small semantic that drives "significant changes in terms of how you think about what the role of your physical environment is, the decisions you make around that physical environment, and then the technology and the supportive data that you use to create a different experience for your customer."

The focus on physical stores as wellness centers has allowed Petco to further place the customer at the center of its commerce experience. Gathering consumer data in a sanitized and meaningful way has become core to a tailored shopping experience and heightened consumer loyalty. To do so, Petco "partners will have tablets in their hands," designed toward providing them with "a single pane of glass view of that customer" to have a personalized and informed conversation. That way, "it's not just Sarah that's come in the door," it is Sarah who "has had a couple of guinea pigs." Knowing something about customers beforehand allows for more meaningful dialogue, and this is changing the experiences within those stores. Collecting this data across channels and getting it into the hands of partners will be key to success.
Taking brave chances that lead to growth
Tariq's two bravest moments were both ones where he upheaved his life during times of uncertainty. This first was when he received a unique opportunity to move to Dubai and run the business in the Middle East and Africa very early in his career. This was before Dubai was well known in the US and certainly before it became the resort location it is today. It was also before Tariq himself had traveled much. Nevertheless, he made the decision to just go for it. He moved across the world, took on a massive account that had a big opportunity, and convinced some former colleagues to do the same. "Looking back now, the naivety of youth was probably on my side and it proved to be just an amazing experience," he reflects. The second brave decision Tariq recalls was joining a startup agency right after September 11, 2001. Although there were "more questions than there were answers" at the time, Tariq took the leap which began an eight year journey that rewarded him with tremendous relationships, one of which led to his job today.

However, these decisions did not feel brave in the moment. "When I made the decision to pick up and move across the world, I was enthusiastic, excited, kind of nervous," he says. "But I figured I can always come back." It is only in retrospect that the decision making seems courageous. "I try to remember those things," he reflects, "because I think they help us in what we do today to continue to try and not lose that spirit, which isn't always easy."

Ready to become BRAVE together? Subscribe today!