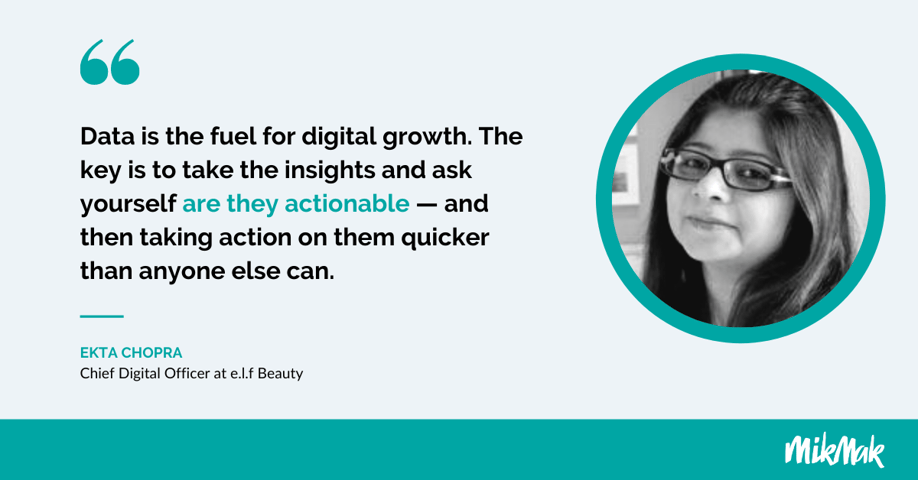 If you're in eCommerce, you're in the world of consumer data and insights. In 2020, brands saw how quickly consumer sentiments can evolve with the acceleration of eCommerce during COVID-19, and how important it is to stay with a moving target. Brands who have the strategy and agility to gather and leverage first-party data have grown and protected market share. Brands who do not, lose it. This leads us to ask the question: what does it mean to translate consumer insights into actions, and then to business results?
We interviewed Ekta Chopra, Chief Digital Officer at e.l.f. Beauty, on how she approaches data strategy and the ways that her team has operationalized insights from a short term and long term point of view. Here's what she has to say:
MM: There are so many ways to grow your eCommerce with consumer insights. Can you give us an example of how e.l.f. Beauty leverages data to do so? What do you focus on?
EC: Data is the fuel for digital growth. The key is to take the insights and ask yourself, "Are they actionable?" And then taking action on them quicker than anyone else can. I think that's where e.l.f.'s speed comes into play.
Our speed really allows us to take what our consumers want and translate that into convenience we provide on our site. We don't have our own brick and mortar stores. Last year, as soon as people were locked down and couldn't really go out, there were so many shipping challenges everywhere. The reason why we reacted so quickly was because we saw the signal.
Then it was a matter of executing fast. We looked around and asked, "Which one of our partners can help us execute that quicker than anybody else can?" And of course, you did. That was what was so awesome with this collaboration with you guys.
---
---
MM: Everyone has access to so many signals. How do you operationalize data when there's so much to look at?
EC: If you are selling online right now, you're swimming in data. However, I would say it's really important to first look at your teams and your organization.
Number one, take an assessment and make sure that your teams really have what they need. That means really taking an inventory of 'what do we have available?' There are many reports—are they all actionable?
Second is, you do need someone leading the charge. We have a head of consumer insights. She's brilliant. As soon as COVID hit, she started a Monday morning meeting with eCommerce and with social. We were reacting to insights in real time, looking at what was and wasn't working. We were not waiting. There was no red tape. We enabled our teams to action on insights right away because they were closest to the consumer.
The third really is keeping your eye on what else lies ahead. While you can take short term actions on insights, the world of commerce has also changed forever. When you think about all the privacy changes and everything else going on, make sure that you're taking stock of everything that you have and how it needs to scale along this journey. And that's not just in your text stack, it's in your strategy as well as internal education. Educating people on the new things that are happening and building it into processes.
I think that it's through all of these considerations that operationalizing data comes together nicely.
MM: What's top of mind for you right now?
EC: So much! We are testing and learning and diving right into our live shopping and live streaming. Twitch is a big part of our strategy. TikTok, of course we play there.
But I think beyond that, as hopefully the world is getting back to normal, is the 66 percent of consumers that newly entered our brand last year. How do we build a deeper and lasting connection with them? Investing in our CRM strategies and making sure we have the best loyalty beauty program in the world to really serve them and reward them is top of mind. So, I think that's really our strategy right now.
We just built a whole CRM team with some really amazing ladies. We also are looking for roles to support it, such as data scientists with consumer background to help us interpret the data, activate it, and capitalize on it further. We're also looking for a loyalty reward specialist.
MM: What has e.l.f. Beauty adapted as the new normal since the acceleration of eCommerce?
EC: At e.l.f., speed and faster reactions are here to stay. I think that's such an important thing to remember, that there will always be things that we can optimize and get more out of, but to always look for opportunities. So build that agility in your DNA because that's absolutely a must for digital commerce. We try to keep our feet on the ground but head in the stars. It's okay to fail, but we should take a chance on these opportunities and learn from them.
Does your brand take a similar approach as e.l.f. Beauty when it comes to data driven eCommerce strategies? What are some ways that you can further close the distance between insights, actions, and results? How are you investing in time to value? Schedule a chat with some of our eCommerce experts to learn more.