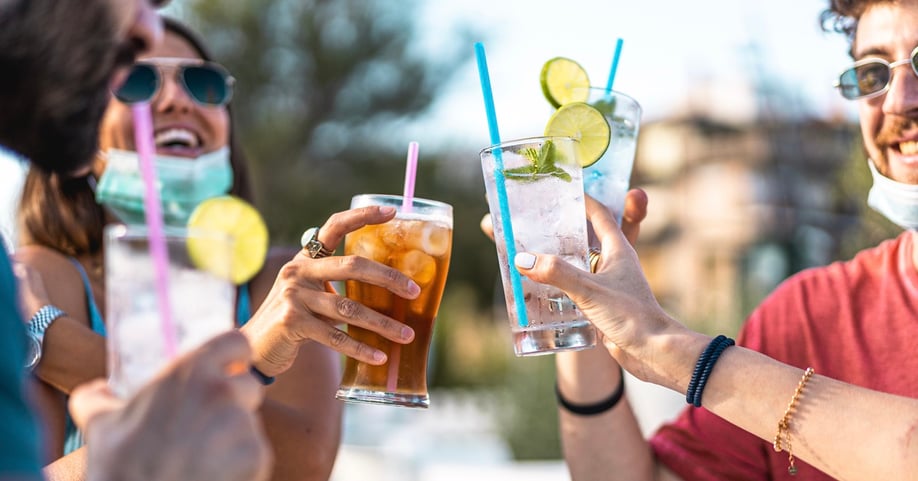 The Fourth of July is a top-selling holiday for alcohol brands. In fact, Independence Day is ranked first on the list of off premise (at home) beer drinking occasions. Last year, alcohol sales skyrocketed 435 percent over 2019, with delivery services like Minibar and Drizly reporting sales increases from previous years for the occasion.
This year, consumers are optimistic about celebrating the Fourth with family and friends. A recent survey indicated that 24 percent of consumers have already celebrated at least one holiday in 2021 without restrictions, and another 59 percent expect normalcy to return on or before the Fourth of July. More than one-third of adults plan to host barbecues and social gatherings this year.
With 2021 poised to be one of the biggest celebrations of the year to date, there are several best practices that alcohol brands should take note of.
Optimize your media strategy to prepare for peak season
Consumers are purchasing alcohol well in advance to prepare for the social events around these summer holidays. MikMak's Shopping Index found that last year, Fourth of July buying surges started as early as June 8th, and we are well on our way to see a similar trend this year.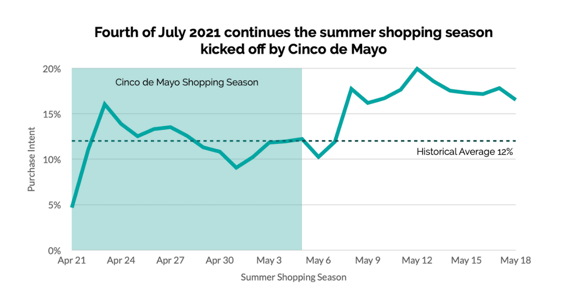 Purchase intent peaks are periods of time when consumers are most likely to convert after encountering products via shoppable media. During this time, shopping preferences often shift, making it invaluable for brands to know how they may change ahead of time to prepare. When are purchase intent peaks happening for Fourth of July this year, and how should brands prepare for them?
At its highest last year, Fourth of July alcohol purchase intent peaked at 2.5 times that of the historical average of 12 percent. Currently, purchase intent for alcohol is at 1.7 times the historical average, and we predict several more peaks in purchase intent as we get within two weeks of the event date. Brands should make sure they are further diversifying their media allocation, including on their brand websites, as these shopping peaks approach. This is also a great time to gear up your best decision-stage media, which can drive purchase intent up to 3 times higher than non-peak levels.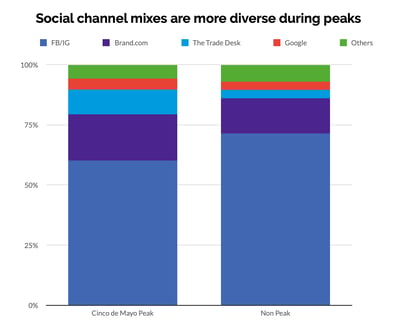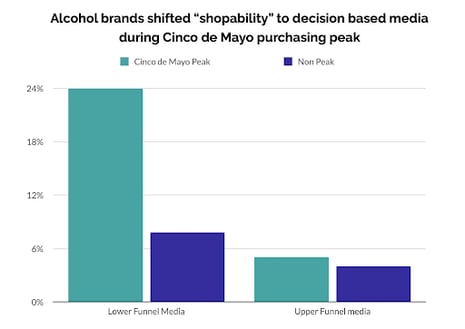 ---
---
Keep your eyes on beverage newcomers as consumer taste diversifies
Historically, beer tends to be one of the most consumed alcoholic beverages on July 4th, with just under half of consumers serving it at their outdoor gathering. However, consumer tastes for alcohol are diversifying. Gone are the days of more restrictive conventional beliefs where alcohol categories must be paired with the occasion. At one month out, MikMak Shopping Index shows that tequila and vodka are currently the reigning drinks of choice. Liqueurs and whiskeys are also in the top 10 brands getting consumer interest.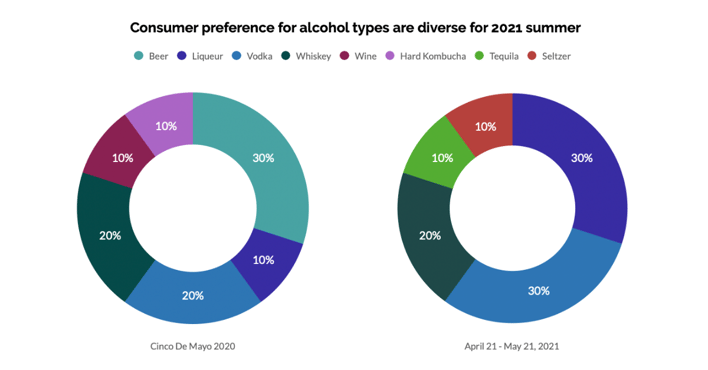 Meanwhile, hard seltzers continue to grow in popularity due to its low-calorie count, and accounted for 25 percent of sales in the beer category last year, an eight percent increase from 2019. It's now predicted that the hard seltzer will grow an additional 11 percent by 2026, and reach approximately 4 billion in revenue.
New flavors and variations such as fruit punches, iced teas, and lemonades are also hitting the shelves, appealing to a variety of different tastes and preferences. Don't discount the 58 percent of adults over 21 that are seeking out healthier ways to celebrate special occasions with low-alcohol or alcohol-free beverages either.
5 tips to keep in mind when planning summer alcohol campaigns
If you're a brand participating in this year's retailer driven deal days, here's how to effectively leverage the coming surge in purchase intent in these growing categories:
Have your campaigns running everywhere starting June 8th.
The summer alcohol shopping season is here! Make sure you're focusing on lower funnel during peak days, where purchase intent is expected to spike two weeks before July 4th.
Present your product in recipes, pairings, or as it is being enjoyed by consumers.
Your creative has 1.5 seconds to make a compelling case to your consumers! Showcase your products upfront, communicating its use case, value, and relevance.
Take note of market places and geographic demand.
Currently, 44 percent of alcohol shoppers are in the South. Within that geography, while 67 percent are checking out at Drizly and Minibar, regional retailers are also represented in the mix.
Review supply chain to ensure product availability across many retailers.
Your consumers will want different forms of delivery. Once at retailer cart, Bevmo is the preferred retailer of choice (12%), followed by Drizly (8.5%), and Safeway (7%).
Pay attention to the last mile.


There's a lot of potential to learn about your consumers and develop consumer loyalty when they're about to have your product in hand.
Are your campaigns ready for summer? Make sure you've incorporated these best practices into your Fourth of July strategy, and reach out to us to chat more about how these shopping metrics can set you and your brand up for success!