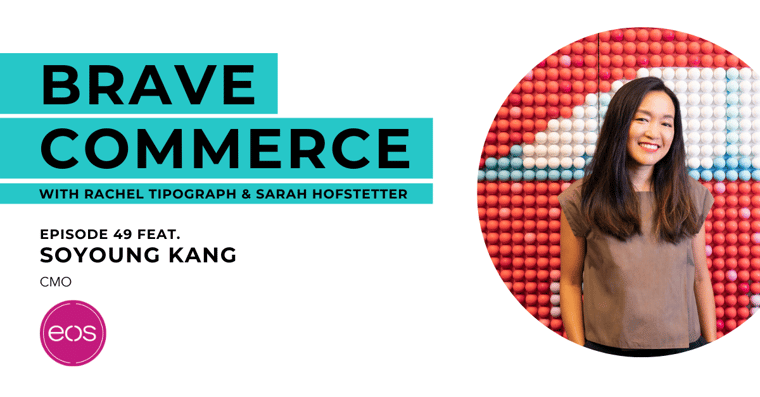 Social commerce is an increasingly important strategy for brands to stay connected with consumers and ahead of shifting demands. Gen Z, a segment known for being digitally fluent, now has control of $140 billion worth of spending power. So how do you design a social commerce strategy that will actually work?
On this episode of BRAVE COMMERCE, hosts Rachel Tipograph (Founder & CEO of MikMak) and Sarah Hofstetter (President of Profitero) sit down with Soyoung Kang, the Chief Marketing Officer of eos Products, to discuss how to set up social media as a digital storefront, how to capitalize on viral influencer campaigns via TikTok, and how bravery unlocks growth through vulnerability and the sharing of experiences.
Social media as community and a virtual storefront
eos Products is a "brand where social media is so much the heart and soul of everything" that Soyoung constantly thinks about "how you connect with your consumers, how you answer their questions, and how you engage them day to day in conversations." That means viewing social media as a digital storefront, a community, and a channel for customer service. Not every interaction is going to immediately drive business. "If somebody is there to be part of my community, I think that it's value-added to maintain that one-to-one dialogue," Soyoung remarks. "You wouldn't ask somebody whether a consumer coming into their store and asking questions and engaging with the product or the brand or the store experience is driving the business," Soyoung reminds. "I don't ask the same question of social media."
Soyoung notes that eos Products' success in creating an owned and organic community has been so valuable that the "bedrock of our brand storytelling" is "our brand interactions with the consumer." The one-to-one dialogue not only supports the brand experience through customer service, but also provides valuable consumer insight. A digital storefront, compared to a physical storefront, has the added benefit of being always on, always open. This "365 connection to your consumer" gives a better sense of the "total holistic value of social media that goes above and beyond a traditional media mix."
---
---
Capitalizing on viral success and a TikTok influencer story
Soyoung has always believed in TikTok, especially because eos Products' brand is so geared towards Gen Z. The team came across a viral video featuring their shaving cream while they were engaging with their community. "Bless your f-ing cooch" was a tutorial on how to shave female parts. The video was a "plain old-fashioned education on a topic that a lot of people were looking to find out information on," created by an expressive influencer on how amazing it was—but with much more colorful language. "How could we not jump on that and create a moment out of this gift that came to us from this incredible, honest, and authentic influencer?" Soyoung and her team quickly secured a partnership with the influencer by launching a limited edition line of products that replaced "eos shave cream" with "Cooch Blessing Cream." Even the product usage directions on the packaging used the influencer's language word for word.
Soyoung shares that the campaign was a tremendous success, "You saw the absolute direct impact on our business. After the influencer launched her video, our business nationally doubled, literally plus 100%, immediately within the two weeks." These results were definitively attributable to the campaign. The shave cream "went from 300,000 to 15,000 overnight" in rank on Amazon that week. "We immediately sold out on our site, we immediately sold out on Amazon and across all of our retail partners. We are still in a process where we're still chasing our supply chain to make sure that we are able to supply all of our points of distribution. Until our product actually sold out nationally, we became the number one shave cream brand at Target, men or women."
Speaking up and sharing Asian-American stories and experiences
The bravest thing Soyoung has done is speaking up about her Asian-American experience "personally, as a member of the Asian-American community," and what it means "to be an ally to other groups who have been through so much difficulty, not only in the past year, but before that, invisibly." Voicing her experience has always been very uncomfortable because she was brought up to be more comfortable fitting in rather than standing out. "I say that it's brave because of how uncomfortable it has made me feel and continues to make me feel, and yet it's something that I really hold dearly and I'm not going back."
In growing comfortable with pushing her boundaries and bringing awareness to her personal stories as an Asian-American, Soyoung also finds she has grown as a leader. The lessons she's learned in vulnerability have been invaluable. "I've learned more and gotten more out of the experience, frankly, than maybe I've even given," Soyoung reflects. "As a leader, my biggest piece of advice is that vulnerability as a leader and being able to share your stories is something that truly isn't just a gift to the people around you. It's a gift to yourself, because it helps you to grow and helps you to know yourself."
Ready to become BRAVE together? Subscribe today!