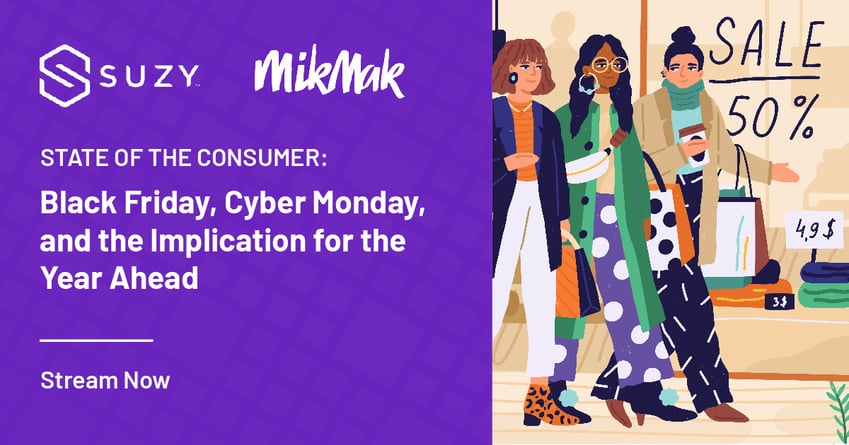 With the infamous supply chain crisis, and navigating consumers' newfound shopping preferences, this year's Black Friday and Cyber Monday presented some unique data points. MikMak CEO Rachel Tipograph and Matt Britton, CEO and Founder of Suzy, a real-time market research platform, address the State of the Consumer after this long-awaited weekend.
Rachel and Matt tackle what Black Friday and Cyber Monday showed us given the circumstances of outside influences (media, inflation, and product availability), and what this weekend means for 2022.
There is no surprise that 2021 Black Friday and Cyber Monday were affected by newly evolved shopping habits after the pandemic. For example, Instacart jumped from MikMak's 19th most used retailer to lingering around the 4th or 5th in 2021. This indicates that online grocery shopping was a habit that formed during, and lasted after the 2020 lockdown.
However, 2021 Black Friday and Cyber Monday were also impacted by a number of outside factors. Tipograph shared that although Black Friday and Cyber Monday are typically the kickoff weekend to the holiday season, this year, it started earlier. The media reported that a backed-up supply chain would cause even more disruption in the rush of the holiday season. This issue caused deals and holiday shopping to start even earlier.
Product Availability
This year, product availability has taken precedence for the shopping journey. It has been seen that when a product is out of stock, a third of customers will switch to another product rather than wait until it is back. Convenience is paramount when it comes to shopping these days, causing in-store shopping to rapidly evolve. Less of the journey is about the experience, and more is about how easily a consumer can get their product. This, along with media influence from platforms like TikTok, nudge consumers to try different products, boxing out brand loyalty.
On a larger scale, ongoing supply chain issues unavoidably cause stockouts and product switches. Tipograph predicts that, "the global supply chain issue is going to continue for the next five years" and brands should think that "it will be about which SKUs to deprecate." Due to this, we will likely see the end of the life cycle for product lines.
---
---
The Role that Media Plays with the Modern Shopper
Data from MikMak's Shopping Index showed 53% of all eCommerce traffic came from social channels. Further, 75% of media presented by brands is leading the consumer to commerce channels. This creates a necessity for brands to tell the consumer, in advertising, where the product is available to buy at the given moment. Compared to traditional brand ads where a product was simply displayed, content and commerce today are closely integrated.
Modern eCommerce advertising shows that brands can have conversion rates in upper-funnel media that is analogous to the conversion rates traditionally shown in lower-funnel media.
As privacy evolves, especially on digital platforms, it becomes ultimately more difficult for brands to discover who exactly their customer is. Expanding this idea is the fact that the demographics of customers are widely expanding. The consumer market is becoming more diverse, and media outlets and brands have to be more strategic in the ways they reach them.
TikTok has quickly become a leader in understanding the consumer. Their algorithm is a major example of curating content designed specifically for the consumer. Thanks to this, brands advertising on TikTok saw close to equal conversion rates to those on Pinterest, a typical leader in conversion from media.
2022 Predictions
Black Friday and Cyber Monday serve as excellent indicators of what to expect in the next year.
November of 2021 has shown a 422% increase of Buy Now, Pay Later platforms since 2019. This has created major concern in the industry as we see this figure consistently rise. Consistent use of these platforms can create financial disarray for both the customer and businesses alike. However, in the future, the use of these platforms do not show signs of going away in the near future.
Furthermore, Rachel and Matt shared their thoughts on some of the biggest changes we will see before the next Black Friday. Some major takeaways of their conversation are that DTC brands will begin to disappear and that there will be an increased focus on the financial state of the country.
The aftermath of the pandemic has shown interest rates consistently rising, inflation, and the likelihood of the US facing an economic downturn coming closer and closer. Rachel and Matt also agreed that these factors paired with supply chain issues could cause more shopping to happen on the secondhand market and increase brands' needs to strategize the discounts they implement in the years to come.
For more information on this year's Black Friday and Cyber Monday trends, please check out this special webinar available on demand from MikMak and Suzy.