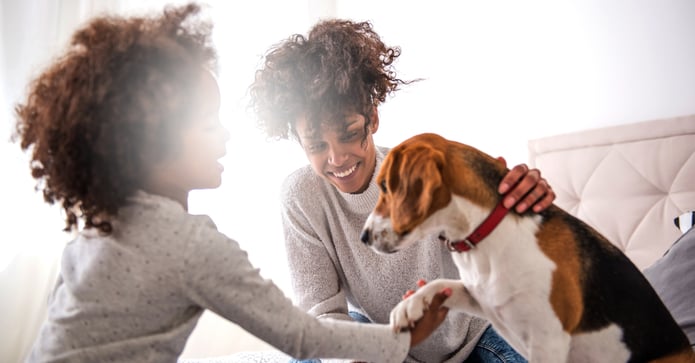 Insider Intelligence predicts that nearly half of all US Pet Care product sales will shift to the online realm by 2025. Embracing this fast-paced digital age, pet owners are flocking to online platforms to fulfill their furry friends' needs, and the numbers are nothing short of impressive.
When examining basket-level data, the MikMak Shopping Index reveals that the average Pet Care cart contains 5.4 items. By exploring consumer behavior and market dynamics, we shed light on the factors propelling this thriving industry forward.
Meta Channels dominate Pet Care social commerce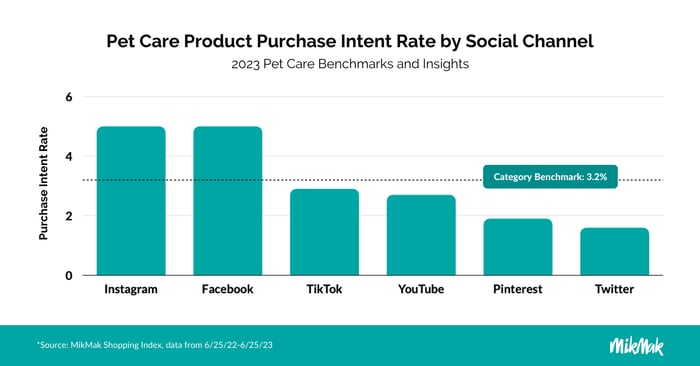 At present, Instagram and Facebook stand out with the highest Purchase Intent Rate (PI Rate) of 5.0 percent each, surpassing the category benchmark by a significant margin of 1.6 times. This statistic indicates that shoppers are highly inclined to make purchases through shoppable media featured on Meta channels. Meanwhile, TikTok exhibits a PI Rate of 2.9, just below the benchmark, with YouTube, Pinterest, and Twitter following closely with PI Rates of 2.7, 1.9, and 1.6 percent respectively.
Amazon takes the lead as the top Pet Care retailer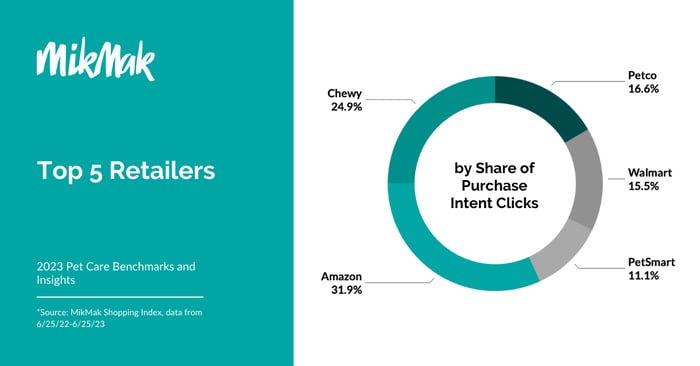 The Pet Care market boasts a strong contingent of loyal consumers who gravitate towards specialty retailers. Amazon stands out as the most influential player among the Top 5 Pet Care retailers, driving 31.9 percent of Purchase Intent Clicks. Chewy secures the second spot with an impressive 24.9 percent, attributed to its innovative "autoship" feature. Trailing behind Chewy, Petco, Walmart, and PetSmart secure positions with 16.6 percent, 15.5 percent, and 11.1 percent respectively.
Pet Care shoppers prefer springtime, mid-week, and late mornings for purchases
As per past year's data, Purchase Intent Rates for Pet Care products soar during March and April, with a remarkable demand surge in the first week of March 2023, reaching an impressive 7.6 percent, nearly 2.4 times the category benchmark.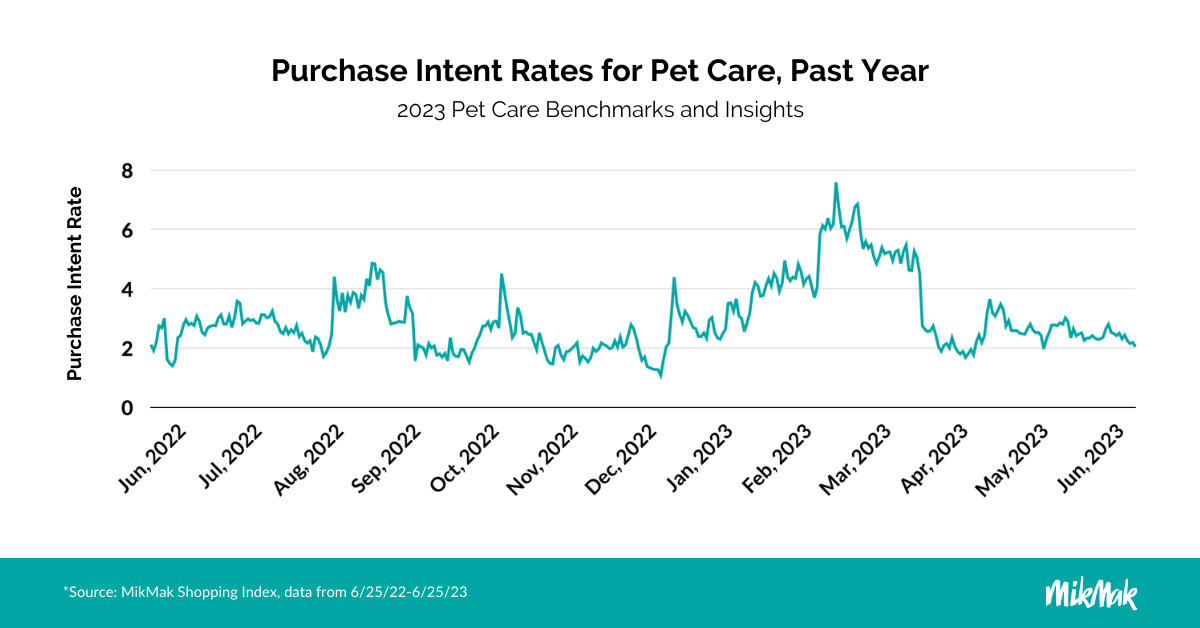 Online Pet Care shoppers prefer purchasing on Wednesdays, Thursdays, and Tuesdays, with a significant 3 percent Purchase Intent Rate. In terms of in-market traffic, Wednesdays and Sundays shine the brightest, capturing a substantial 14.6 percent of Purchase Intent Clicks from online Pet Care shoppers. As we delve into the time of day, pet parents exhibit a strong inclination towards purchasing at 11 AM ET, which yields a noteworthy 3.1 percent Purchase Intent Rate.
---
---
Marketing strategies that speak to pet parents
MikMak provides brands with innovative solutions and strategies, enhancing the effectiveness and profitability of their marketing campaigns across various media platforms. According to our data analysis, the most successful eCommerce ads feature:
Bold and eye-catching creatives
Product-first approach
Clear call to action
Flexible checkout options
Content optimized with MikMak for local product discovery
Innovative marketing techniques like livestreaming, QR codes, and OTT advertising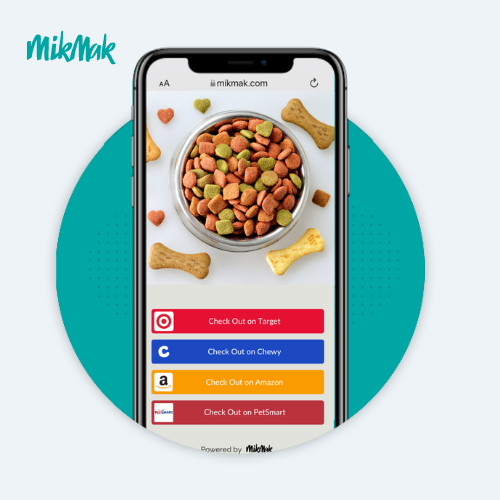 A top Pet Care brand, Mars, implemented multi-retailer checkout across various paid media channels using MikMak Commerce. Leveraging MikMak Insights, they identified high-performing platforms for a key product line, achieving impressive results:
The brand's key product line achieved a 3.7x higher Purchase Intent Rate than other products
Facebook and Instagram showcased a remarkable 27.9 percent Purchase Intent Rate, outperforming Google Display Network and Cluep
93 percent of the brand's key product line ads ran on Facebook and Instagram since March, enhancing marketing effectiveness
Your guide to staying ahead in Pet Care eCommerce
The future of Pet Care eCommerce is bright, with exponential growth expected in the coming years. In this transformative landscape, where possibilities are fueled by data-driven revelations, using consumer insights can help your brand win over competitors. MikMak's 2023 Pet Care Benchmarks and Insights empowers brands to forge unbreakable connections with pet parents, enriching their shopping experience like never before. Read the guide now and make your brand ready for success.