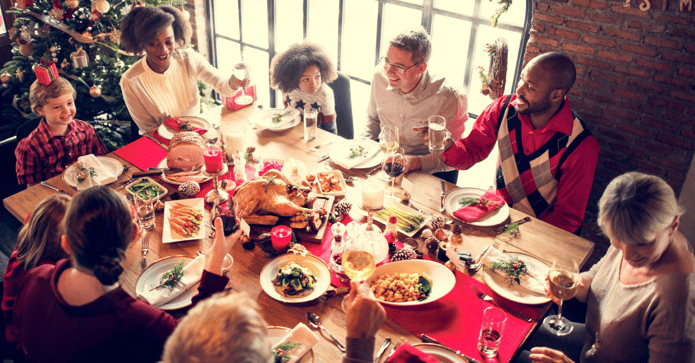 As the year draws to a close, the festive season, and its many food and culinary traditions, light up holiday shopping across Europe. Everything from Christstollen in Germany to foie gras in France or turrón and 12 grapes for the New Year in Spain motivate shoppers to make purchases online.
Those holiday shopping carts don't just include special culinary delights of the season. To prepare for celebrations with friends and family, consumers also stock up on everyday Food and Beverage products.
2023's eCommerce Marketing Trends for Food and Beverage Brands
Wondering how eCommerce marketers can draw the most sales possible out of this season? We've dug into the data to share a few trends that Food and Beverage sellers can capitalize on during the upcoming end-of-year holiday season.
Alcohol consumption is expected to rise
Alcohol shopping is likely to increase this holiday season. Studies have found that alcohol consumption hits highs in December, with consumers reporting 70 percent more alcohol use during the last two weeks of December.
Wine sales could jump this season
According to BevAlc Insights, wine sales rose during last year's Q4 holiday season. The report found red wine, sparkling wine, and champagne are especially popular during the season.
Social eCommerce is boosting food and beverage sales
According to Statista, Western and Northern Europeans are using social media at a higher rate than any other people group in the world. That means the right mix of social eCommerce marketing could boost EU Food and Beverage sales this winter.
Digital sales for food and beverage spike during the holiday season
According to a Statista report, digital channels contributed to 30 percent of holiday spending during last year's holiday season in the UK. The report also found that online sales during Christmas 2021 comprised more than 25 percent of Germany's total eCommerce revenue.
When are Europeans shopping for holiday Food and Beverage products?
To spark the most sales possible from Food and Beverage marketing, brands need to reach shoppers when they're ready to buy. According to the MikMak Shopping Index, here's when Europeans are shopping for holiday Food and Beverage products, and how to best get their attention.
Sales for Food and Beverage products peak early in the week
According to MikMak's Shopping Index, the peak purchasing days for France, Germany, and the UK during last year's holiday season were Wednesday (15.2 percent share of Purchase Intent Clicks), Monday (15.1 percent), and Tuesday (14.9 percent).
Late November through early December is a key purchasing period for many shoppers
The MikMak Shopping Index found that in 2022, the week of December 5 saw the most Purchase Intent Clicks (which measures the amount that shoppers click through from a MikMak Commerce Experience to a retailer option) for the holiday season in the UK. In France, the week of November 28 saw the most shopping activity; in Germany, the week of November 21 was the most active.
Overall, eCommerce marketers can grow sales by enhancing campaigns during the last two weeks of November and early December.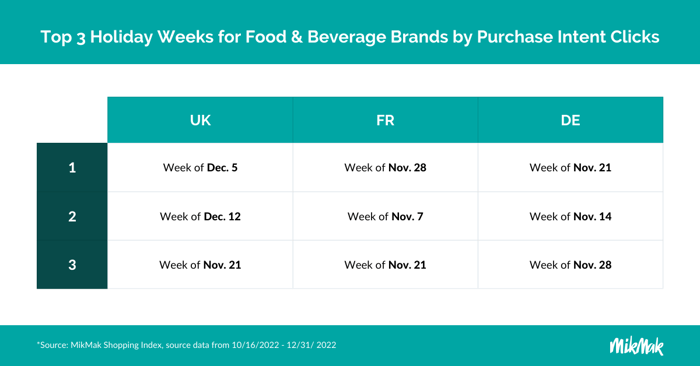 Amazon, Intermarché, and Rewe are among the top retailers in Europe
In Europe, the retailer landscape is varied and shopper preferences differ from country to country. The MikMak Shopping Index follows the shifting shopping trends in the local markets. For last year's holiday season, it revealed that Amazon had the highest number of Purchase Intent Clicks in the UK, among the Top 5 Food and Beverage retailers. Sainsbury's was the UK's second most popular retailer, with Tesco slipping into the third spot. Morrisons and Ocado rounded out the Top 5.
In France last year, Amazon slid into the number four spot, with Intermarché, Carrefour Drive, and Courses U leading the top three. Greenweez, specialized in organic and eco-friendly products, sat in France's fifth spot.
Germany's top-performing Food and Beverage retailer during end-of-year season in 2022 was Rewe, with Kaufland, EDEKA24, myTime, and Bringmeister filling out the Top 5.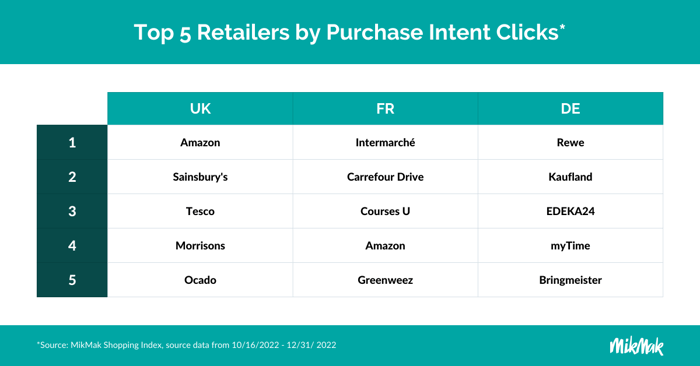 For best results, it is important that brands make sure products are readily available and accessible for shoppers at the top retailers of the countries they are targeting.
Promoting popular products can sweeten your brand's appeal
During end-of-year holiday shopping, consumers may buy a mix of specialty products they wouldn't normally purchase. Likewise, they may also take advantage of special sales to stock up on their favorite everyday products. According to The MikMak Shopping Index, coffee pods, champagne and sparkling wine, sweetbread, chocolate, and instant special coffee were the season's most popular Food and Beverage products driving shopper traffic to retailers last year. The next most popular items were hot chocolate, candy, dessert cream, yogurt, and fruit juices.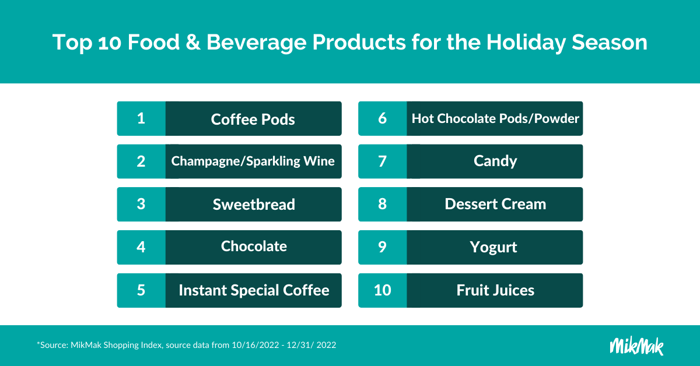 Enhance your end-of-year Food and Beverage campaigns this holiday season

Based on our experience with market-leading brands, here are some of our key recommendations to optimize Food and Beverage marketing for the end-of-year season:
Be mindful of inflation-based buying trends. Consumers are price-sensitive and willing to change brands and retailers to get what they want.
Prepare early. Use the data and insights you have garnered throughout the year to fully optimize well before demand surges and the cost of media increases. If you anticipate the supply chain slowing down, incentivize earlier purchases.
Deals are starting earlier; advertise yours by directing consumers to the appropriate retailer.
Get creative in your media design, in your media mix, and in your partnerships. Test and learn discount messaging.
Enable shoppable media to drive consumers to purchase

Make sure your brand is ready to buy when they see your media displayed. In order to achieve this, partner with an eCommerce enablement software like MikMak to make sure your media is shoppable. Here's how some of our favorite European brands achieved this in their top-performing ads.
1. Bacardi UK's Grey Goose Vodka on YouTube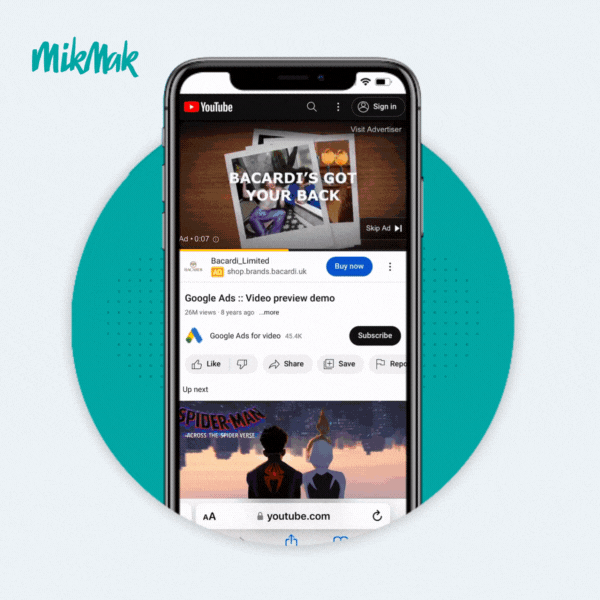 2. JDE's Kenco Coffee on Meta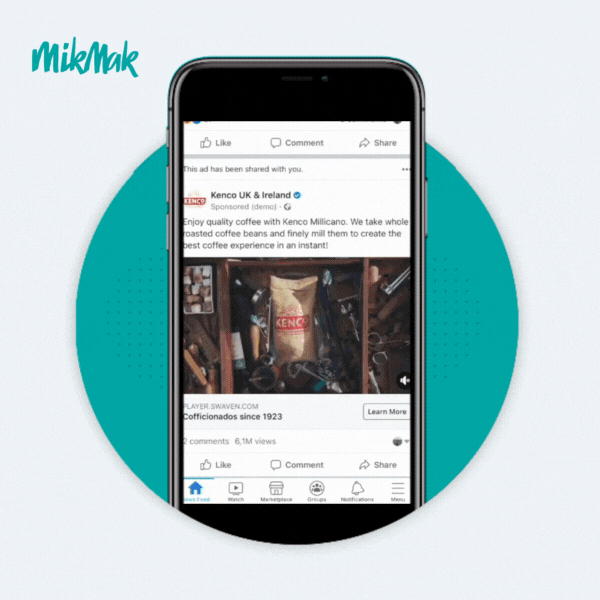 3. Norac Foods' La Boulangère on Instagram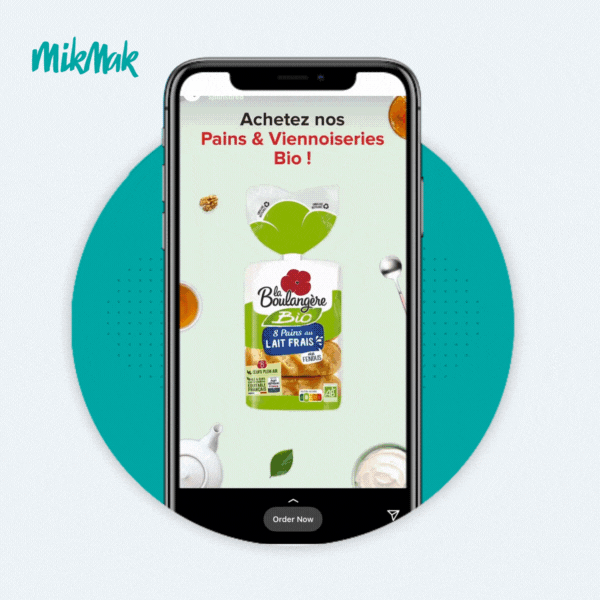 See more shopping trends, and increase your Holiday Food and Beverage sales
By anticipating shopping patterns, eCommerce marketers can take advantage of the upswing in Food and Beverage purchasing during the holidays. Want even more in-depth insights to help you corner the holiday shoppers? Read MikMak's holiday guide for a detailed breakdown of shopping patterns.