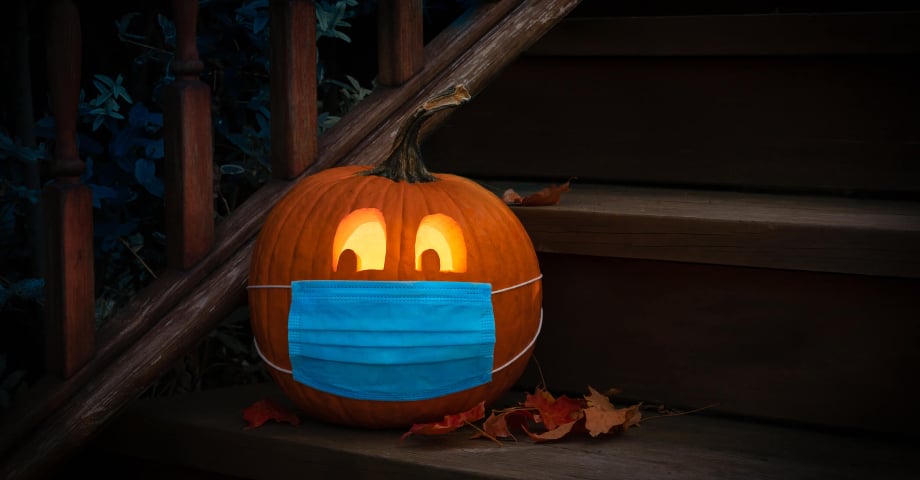 In the midst of the COVID-19 pandemic, it probably shouldn't come as a surprise that the 2020 version of Halloween isn't looking at all like previous holidays. According to the CDC, "many traditional Halloween activities can be high-risk for spreading viruses." So, instead of traditional trick-or-treating, it's expected that kids will largely participate in Halloween activities at home. There probably won't be that many Halloween parties either, even for adults.
In 2019, U.S. shoppers forked over $3.2 billion on costumes, $2.6 billion on candy, and $2.7 billion on Halloween decorations. Just because this Halloween season will look different doesn't mean that eCommerce businesses are totally out of luck. In fact, with the right approach, companies in the costumes, interior decoration, and candy spaces can still be approaching the COVID-19 Halloween season effectively—and learning from it to prepare for holidays to come.
So what can we learn from retailers and eCommerce businesses that traditionally bank on enormous Halloween sales?
1. Costumes: Products that keep the festivities alive
With social distancing, people might not be trick-or-treating or going to Halloween parties. Unfortunately, that means a drop in costume sales that will likely account for much of the decline in Halloween spending in 2020, because adult costumes tend to make up the majority of the revenue for party stores around Halloween.
But that doesn't mean people aren't buying costumes at all. During the month of October, children's costumes and spooky-themed face masks remain high in demand. Adults with children continue to buy for them to provide a sense of joy and normalcy during the pandemic. For themselves, without the social gatherings that they would normally attend, shoppers are opting for thematic versions of everyday wear. After all, just because we don't have parties to wear extravagant costumes to, doesn't mean we can't be in the Halloween spirit.
Tracing where the spending on festivities have gone can give brands insights on where to invest media dollars and build inventory. Social media has played a crucial role in helping people stay connected during the pandemic. With COVID-19 keeping everyone indoors, many folks might decide to celebrate the holiday online with their friends virtually. Seasonal purchases that can be shared through social channels and attires that show up well on video chats will be preferred over full-body costumes.
Companies banking on Halloween sales need to understand that the pandemic has changed our shopping behavior, and they need to be creative in the social campaigns they launch. In "normal years," social media has proven to be a massive driver of sales for Halloween items. Campaigns such as virtual costume contests can encourage people to participate in the festivities and provide brands exposure as well.
---
---
2. Interior decoration: Products that bring the festivities home
Because there will be less trick-or-treating and fewer Halloween parties, companies that sell Halloween decorations are seeing the perfect opportunity to drive more sales. Home decorations are one of the seasonal product categories that remain in high demand. It makes sense why. Parents, for example, can't exactly take Halloween away from their kids—which means many more families might decide to go all out and decorate their houses much more than they would in normal years.
So, though some businesses in this space are actually seeing their sales pick up, they also need to remember that consumers purchasing during this time are exhibiting very specific shopping behaviors: They are buying themes.
Thematic goods have predictable expiration dates. Halloween is over by November 1, and the carved pumpkins, hanging skeletons, and fake spider webs will have to go. What replaces these decorations is their Thanksgiving counterparts—which is in the consumer's next purchase. Brands might want to target this shopper segment and recommend other themed products they are likely to purchase—such as Thanksgiving and Christmas decorations.
3. Candy: The comfort food that keeps on giving
Trick-or-treat is a mainstay of Halloween activities, and with that comes the candy purchases to distribute out to neighborhood kids (and to keep for yourself). Now that there is no guarantee if trick-or-treating will happen, the majority of candy purchases have been made for self-consumption. With COVID-19 bringing much stress into all of our lives, people have been turning to comfort food and sweets for relief. On the heels of a #HalloweenIsHappening campaign, candy makers have seen 2020 sales keep chugging along. In fact, many candy brands—including Mondelez and Hershey—predict that this year's Halloween sales will eclipse last year's sales.
So how can eCommerce candy businesses make the most out of this Halloween season? It starts with understanding that consumers are more likely to buy family-sized candy than the traditional bite-sized bulk Halloween bags, perhaps because the average person probably doesn't want to end up with five pounds of chocolate in their cupboard.
Trick-or-treating during a pandemic may also mean that instead of getting candy by knocking someone's door, someone knocks on yours to deliver it. That's right, in previous years, Instacart has served the needs of many last-minute shoppers, delivering anything from candy to costumes. This year, Instacart continues to play this role for trick-or-treaters stuck at home. And what's more, with their partnership with Spirit Halloween, Instacart may even bring you a last-minute costume or household decoration. Just in case.
The power of seasons: Leveraging latent purchase intent
Halloween is a seasonal business. As such, it's important for eCommerce businesses to realize that they can tap into the power of seasons to leverage latent purchase intent and drive ancillary sales.
A consumer might head to an eCommerce site on a mission to buy that awesome costume, that killer Halloween decoration, or just one more bag of Skittles, but their cart might end up filled with tons of additional items before they check out. By understanding this sentiment and using eCommerce solutions to optimize each consumer's shopping experience, you can encourage them to reach deeper into their wallet this Halloween season.
From the MikMak team to you and yours, Happy Halloween!
If you like eCommerce insights like this, sign up for our newsletter and never miss a beat.