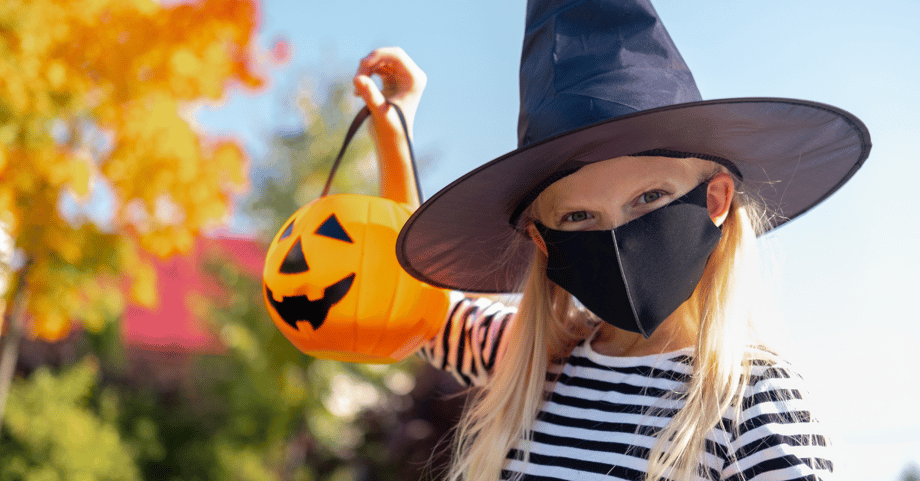 October is almost here, and that means candy brands are gearing up for the annual Super Bowl of the category: Halloween. While last year's trick-or-treating was paused in many communities due to social distancing precautions, families are expecting some return of activities this year. In fact, many are preparing to double down on spending to make up for the lack of spooky festivities last year. MikMak's Shopping Index has found that consumers are checking out online with a 31% larger basket this year, and an increasing preference for flexibility in omnichannel fulfillment. We're also seeing regional preference for different products.
For candy brands getting ready for Halloween, here are a couple of category insights to help you make it into shopping carts and jack-o-lantern buckets.
1. Leverage social media and programmatic when flighting media

Like many event-driven shopping occasions, the peak in shopping traffic occurs two weeks before the date the event is to be celebrated. In 2020, there were two shopping peaks two weeks before Halloween. Expect similar timing this year, with traffic peaks on 10/18-19 and 10/25.
A high performing Halloween campaign this year will require a combination of social media and programmatic advertising. Our Shopping Index found that this year, 53 percent of all shopping traffic on our platform originated from social media, and 34 percent from programmatic. For Halloween this year, the social channels of choice are Facebook/Instagram, Snapchat, and YouTube. Pinterest, on the other hand, is great for purchase planning throughout the year, but sees less conversion for just-in-time purchases like Halloween candy.
---
---
2. Give your consumers the option to buy at the retailers they prefer

When it comes to retailers to check out at for candy, shoppers have a clear preference. Our Shopping Index found that in Halloween 2020, Target and Instacart were the preferred retailers for candy brands, with up to 30 percent of shopping traffic on our platform choosing to check out on Target, and another 29 percent choosing Instacart.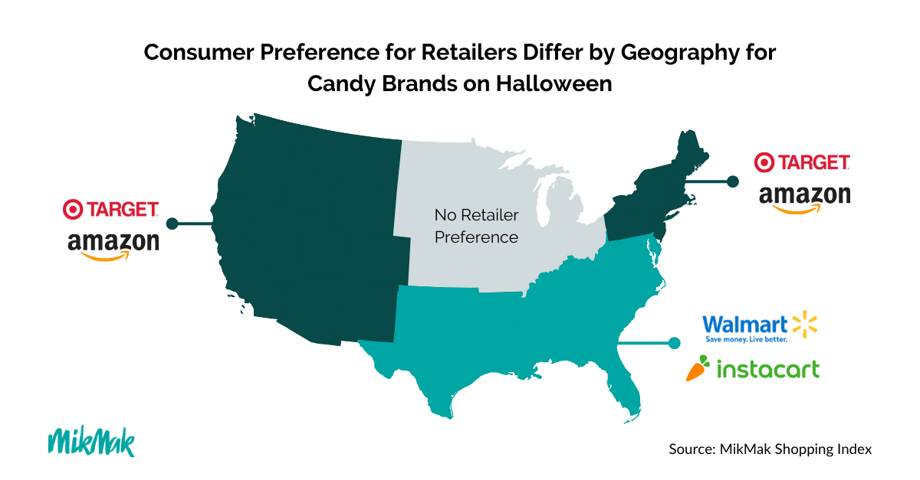 However, that doesn't mean that when broken down geographically the preferred retailers stay the same. In the US, the Northeast and the West saw the highest purchase intent from Target and Amazon, while the South preferred Walmart and Instacart. The Midwest, by contrast, saw no distinct preferences between major retailers. Since eCommerce is a leading indicator for all commerce, if you are a brand looking at these insights, you are likely to see in store demand for your product within these retailers and geographies reflect what you are seeing online, and plan accordingly.
3. Adjust your regional supply to match to geographic demand
What's in your trick-or-treating bucket? Research shows that Reese's Peanut Butter Cup, Kit Kat, Twix, Hershey's Chocolate Bars, and Sour Patch Kids are the most popular candies for Halloween. (MikMak's Shopping Index findings agree.)
However, if your brand isn't on the top 5 list, that doesn't mean you aren't beloved! Demand for different types of candy breaks down further geographically, and the key is to identify where it exists for your product and to match your product availability accordingly. For example, if you know that your brand sees four times higher check out in Los Angeles, CA than in Atlanta, GA, the last thing you want is to go out of stock during peak season in California while inventories are full in Georgia — especially if these products are branded for Halloween. Getting ahead of that demand by region can give your brand a lift in sales.
Getting it right for your brand
When it comes to getting the timing and strategy right for your campaigns the key is to find out which options work best with your brand and for your consumers' needs. If there is a clear category level action to take, such as including Target and Instacart as retailer check out options, make sure that you are adding them to your strategy. After that, growing and protecting your brand's market share are about your ability to understand where demand for your products is coming from, and designing a shopping experience that meets that demand accordingly.

Are you ready to strategize ahead of the next event-driven shopping occasion? Check out our webinar on how to have your eCommerce strategy in place for this holiday season.