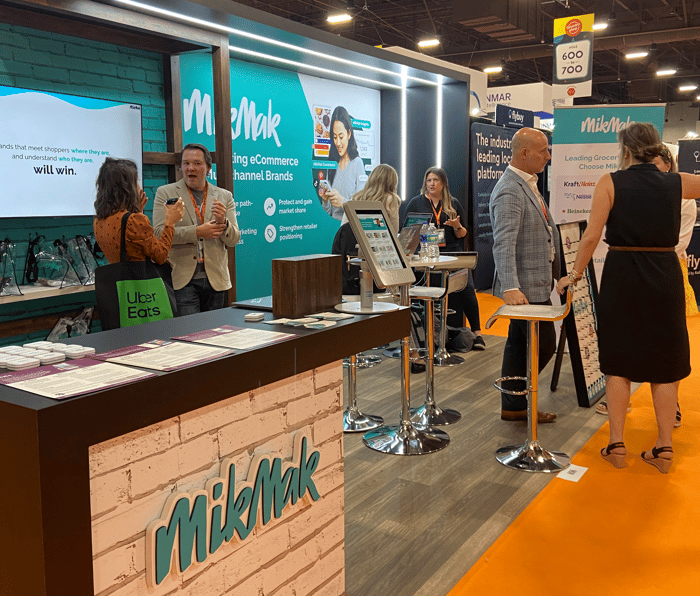 Groceryshop 2022 took place September 19 - 22 and welcomed its largest ever audience of brand leaders, excited to be back in person and ready to learn from and alongside one another.
The MikMak team welcomed customers and industry friends at our booth with swag bags full of products and case studies from our customers Nuun, Olly, and Aveeno, all of which were in high demand. Visitors to the booth also got to try their hand at our Plinko board which reflected the challenges of tracing customer journeys as Plinko disks bounced off various platforms before landing in one of many retailers at the bottom.
We heard some common themes both at the MikMak booth and during sessions, as well as the creative strategies eCommerce and marketing executives are implementing to drive success. Read on for some of the event's most powerful takeaways, quotes, and learnings.
Understanding consumer insights is critical; take it step-by-step to maximize success
Jay Picconatto, Head of Social Commerce at General Mills, while in conversation with Publicis Senior Managing Director, Sabrina McPherson, addressed one of the most pressing concerns facing CPG marketing teams right now, that of 'Maximizing First Party Data.' They acknowledged that tapping into first party data can feel overwhelming, but shared some tips for how to get started and lay a foundation for a consumer insights strategy that can grow with your brand.
Engage the right strategic partners to help you make every consumer engagement into a data source
Develop unique user identifiers that unify a particular user's data from various sources
Don't devalue demographic data even if it is not 1P. Activation is key, even if it starts on a broader level
Shopping experiences are most effective when powered by consumer preferences

One quote that captured the ideal philosophy when it comes to creating shopping experiences came from Ryan Ellis, VP, Retail Marketing and Business Development at Idahoan Foods, during a session about Innovative Ways to Grow your Direct to Consumer Business.
"When people spend their money on our products, we don't take that lightly."
---
---
This comment holds even more power when considered in light of another recurring topic at the event: inflation. As costs increase, every sale means even more to your brand and the consumer. Therefore, developing shopping experiences and eCommerce platforms that truly serve consumer needs and reduce friction has never been more vital. Mr. Ellis made it clear that for Idahoan Foods, the goal was to make their products easier to buy.
This theme of making products easier to buy came up in several sessions. For example, Cristina Marinucci, Head of Global Shopper - Insights & Analytics at Mondelēz International, pointed out that mobile engagement bridges the gap between online and in-store shopping experiences in multiple ways. Social advertising on mobile apps can trigger the impulse purchases that many snack brands rely on to increase basket size. By turning paid media into social commerce, brands can drive shoppers to both online and in-store shopping experiences. Customers expect to find the product they want quickly and conveniently.
Use data to drive meaningful actions, increase sales, and win market share
Finally, several speakers, including Deepak Jose from Mars Wrigley, Matt Paolucci from Chobani, and Ivonne Kinser of Avocados from Mexico, emphasized that collecting data is important, but not nearly as important as using that data to drive meaningful actions.
Are you using location data to direct consumers to their nearest point of purchase? Do you A/B test your media to ensure the messaging resonates with your target market? Have you incorporated inventory level data into your "where to buy" selection?
MikMak facilitates all of these data-driven shopping experiences. Now is the time to put all the ideas inspired by sessions and interactions at Groceryshop to work for improved marketing performance and increased sales. You can learn more and request a demo here.