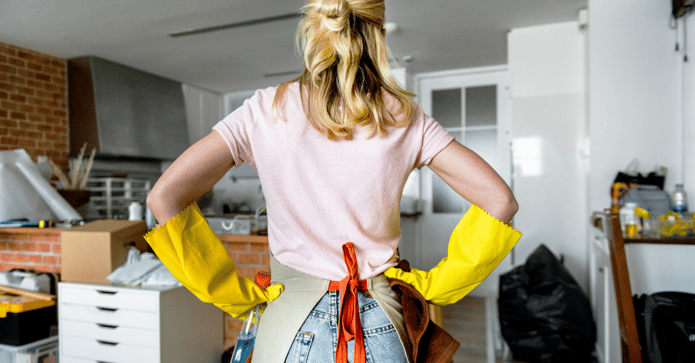 With its diverse range of popular products, including cleaning supplies, lawn care, small appliances, home electronics, and housewares, the Home Care industry is experiencing a surge. With projected revenue in the Home Care market reaching $68.03 billion worldwide in 2023, let's look into what your brand needs to know to accelerate sales and gain market share.
Make your Home Care products discoverable to shoppers by utilizing social commerce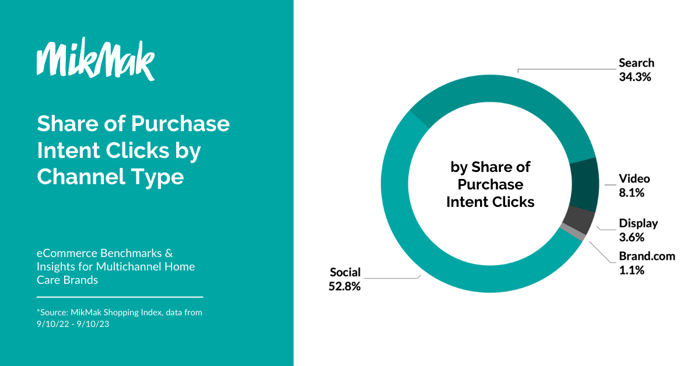 According to the MikMak Shopping Index, social channels drive the most in-market eCommerce shopping traffic for Home Care brands, commanding 52.8 percent of Purchase Intent Clicks. Meanwhile, Search drives the second most in-market traffic with 34.3 percent. Video ads follow with 8.1 percent, then display at 3.6 percent, and brand websites at 1.1 percent.
Social commerce is an especially important part of a Home Care brand's media plan. Knowing where your consumers are discovering, and ultimately purchasing your products can help your brand save money and reach consumers when and where they are most likely to buy.
Meta Channels are top-performing for Home Care brands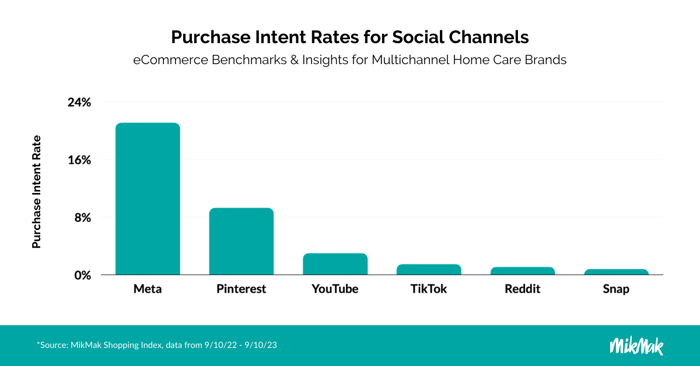 When looking at social channels specifically, Meta (Facebook & Instagram) drives the highest Purchase Intent Rates, or the percentage of shoppers who clicked through to at least one retailer option, for Home Care Brands at 21.1 percent (3.6x the category benchmark of 5.8 percent). Pinterest follows with 9.3 percent. Trailing behind Pinterest is YouTube with 3.0 percent. TikTok, Reddit, and Snap drive Purchase Intent Rates of 1.5, 1.1, and 0.8 percent, respectively.
---
---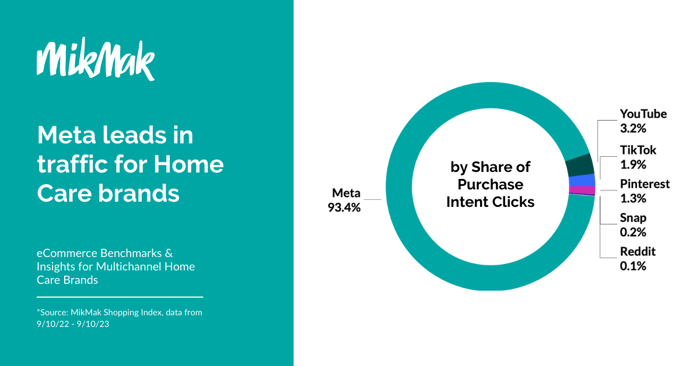 Regarding Purchase Intent Clicks, or in-market traffic, Meta channels continue to lead the way, driving 93.4 percent of Purchase Intent Clicks. YouTube follows with 3.2 percent. TikTok and Pinterest trail behind with 1.9 and 1.3, respectively. While Snap goes 0.2 percent, and Reddit drives 0.1 percent. This can be because brands are spending more of their budget on Meta media than any other social channel, rather than assuming Meta is dominant overall in terms of performance.
Amazon is the top retailer for Home Care shoppers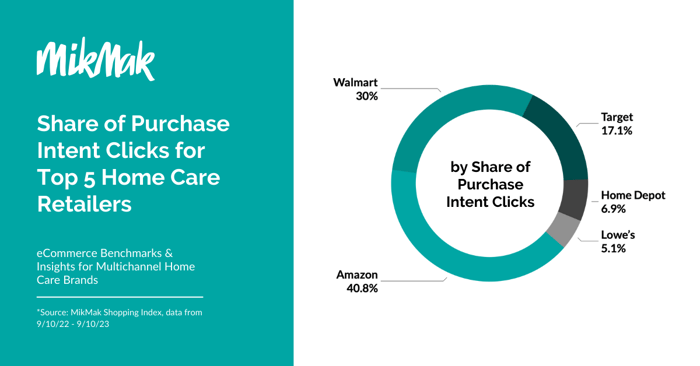 Right now, among the Top 5 Home Care retailers, Amazon is driving the most in-market traffic, with 40.8 percent of Purchase Intent Clicks. Walmart and Target are second and third, with 30 percent and 17.1 percent, respectively. Specialty retailers Home Depot and Lowe's round out the top 5 retailers at 6.9 and 5.1 percent, respectively. Home Care brands must be available at a mix of retailers, including specialty retailers, to reach consumers where they prefer to shop.
Enable Shoppable Media for eCommerce success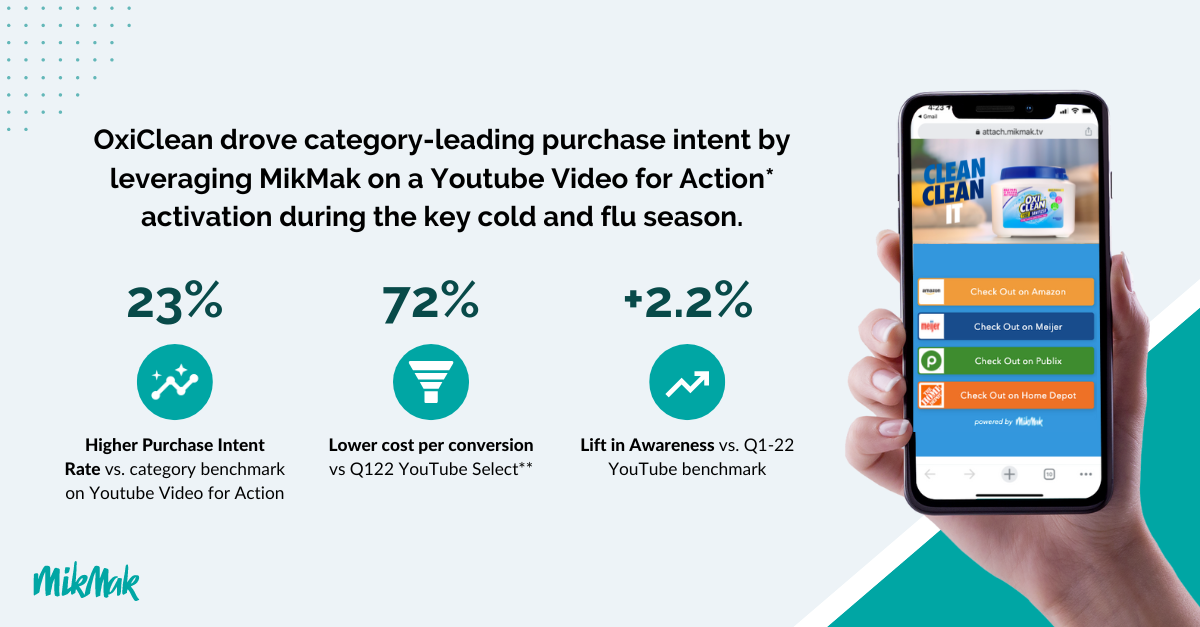 This approach is exemplified by OxiClean, who leveraged MikMak on a YouTube Video for Action to drive users directly to the point of purchase. This led to 23 percent higher Purchase Intent Rates compared to the category benchmark on YouTube Video for Action, 72 percent lower cost per conversion compared to their previous quarter's YouTube Select conversion, and a 2.2 percent lift in awareness compared to the Q1 YouTube benchmark.
To learn how your brand can see similar results and more about current trends in the Home Care industry, download MikMak's recent guide, eCommerce Benchmarks & Insights for Multichannel Home Care Brands.