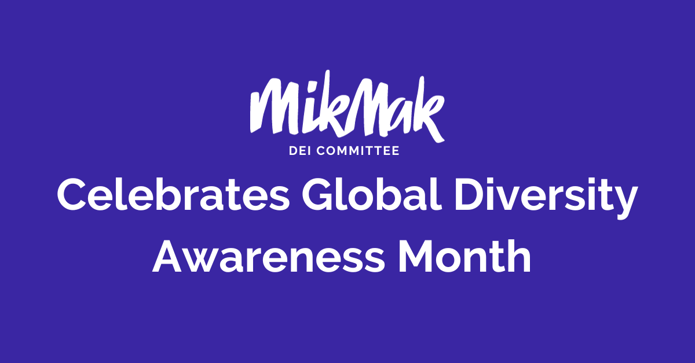 Diversity, equity, and inclusion (DEI) have become the cornerstone of modern workplace culture, shaping the fabric of organizational values and practices. In this dynamic landscape, MikMak sets an example by fostering an environment that embraces individuals from diverse backgrounds and identities.

MikMak understands that true success lies in creating an inclusive workplace where every team member feels valued and is comfortable being their truest self. For us, diversity, equity, and inclusion are not just initiatives but integral parts of our thriving company culture. Our mission is to make MikMak an inclusive space, a haven for professional growth, ensuring that our team members feel appreciated and celebrated, with zero barriers of bias impeding their path to success.
With a strong focus on creating a safe and inclusive environment, MikMak has implemented various initiatives to support its employees' well-being, including mental health programs and Employee Resource Groups (ERGs). Since October was Global Diversity Awareness Month, let's take a look at some ways MikMak is championing DEI, and nurturing a culture of empathy.
Empowering Through Employee Resource Groups
Developed by the employees, for the employees, MikMak's Employee Resource Groups (ERGs) serve as safe spaces where individuals can come together to promote DEI and mental health initiatives. These groups are committed to generating ongoing initiatives, content, and conversations to foster a work environment driven by empathy and understanding for the diverse cultures and identities of our employees and customers.
Supporting and strengthening communities
Through our ERGs, we actively support non-profit organizations dedicated to building a more inclusive and equitable global community by annually matching employee donations. Amid challenging circumstances in Israel, irrespective of religious and political affiliations, MikMak unequivocally condemns all forms of violence and terrorism. Demonstrating solidarity, the MikMak team united to provide support by contributing to organizations and relief funds actively aiding those in distress.
Learning and growing with company-wide Lunch & Learns
The Lunch & Learn sessions, hosted by MikMak's DEI Committee, play a crucial role in fostering conversations surrounding diversity, equity, and inclusion. These engaging sessions feature industry experts and leaders, offering a wealth of experience and knowledge to illuminate essential topics.
"Creating that sense of belonging to ensure that everyone not only feels heard but feels that they belong enough to be able to champion and to be able to challenge is absolutely critical." - Esi Seng
In honor of Asian American and Pacific Islander Heritage (AAPI) Month, Esi Seng, Chief Creative Officer of Tate's Bake Shop, a MikMak customer, emphasized the importance of inclusion and belonging in the business culture. She highlighted the need for creating a psychological safety net, ensuring everyone feels heard and empowered to voice their opinions. Esi also shared her personal background and experiences, discussing the significance of representation in product choices, pricing, packaging, and language. Furthermore, she emphasized the power of human connection in breaking down barriers stemming from fear and lack of knowledge. To gain deeper insights, listen to her talk about the power of diversity while scaling a company on the BRAVE COMMERCE podcast.
"My biggest thing right now is just being an advocate, being a coach. So for anyone that's looking to come out, I'm opening up my phone line, email to help talk through my experience." - Mark Edminson
During Pride Month, the MikMak team participated in meaningful dialogue, exploring LGBTQ+ issues and highlighting the significance of year-round Pride celebrations that extend beyond June. Mark Edminson, the Chief Marketing Officer of Materne North America, a MikMak customer, actively participated in the discussion, sharing his personal journey of coming out in the professional sphere. He emphasized the pivotal role of mentorship programs in fostering diversity and inclusion, as well as the urgent need for education and awareness to drive transformative change. The discussion also touched upon the impact of intolerance and regressive practices on businesses, emphasizing the importance of aligning corporate conduct with the company's core principles and values. To gain further insights into diverse representation, collaborative partnerships, and methods for reaching new audiences, don't miss Mark's episode on the BRAVE COMMERCE podcast.
"Think about how, if this is a new person coming into your team or your environment, how would you like to be treated? How would you like to be welcomed and included? Because I think these are essential elements for us to thrive; for any individual to be productive and succeed, they need to feel a sense of belonging." - Alex Ontiveros
For Hispanic Heritage Month, Alex Ontiveros, the founder, and CEO of Silicon Valley Latino, joined the MikMak team to offer valuable guidance for Hispanic professionals navigating challenges in their careers. The conversation explored various ways allies can actively support the Hispanic community, emphasizing strategies for promoting inclusivity in marketing and advertising. Alex advocated for the adoption of an open mindset and the abandonment of harmful narratives and stereotypes. He also emphasized the importance of making newcomers feel embraced and valued, stressing the crucial role of insightful leadership in fostering environments that bring out the best in individuals, irrespective of any prevailing stereotypes.
Cultivating a Culture of Mental Wellness
In addition to our DEI Committee, MikMak's Mental Health Coalition (MHC) is instrumental in providing resources, conducting research, and planning events to support the mental well-being of its employees. The MHC focuses on promoting a culture of psychological safety, enabling open discussions about mental health without fear of judgment or reprisal. MikMak also recognizes the importance of supporting neurodiversity and normalizing the use of accommodations, ensuring that employees feel empowered to prioritize their mental health both in and out of the workplace.
Implementing DEI in the modern, remote workplace
At MikMak, we believe in winning together. We are committed to fostering an inclusive and empowering environment where a wide range perspectives can contribute to our shared goals. Within the United States, we offer the flexibility of working remotely from any location through our program, MikMak ANYWHERE. We are also expanding our global presence with our offices in France, the UK, and Ireland. Additionally, to promote a cohesive work environment, we facilitate in-office days monthly to encourage valuable in-person collaborations.
Paving the path to inclusivity
By prioritizing the wellbeing of its employees, championing mental health initiatives, and nurturing a culture of understanding and respect, MikMak sets a benchmark for organizations aiming to build a workplace that celebrates diversity in all its forms. With a strong focus on education, advocacy, and collaboration, MikMak continues to pave the way for a more equitable and inclusive future, both within its organization and the wider business landscape.
To learn more about MikMak's DEI ERG and Mental Health Coalition, check out this page on our website. For more interesting insights from marketing and eCommerce professionals on topics such as DEI, business strategy, team building, and more, be sure to listen and subscribe to the BRAVE COMMERCE Podcast, available wherever you get your podcasts.