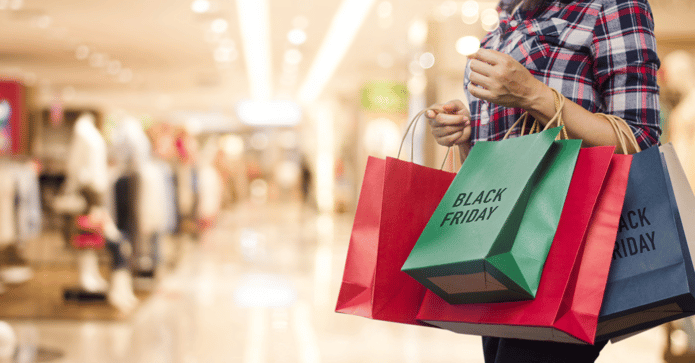 Black Friday has become a global shopping phenomenon, and in European countries like France, the United Kingdom, Germany, Spain, and Italy, consumers eagerly anticipate this annual shopping extravaganza.
As an indicator of how consumers may shop during Black Friday this year, MikMak took a closer look at the shopping trends.
Black Friday is a key shopping date for price-conscious consumers
Prior to Black Friday 2022, several European countries witnessed a substantial upswing in online transactions. Notable spikes were observed in Spain, where online transactions surged by an impressive 576 percent, as well as in the UK (+404 percent), Germany (+346 percent), Italy (+346 percent), and France (+344 percent), all surpassing the October averages.
According to MikMak Shopping Index, we also saw shopper engagement by Purchase Intent Rate increase as of mid-October, and grow by 18.7 percent to reach the highest peak of the quarter on Black Friday!

This year, the growth trend of the Q4 seems less intense, as we registered only a 0.6 percent increase of Purchase Intent Rate in October, so far. However, we expect the Black Friday to peak this year too, as price-conscious consumers are looking for good deals for their Holiday shopping.
Amazon Prime Day results in October this year backs up this assumption as we saw shopper traffic increase strongly in several categories, especially on the first day of the event. Average basket sizes on Prime Day decreased by -9.8 percent in Europe, compared to 2022 edition.
We believe shoppers are being more selective this year due to inflation, but willing to pay up for items they deem essential, as pointed out by our data. For holiday shopping, we believe that Black Friday will be a key shopping date this year too.
Revealing European Black Friday Shopping Patterns
Gen Z and Millennials were the most engaged shoppers for Black Friday 2022
Last year, Gen Z and Millennials were the most engaged shopper segments during the Black Friday and Cyber Monday events, with a remarkable inclination among Gen Z. In the French market, 74 percent of Millennials indicated their intention to increase their online shopping activities for Black Friday and Cyber Monday. This surge in online shopping was further underscored by the fact that mobile devices played a pivotal role, contributing to 76 percent of all ecommerce traffic during Cyber Week in 2022.
Superdrug, Amazon, Douglas and El Corté Inglés among top Beauty and Personal Care retailers during Black Friday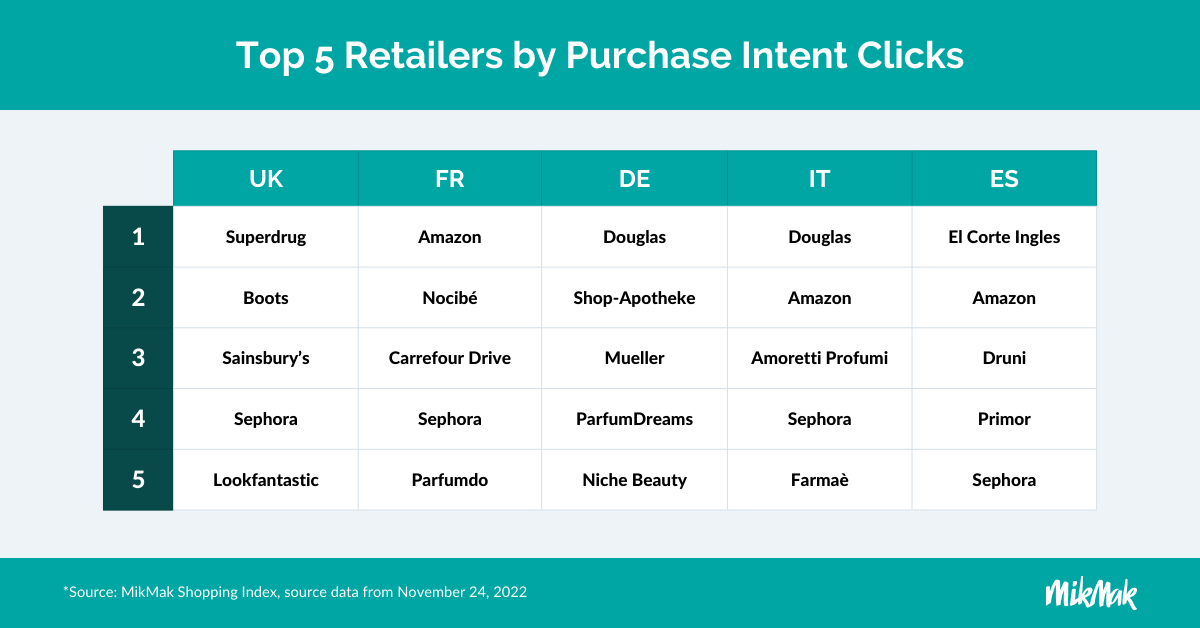 On November 25, 2022, as Black Friday fever swept across Europe, consumers displayed distinctive preferences when it came to their choice of retailers for Beauty and Personal Care purchases.
According to the MikMak Shopping Index, in the UK, Amazon took the lead, closely pursued by Boots, Sainsbury's, Sephora, and Lookfantastic.
Meanwhile, in France, Amazon retained its dominance, while Nocibé, Carrefour Drive, Sephora, and Parfumdo followed.

Spain saw El Corte Inglés emerge as the preferred destination, with Amazon, Druni, Primor, and Sephora following suit.

In Italy, Douglas showcased its popularity, with Amazon, Amoretti Profumi, Sephora, and Farmaè securing their positions in the top five.

Meanwhile, Germany witnessed a similar trend, with Douglas claiming the top spot, and Shop-Apotheke, Mueller, parfumdreams, and Niche Beauty rounding out the list.

These rankings reveal the complexity of consumer behavior during Black Friday, offering strategic insights for retailers seeking to enhance their digital performance and drive sales.
Fragrance was Black Friday 2022's Top Product, based on shopping traffic
During Black Friday 2022, European consumers exhibited a keen interest in Beauty and Personal Care products, with specific product categories driving the most engagement. The top 10 products that garnered significant attention, in the eBeauty category, included fragrance, face cream, cleansing gel, serum, lipstick, shower gel, foundation, cleansing oil, moisturizer, and hair mask.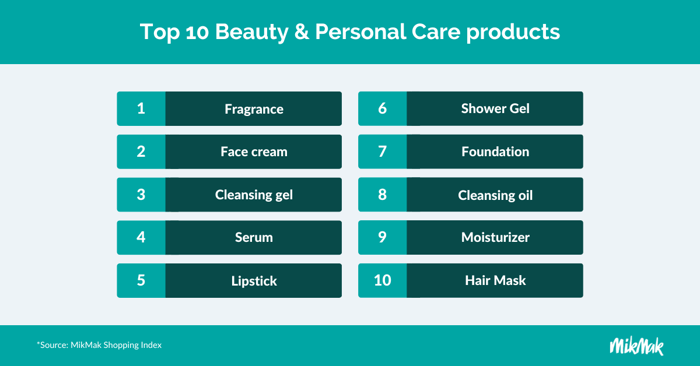 Optimize your marketing strategy in time for Black Friday 2023
To improve marketing effectiveness for peak shopping dates like Black Friday, it is essential for multichannel brands to analyze consumer preferences and their interaction with distinct product categories, retailers and channels.
In addition, don't forget to make your special product offers discoverable across all media and brand websites, and help shoppers buy your products faster, in-store and online. What do performing Black Friday ad campaigns have in common? Here's a short checklist:
Use bold, eye-catching creatives
Use a clear call to action
Use sales promotions to trigger and accelerate the passage to purchase
Don't be afraid to try out different formats (Livestreaming, QR codes, OTT advertising…)
Include a

banner which calls out Black Friday

Enable shoppable options on your brand website to promote brand awareness and offer additional checkout and fulfillment options for shoppers
Get creative in your media design, in your media mix, and in your partnerships
For inspiration, here is a successful ad example of Tom Ford in Italy promoting their products through Instagram: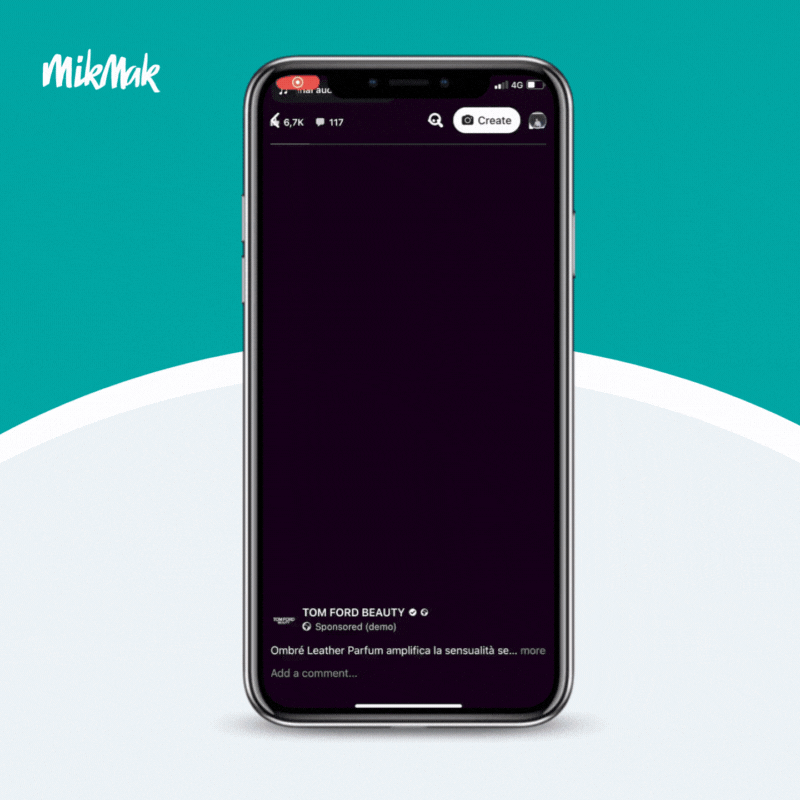 MikMak's eCommerce enablement solutions and analytics help brands convert global customers and drive profitability. Whether it's tailoring special Black Friday deals, enhancing their online storefronts, or integrating shoppable content into their advertising strategies, MikMak empowers brands to stay competitive and capture the attention of European shoppers during this high-demand shopping event.
Be sure your brand is ready for the rest of the holiday season by downloading our recent holiday guide, available now!