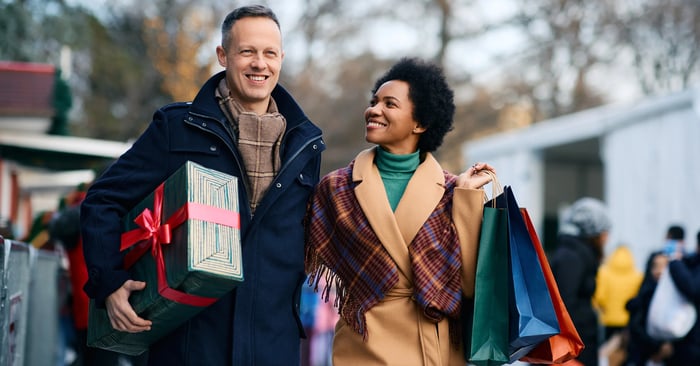 Black Friday and Cyber Monday are two of the most talked about shopping occasions. Despite concerns about inflation and higher prices, 2022 broke records with $11.3 billion in sales on Cyber Monday (5.8 percent more than last year), and $9.12 billion in sales on Black Friday. (2.3 percent more than last year).
People also started spending earlier, primarily online. In fact, online shoppers spent a record $5.29 billion on Thanksgiving Day to get early access to deals. With so many people spending over the weekend, knowing how they shopped is a valuable indicator for brands to plan for the future. Here is what MikMak uncovered.
Shoppers are buying staples, and showing slightly lower purchase intent rates in 2022
While spending showed modest growth compared to last year, the purchase intent rate for brands in the MikMak Shopping Index dropped from 8.6 percent to 6.4 percent. Although this is not a dramatic difference, it shows that consumers were doing more window shopping before proceeding to purchase.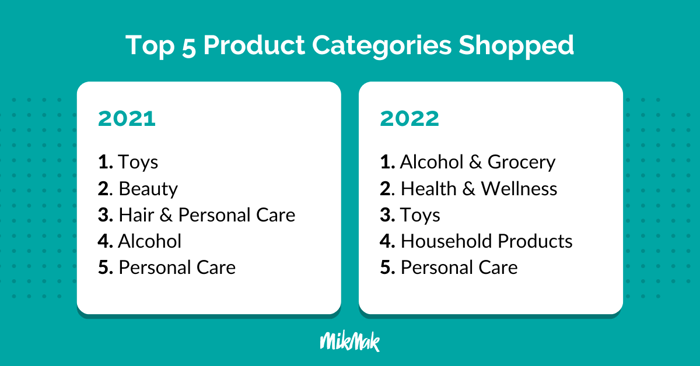 Similar to what we saw during this year's retailer-driven shopping occasions (ex. Amazon Prime Day), consumers were shopping for personal necessities over big-ticket items. Where last year's top category was toys, this year, the MikMak Shopping Index saw alcohol and grocery, as well as health and wellness products, all rank higher than toys.
Walmart was the top contender amongst retailers this Black Friday, Cyber Monday, and beyond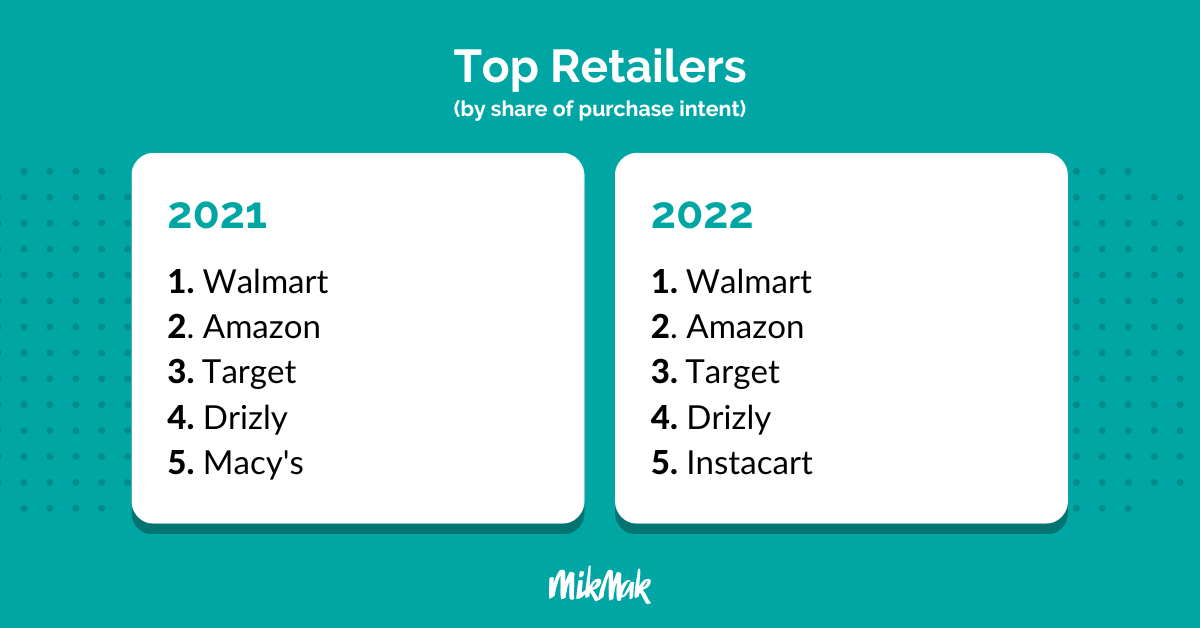 Walmart, Amazon, and Target remained the top preferred retailers among consumers this Black Friday weekend, driving the most Purchase Intent Clicks (or in-market traffic). The fourth and fifth preferred retailers were Drizly and Instacart, as their convenient and quick delivery options might have appealed to consumers.
---
---
Beyond this past weekend, Walmart leads the way across categories in terms of consumer preference. According to the MikMak Shopping Index, 39 percent of beauty shoppers, 37 percent of personal care shoppers, and 30 percent of grocery shoppers prefer to check out at Walmart. Last year, Walmart led none of these categories. This growth, paired with our findings from Black Friday and Cyber Monday, furthers the importance of ensuring your brand is available and shoppable at Walmart.
Facebook and Instagram show the highest purchase intent rates; TikTok continues to emerge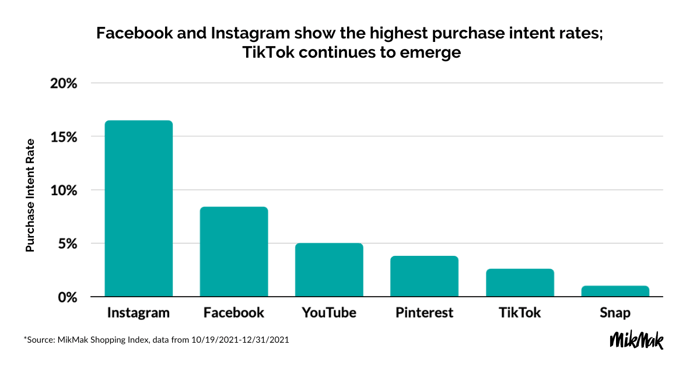 Purchase Intent Rate measures the rate that consumers who proceed to their cart from shoppable media. This year, Instagram drove the highest Purchase Intent Rates among social channels, with 16.5 percent. Following Instagram, was Facebook with 8.4 percent, and YouTube with 5 percent.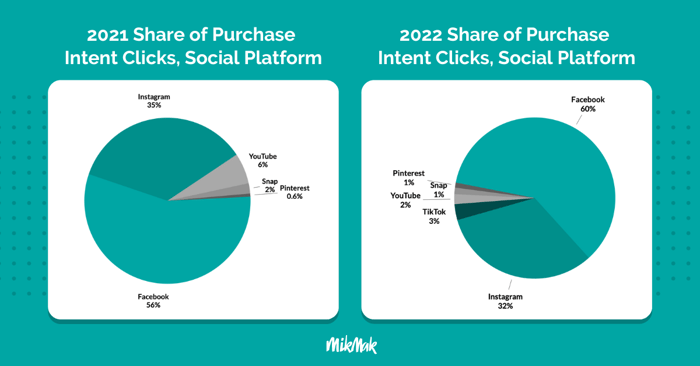 In terms of in-market traffic, we saw some minor shifts from last year's mix. Facebook and Instagram still dominated the Purchase Intent Clicks in 2022. However, TikTok presented itself as a major player, and continues to gain traction among brands as the short-form video platform continues to grow its user base.
Brands made shoppers aware of deals by calling out promotions in advertising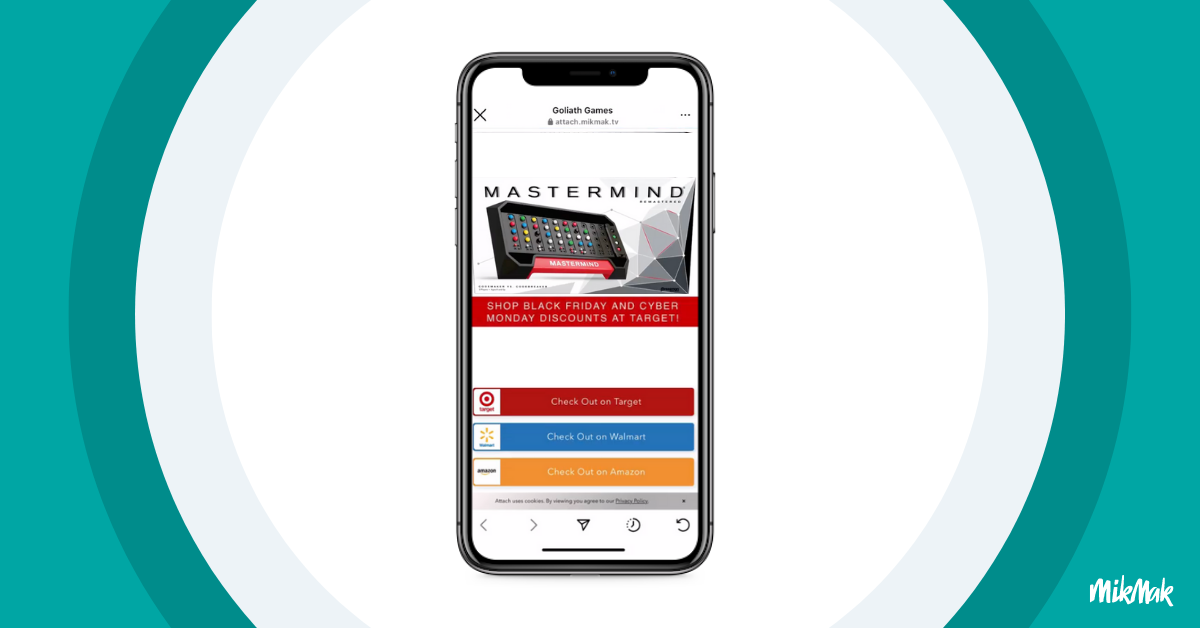 With any deals or promotions, brands have a major opportunity to win by leveraging media to point consumers toward promotions that might inspire purchases. A best practice leveraged by MikMak customer, Goliath Games, was including a banner calling out Black Friday and Cyber Monday deals on their MikMak-enabled media. This allowed shoppers to see that products were on sale as they scanned their feeds.
Highlighting promotions within media is one way that brands can see more attention from consumers. Learn more about how your brand can leverage a MikMak experience to make shoppers aware of special deals and promotions in the future. Schedule a demo today.